Want to know how to use the Midjourney remaster feature?
Maybe you've heard about Midjourney's --remaster command and are wondering how it works and what exactly it does to your images.
Contrary to popular belief it has nothing to you with Midjourney version 4 and is mostly used to create more coherent images based on pre-existing images made with Midjourney.
In this guide, we'll show you how to use --remaster to create a new version of your old images that may or may not look much better than the original.
Let's dive right in.

Like this content? Then share it!
Explained: The Midjourney Remaster Feature
Here's the answer. Great article by @ChrisHeidorn right here: https://tokenizedhq.com/midjourney-remaster/

www.tokenizedhq.com
What Does Midjourney Remaster do?
UPDATE (2 April 2023):
Please note that the –remaster command is no longer supported in Midjourney v4 and v5. Although you can take any image you've previous created with v1, v2, or v3 and still press the "Remaster" button on an upscaled job, it will simply apply the –test and –creative parameters. These are experimental algorithms that are wholly separate from the numbered versions, such as v4 or v5.
Before I start explaining what Midjourney's --remaster command actually does, let me clarify that this is an experimental feature that may change in the future.
If you're familiar with the –test and –creative parameters in Midjourney, then you technically already know what –remaster does.
Why? Because the Midjourney Remaster feature isn't actually a new feature at all.
It's just a name that they have chosen for a specific combination of pre-existing parameters.
In other words, --remaster is simply a shorthand for --test --creative.
As boring as that may sound, they form a very powerful combination of parameters that can massively increase the quality and coherence of the image.
However, they may also make the image look a lot worse.
I know that sounds strange, but you'll understand once you see it for yourself.
Although it's absolutely possible to create an image from an entirely new prompt and still apply the --remaster parameter, most people use it to literally "remaster" older images from their archive.
This is done by using the original image as an image prompt and adding the Midjourney --remaster command to the prompt.
If you don't know how to retrieve an old job in Midjourney, check out our step-by-step instructions in the section below.
Key Points (tl;dr)
The Midjourney Remaster features (--remaster) is simply a shorthand for --test --creative and therefore, strictly speaking, isn't a new feature at all.
It is primarily used to produce cleaner and more coherent versions of existing images that were previously already created with Midjourney.
To remaster some of your older images, pick an image from your account's archive in the Midjourney web app, copy its job ID and use the /show command in Discord to retrieve the old job. Then hit the "Remaster" button to create a new derivative.
How to Remaster an Old Midjourney Job
While it's relatively easy to write your own prompts and create some images in Midjourney, advanced use of the software can sometimes be challenging.
To make this a little bit easier, we've put together this short step-by-step guide that will show you how to use the Midjourney Remaster feature on one of your older images.
Step 1: Access Your Midjourney Archive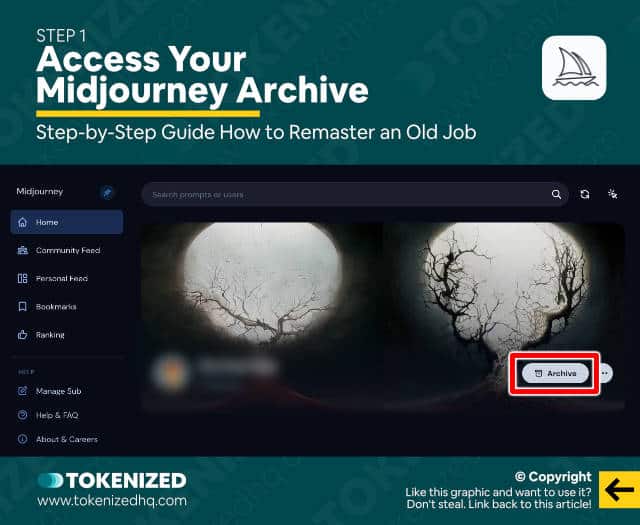 Start off by accessing your Midjourney archive by clicking this link.
Make sure you're logged into your Discord account so that it loads the content of your profile.
Step 2: Pick an Image & Copy Job ID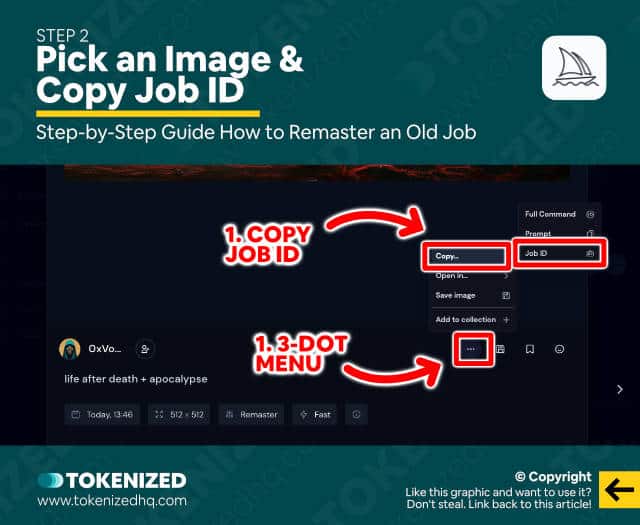 Once all of the images have loaded, pick the image that you want to remaster by clicking on it.
This will open a dedicated page for the image.
Now click the 3 little dots in the bottom right corner and select "Copy Job ID" from the context menu.
Step 3: Find the Job in Discord
Next, access the Discord server and enter the following command to find and show the job you just copied.
/show job_id: 8447fa26-3cd4-4735-909e-485eb631428e
This will look up the image for you.
Step 4: Click the "Remaster" Button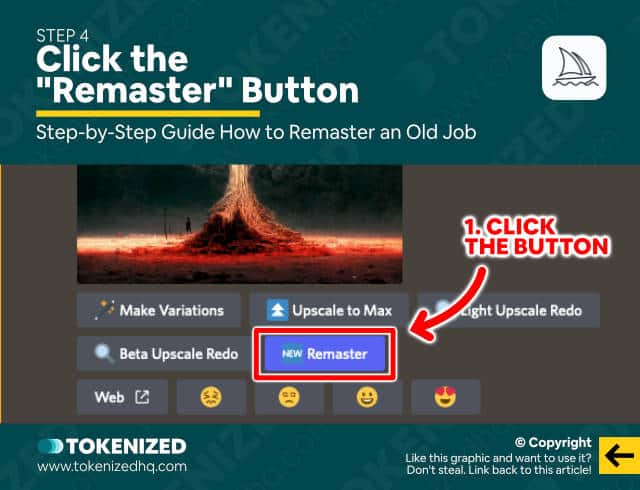 Once the job has loaded in Discord, look for the "Remaster" button in the toolbar below the image.
Click "Remaster" and wait for the Midjourney bot to generate a remastered version of your original image.
Examples of Images Created with Midjourney Remaster
As we already stated earlier in this article, the remaster feature will not necessarily always create something better than the original.
In our personal experience, it produces much cleaner results but also removes a lot of the "artistic" elements that sometimes make images look like paintings.
To give you a better idea of the type of results you can expect, we've put together a small selection of images created with the Midjourney remaster command.
Example 1: Detective with Whiskey Glass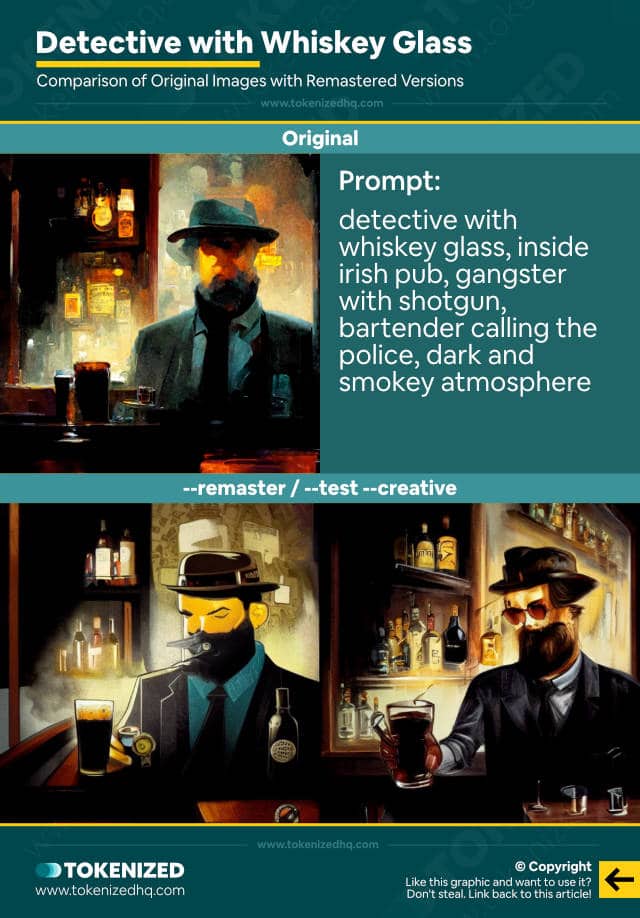 Example 2: Exploding Donald Trump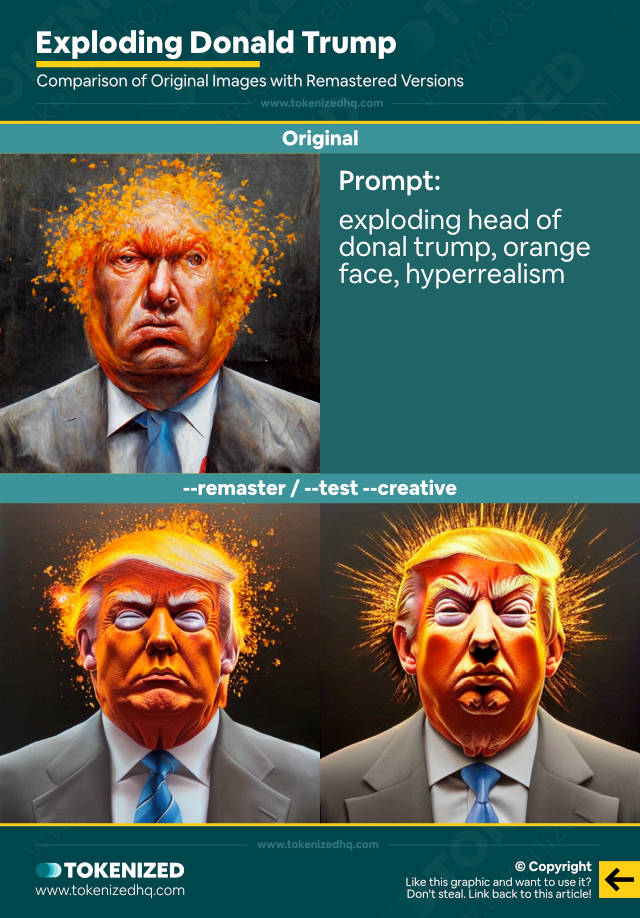 Example 3: Cyberpunk Vitalik Buterin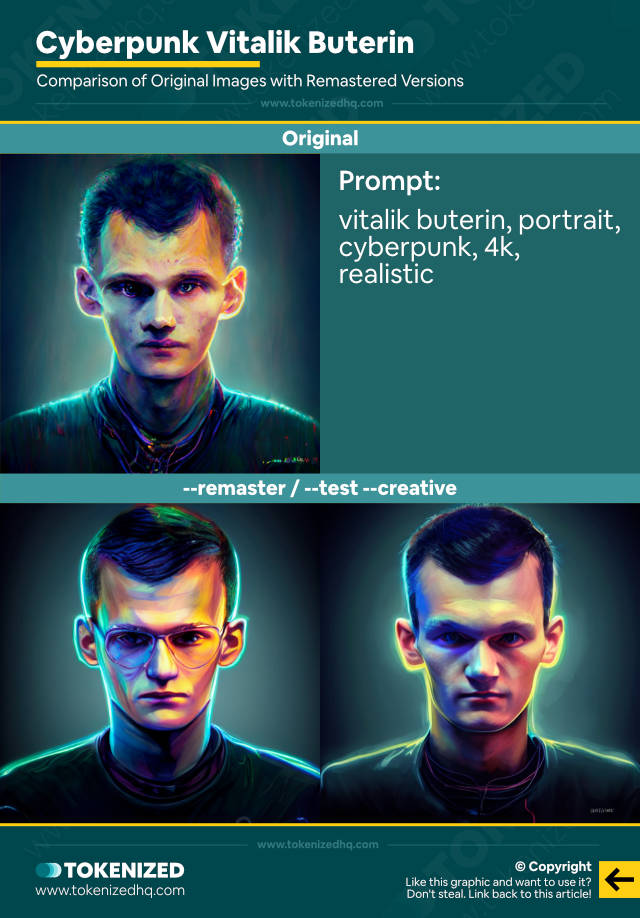 Example 4: Manhatten Meets Rivendell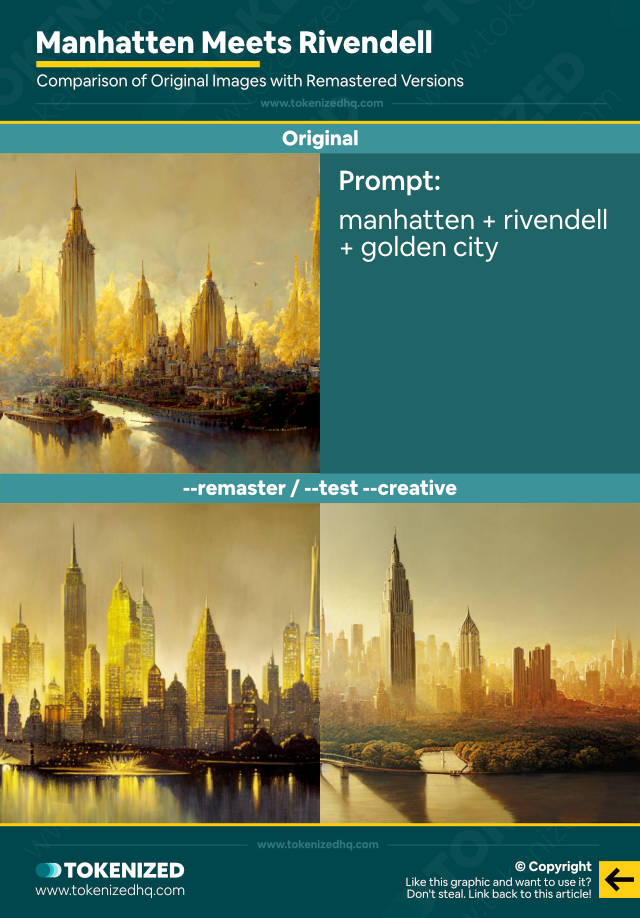 Example 5: Life After Death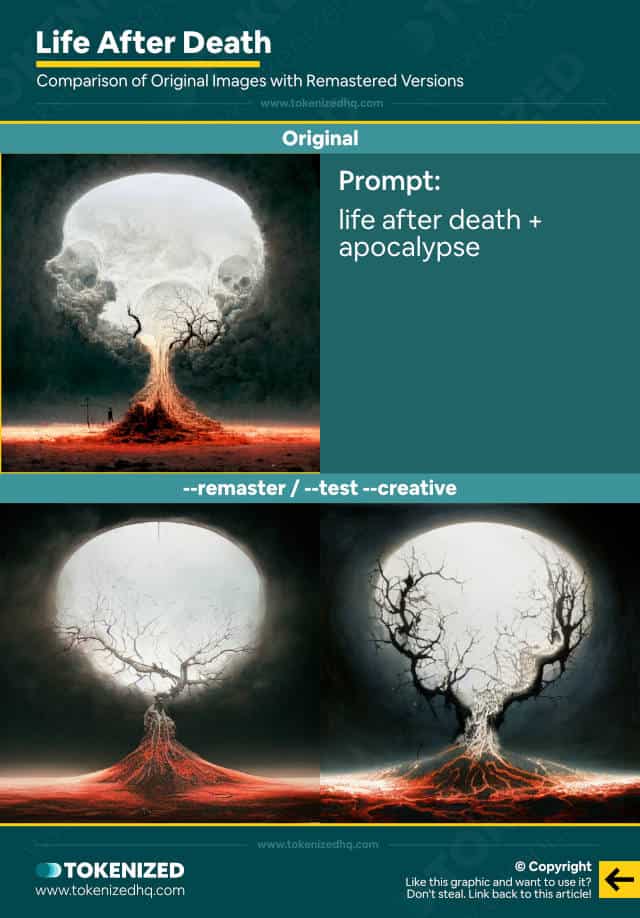 Frequently Asked Questions (FAQ)
Before we close off this guide, let's quickly address some of the most common questions related to the Midjourney Remaster feature.
What does remaster do in Midjourney?

The remaster feature takes an image prompt and gives the image an experimental creative spin that is equivalent to adding the --test --creative parameters to your prompt.

How is –remaster different from –test and –testp?

The --remaster parameter is simply shorthand for --test --creative. There is no difference between using one or the other. They will produce the exact same type of results.

Does Midjourney's remaster feature use version 4?

The Remaster feature in Midjourney does not use version 4 of the algorithm. Instead, it uses experimental features that could also be achieved by using adding --test --creative to your prompt.
Conclusion
The Midjourney remaster feature can be a fun way to put an entirely new spin on some of your older images.
However, bear in mind that there is no guarantee that the results will necessarily look better.
Here at Tokenized, we want to help you learn as much as possible about the AI software industry. We help you navigate the world of tech and the digitalization of our society at large, including the tokenization of assets and services.