Wondering whether you can use Midjourney to create an entirely new brand?
Logos created with Midjourney have been all the rage for quite some time now but very few people have actually gone the extra mile.
Why stop at logos when you can you can do full-service Midjourney product design and create an entirely new gin brand within a single afternoon.
In this guide, I'll show you how to combine Midjourney product design with advanced marketing strategy from ChatGPT to bring your very own brand to life.
Let's dive right in.

Like this content? Then share it!
Midjourney Product Design: Creating a Gin Brand
Here's the answer. Great article by @ChrisHeidorn right here: https://tokenizedhq.com/midjourney-product-design-gin-brand/

www.tokenizedhq.com
Midjourney Product Design is More Than a Logo
Creating a logo in Midjourney is relatively straightforward and can be learned within just a few minutes.
However, the real fun starts when you try to use Midjourney to craft an entire brand strategy including creative assets.
And with a little help from our friend ChatGPT, you can even weave a beautiful story around your brand.
Gone are the days of tiresome brainstorming because ChatGPT will provide more than enough inspiration.
I used ChatGPT and Midjourney to create an entirely new up-market gin brand in a single afternoon.
That's right, and not only did I create a brand concept with a customer persona, a brand name, a brand slogan, and a Midjourney logo.
I also created a unique bottle design, a signature glass, and a premium box set.
I also created concepts for marketing material as well as a brand website.
And here's the kicker, I even managed to convince Ryan Reynolds to be one of my brand ambassadors.
Want to know how I did it?
Then stick around and keep on reading or check out the YouTube video.
Key Points (tl;dr)
Midjourney product design is a brainstorming method that uses AI to produce high-end references very quickly.
These references are then used to iterate through different brand concepts before moving forward with a final design.
ChatGPT complements this process by providing strategic banding guidance as well as creative writing to flesh out the brand's identity.
The Brand Concept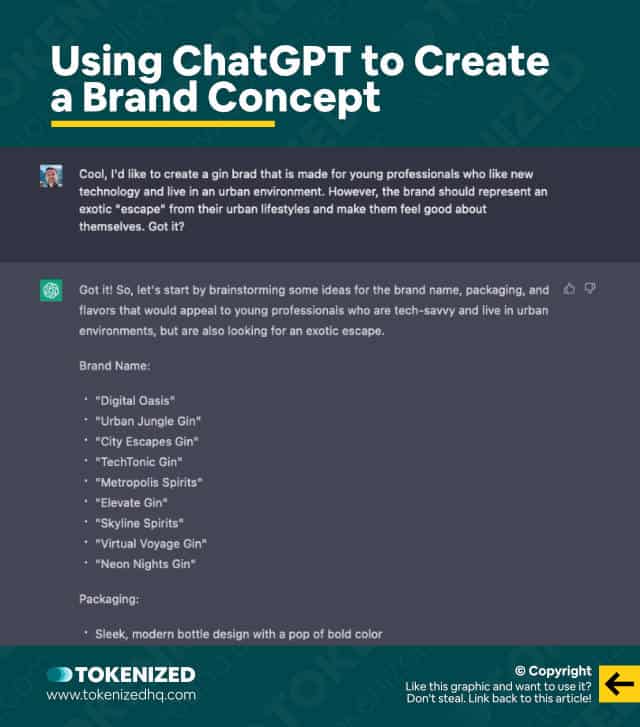 So I opened up ChatGPT and started a new chat thread dedicated to this little experiment in Midjourney product design.
I figured that I might as well be polite to ChatGPT and asked it whether it could help me create an original gin brand.
It said that it was here to help, so I guess that means we're ready to go.
I told ChatGPT that I'd like to create a gin brand that is made for young professionals who also like new technology.
I want to target people who live in an urban environment but like to escape the craziness of the city by escaping into the outdoors.
ChatGPT immediately started to brainstorm ideas and actually went a lot further than I expected.
It gave me brand names like:
Digital Oasis
Urban Jungle Gin
City Escapes Gin
TechTonic Gin
Metropolis Spirits
Elevate Gin
Skyline Spirits
Virtual Voyage Gin
Neon Nights Gin
While I appreciate the creativity, these ideas didn't really hit home for me.
ChatGPT also jumped the gun a little and already came up with ideas for packaging and flavors, even though I wasn't ready to go that far in my Midjourney product design process.
That's nice, but I wanted to land on a brand name first.
So I asked it to give me some more sophisticated ideas with a "rustic" spin.
It promptly gave me another nice list:
Wilderness Spirit
Rustic Reverie Gin
City Oasis Gin
The Elevated Gin Co.
Serenity Spirits
The Urban Explorer Gin
The Wanderlust Gin Co.
The Lonesome Trail Gin
The Rustic Road Gin
These were already much better, but still not perfect.
I asked ChatGPT to give me spin-offs of "Wilderness Spirit", "The Urban Explorer" and "The Wanderlust".
Unfortunately, it didn't quite understand that it was supposed to blend the ideas together.
However, I still found some nice ideas.
Originally settled for "Drifter's Gin" but then changed my mind and finally decided on "The Pioneer's Gin".
ChatGPT agreed and here's what it had to say about it:
"The Pioneer's Gin" is a great brand name that suggests a sense of discovery and innovation. For the flavors, we can take inspiration from the botanicals and flavors that were commonly found on the frontier during the early days of America.

ChatGPT
And I'm thinking to myself: This is just way too wild!
Anyway, it gave me the choice between 5 different flavors:
"Frontier Spice" with warming spices like cinnamon, allspice, and nutmeg
"Herbal Expedition" with notes of sage, rosemary, and thyme
"Wild Berry Harvest" with flavors of blackberry, raspberry, and elderberry
"Prairie Flower" with a blend of lavender and chamomile
"Citrus Trailblazer" with bright and zesty lemon and orange flavors.
I decided that I wanted something zesty and picked "Citrus Trailblazer".
Trailblazer is also a really great word in the context of our new brand and makes Midjourney product design just so much easier.
So I asked ChatGPT to suggest 10 brand slogan ideas that use the word "trailblazer".
The very first one on the list was actually my favorite:
"Blaze your own trail with The Pioneer's Gin"

ChatGPT
I swear to God, brand consultants are either going to have a really tough future ahead of them or they're going to supercharge their business.
Either way, this stuff is revolutionary for small businesses.
So we now have a brand name, a slogan, and the signature flavor that makes the gin unique.
I then asked ChatGPT for some brand colors, including primary and accent colors.
And it proposed the following colors:
Copper is the main color, which represents warmth, sophistication, and also some technological components.
As a secondary color, it suggested Deep Blue, which is used to represent the adventurous and exploratory nature of the brand.
This sounded pretty good, although I would probably put more emphasis on blue and use copper as the accent color.
Anyway, I asked it to give those colors in hexadecimal codes because I needed them later on.
I also asked ChatGPT to recommend some fonts, but I must admit that I wasn't particularly impressed by its choices.
Ok, so now that I had the brand's visual framework ready, I figured I'd spend some time on its logo and the product itself.
The Logo
Generating templates and inspiration for a Midjourney logo is relatively easy.
And although I already had a pretty good idea of what sort of logos might work, I figured I might as well ask ChatGPT what it thinks.
It recommended 4 possible elements:
Compass Rose
Mountain Peak
Anchor
Gear
Since a compass represents exploration and navigation and gears are a symbol of innovation, I asked ChatGPT to blend the ideas together.
It gave me the following description:
"The logo would feature a stylized compass rose, with the brand's name in bold, clean lettering beneath it. The compass rose could be rendered in metallic tones of gold or copper, evoking the brand's spirit of adventure and exploration. The gear element could be incorporated into the design by having a smaller gear placed in the center of the compass rose. This would represent the brand's innovative and forward-thinking approach, as well as its appeal to young professionals who appreciate new technology.

ChatGPT
Ok, though I'm not sure whether I would use all of those details, this does give me a good idea of what we're looking for.
So then I opened Midjourney and started with the following prompt:
/imagine
gin brand logo design on navy-blue background,
symmetrical, compass rose with cog-wheel in center
These were a bit too detailed for my taste, so I tried to simplify things a little bit.
/imagine
simple brand logo design on navy-blue background,
symmetrical, compass rose with cog-wheel in center
Notice how I removed the reference to a gin brand and asked for a simple design?
It still gave me relatively complex logos, but these were much easier to work with.
What surprised me was that Midjourney intuitively picked a copper color for the accents even though I didn't mention it in the prompt.
Creepy.
I finally settled on this one right here because it had sufficient space in the middle for me to place a cog wheel inside.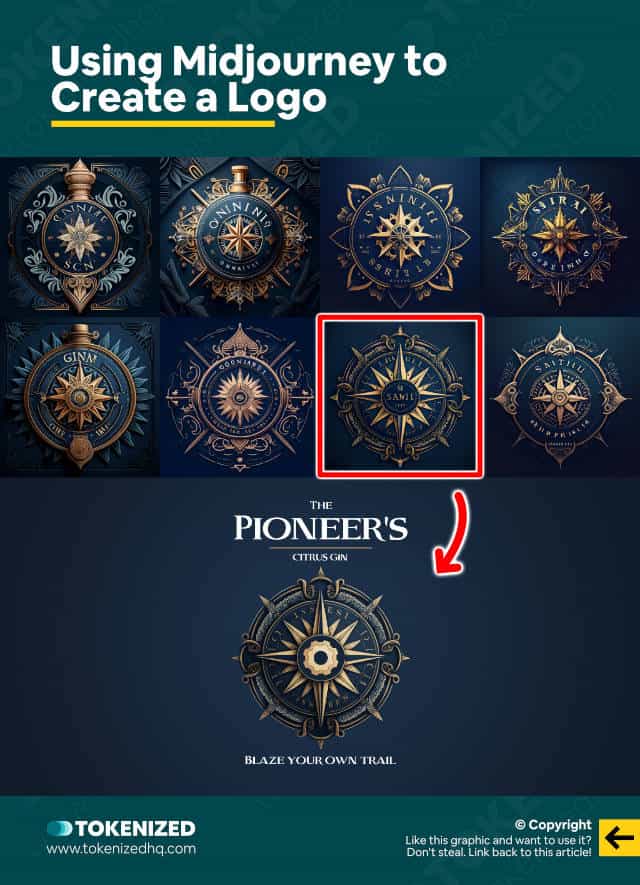 I upscaled the image, opened it up in Affinity, and did some editing work.
So now that we have a logo concept including some decent typography for the brand name, it's time to work on the actual product.
Because let's face it, Midjourney product design is about much more than just creating a simple logo.
Creating the Bottle
I actually asked ChatGPT to recommend a bunch of bottle designs.
Its ideas sounded great but for some reason, it kept linking to images that don't actually exist.
I eventually decided to stay away from the complicated concepts because it would have been very difficult to do in Midjourney.
Midjourney product design will surely evolve over time, however, at the moment, we are still quite constrained in terms of how much control we have.
So I decided to keep it simple and stick to tried and true concepts.
Whenever I don't know how Midjourney will interpret certain words, I tend to use a process known as "Additive Prompting".
It basically means that you start off with a very simple initial prompt.
And then you iterate by adding more and more words to the prompt.
It gives you a lot more control over the final outcome.
So here's what I started with:
/imagine
gin bottle design, rectangular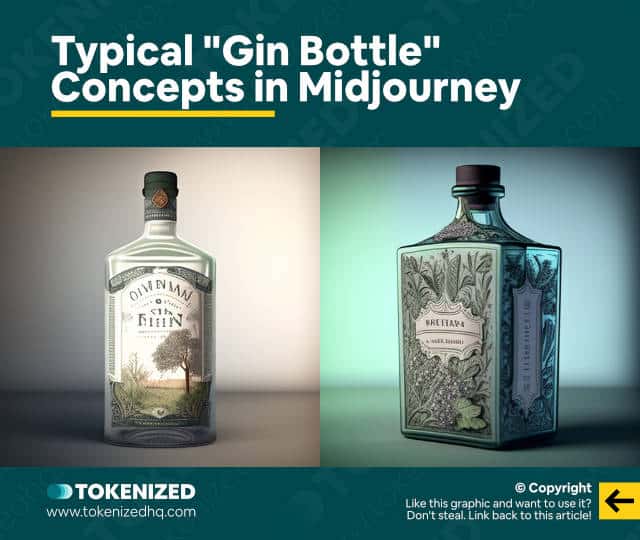 As you can see, these look like your typical, run-of-the-mill gin bottle with floral notes.
So I add a few more words and change the aspect ratio:
/imagine
modern gin bottle design,
tapered rectangular shape,
navy blue-tinted glass,
copper cap --ar 4:5
I added "modern" and "tapered", as well as specific information about its color.
These already looked pretty good.
I subsequently went through many different iterations, experimenting with various different changes to the prompt.
The big challenge here with Midjourney product design is getting something that is relatively consistent.
It's actually quite similar to creating a consistent character in that respect.
The other challenge is that Midjourney's dataset seems to be full of gin bottles that have very floral design concepts.
This makes it difficult to strike a balance between adding details but also keeping it slick and modern.
I eventually decided on 4 images as references.
I then added them to the following prompt:
/imagine
https://s.mj.run/JXaRy-JKjkM https://s.mj.run/GUUbAg5aGJ8
https://s.mj.run/JeHCxp9ygF8 https://s.mj.run/one6TqEb69E
modern gin bottle design, tapered rectangular shape,
navy blue-tinted glass with matte finish, indented glass,
copper cap, rectangular brand label --ar 4:5
This produced a nice set of images which I think looked fairly consistent or at least consistent enough for this concept.
I then took all 4 of those images and replaced the original image references with these.
Let's have another look at the prompt:
/imagine


https://s.mj.run/2bj2CXbL9jU https://s.mj.run/PT6ur1BFoh8
https://s.mj.run/I3DDnzoqsTo https://s.mj.run/MdHutUOL6SQ


modern gin bottle design, tapered rectangular shape,
navy blue-tinted glass with matte finish, indented glass,
copper cap, rectangular brand label --ar 4:5
I can now use this "recipe" to create different variations of my bottle design.
For example, I could place it on a lighter background in order to make it easier to cut out the bottle.
This is one of the obvious advantages of Midjourney product design.
However, I could also use theme infusion to create more dramatic shots of the bottle.
/imagine
https://s.mj.run/2bj2CXbL9jU https://s.mj.run/PT6ur1BFoh8
https://s.mj.run/I3DDnzoqsTo https://s.mj.run/MdHutUOL6SQ
modern gin bottle design, tapered rectangular shape,
navy blue-tinted glass with matte finish, indented glass,
copper cap, rectangular brand label::
pioneer explorer theme::2 --ar 4:5
As you can see, the original text prompt is now the first segment and the second segment infuses the "pioneer explorer" theme.
While this does work, it has its limitations due to the image reference.
Now that we have our bottle design more or less finished, I decided to place the logo on the label.
This wasn't an easy process, but I managed to get it to work.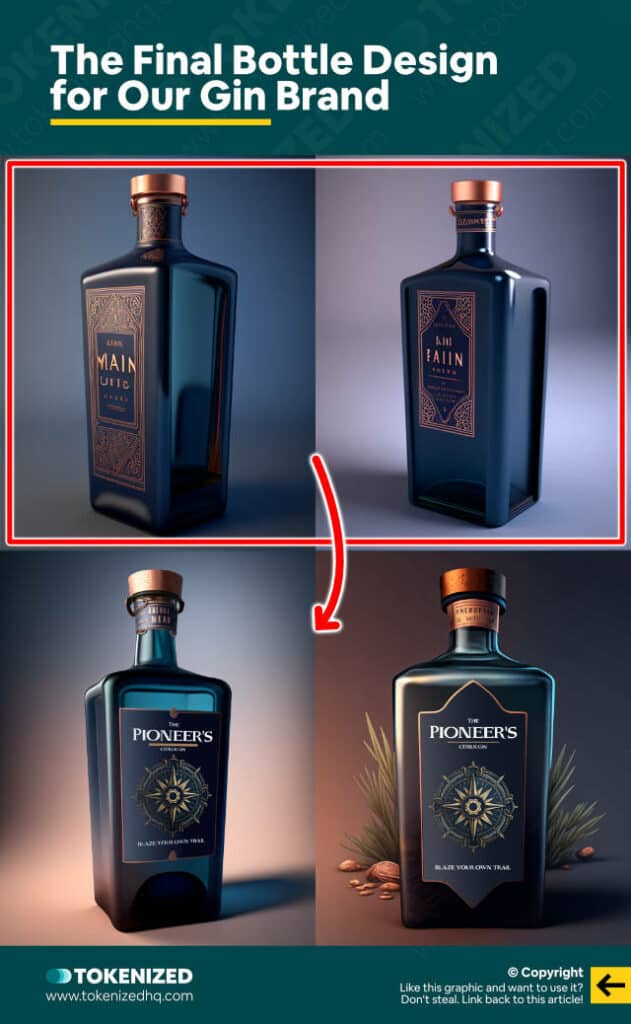 Pretty cool, isn't it?
But what about accessories, such as a signature glass or packaging?
Creating Accessories
Since ChatGPT is so great at coming up with ideas for Midjourney product design, I asked it to suggest a unique gin glass for the band.
Nothing too crazy, but very specific.
It then gave me 3 recommendations, but it crashed before it could complete.
So I asked it to take 2 of those ideas, a copper mug, and a tumbler glass, and blend them together.
Here's what it suggested:
"The glass could have a copper base and a clear glass top. The copper base would be wide and solid, providing stability and durability. The glass top would be tapered and have a rounded shape, similar to a tumbler."

ChatGPT
This sounded pretty neat, so I tried to create it in Midjourney.
I also decided that I want the glass to be tinted as well, just like our bottle design.
So I used this prompt:
/imagine
rounded tapered tumbler glass
with copper base and
navy blue-tinted glass --ar 4:5
This worked surprisingly well, so I simply re-rolled the prompt a couple of times and picked 3 images that I really like.
I then used those 3 images as references and simply repeated the prompt like so:
/imagine
https://s.mj.run/M25IsLk7chU
https://s.mj.run/ziGMxTTFU1M
https://s.mj.run/6TD1PY6VwgU
rounded tapered tumbler glass
with copper base and
navy blue-tinted glass --ar 4:5
And there you have it.
Here's our awesome signature gin glass concept.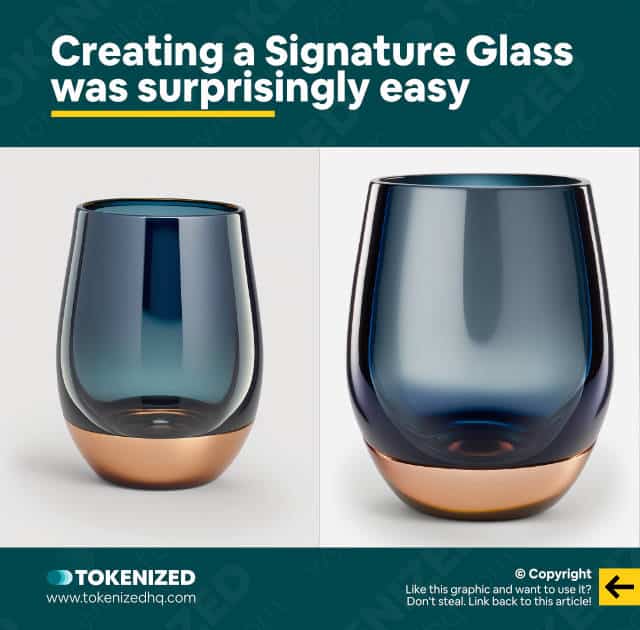 We now have a bottle and we have a glass.
But we're still missing the packaging.
ChatGPT also had some ideas about how that should look, but they were far too detailed to create with Midjourney product design.
So I decided to focus on getting the basic box right.
Don't underestimate the importance of defining materials in your prompts.
In this case, I use this prompt:
/imagine
vertical standing alcohol box packaging,
sleek minimalist design,
navy blue wooden material, matte finish,
copper compass ornament --no bottle --ar 4:5
I specifically said that I don't want it to include a bottle.
This is important because I want to cut out the box.
Additional objects would make that impossible to do.
Obviously, the image was still missing the logo and lettering.
So I did some editing in Affinity and here's what I ended up with.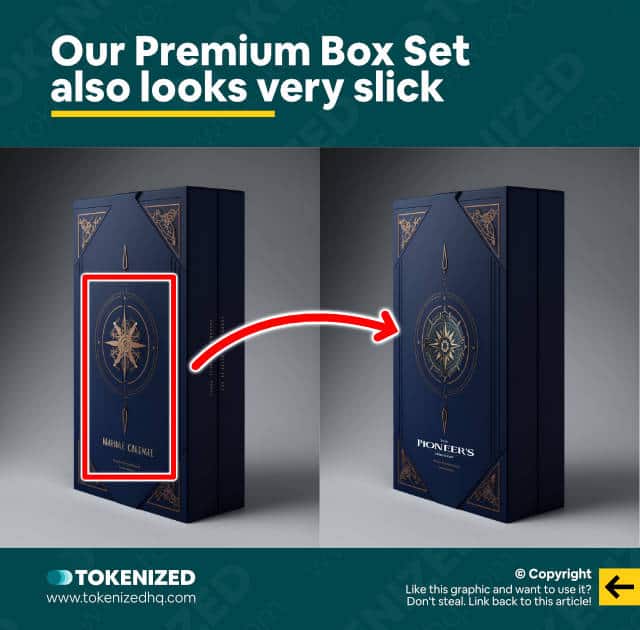 And there you have it.
Our product is complete.
Marketing Material
Of course, no product is complete without proper marketing material.
This includes nice visuals and also a website.
Luckily, Midjourney product design is predestined for this sort of stuff.
Although we can't do the final editing in Midjourney, we can definitely get some inspiration from it and use those images as templates.
So let's start off with a basic banner ad.
For this I'm going to use the following prompt:
/imagine
gin bottle ad, navy blue and copper,
pioneering, exploration, mechanical,
slices of orange, trailblazer --ar 3:2
The very first set of images I got was already perfect.
Even though the images already contain bottles, it's fairly easy for me to place our own on top.
I may have to make some adjustments here and there, but it should work.
And here's how I transformed it in Affinity.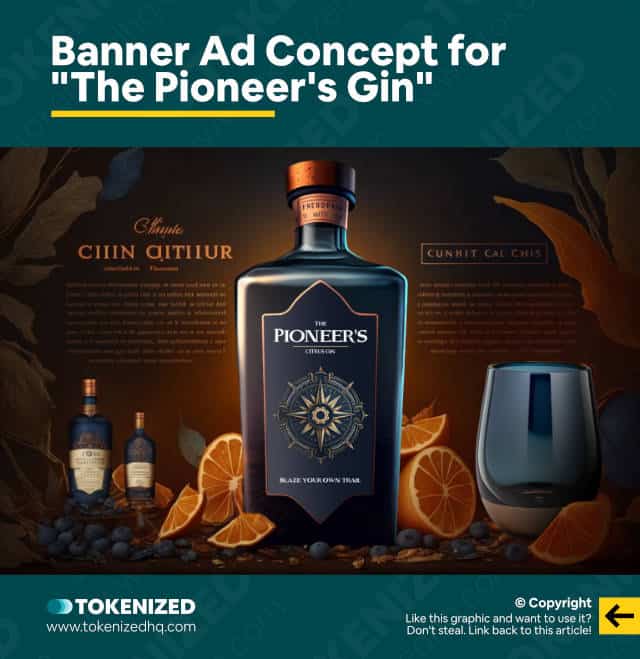 Pretty neat, isn't it?
And you can use the exact same approach for something like a website design.
So, for example, you can generate amazing ideas with a prompt like this one:
/imagine
marketing website for gin brand,
pioneer explorer theme,
navy-blue and copper color scheme,
award winning web design, dribbble,
behance, themeforest, UI, UX,
website, web design --ar 3:2 --chaos 100
Two things stand out here.
First of all, you'll notice that I added lots of references to websites and award-winning designs.
To be honest, I'm not really sure how big the influence is but I can't help but get the feeling it produces more interesting images.
The other thing you'll notice is the –chaos parameter.
I've used a value of 100, which is the maximum.
I actually have a dedicated video on Midjourney's –chaos parameter on my channel, but in short, this makes sure that I get a very diverse range of compositions and ideas within a single image grid.
In this particular case, I'm going to go with the top-left one.
Alright, now that I have my template, here's how I turned it into a website concept for our brand.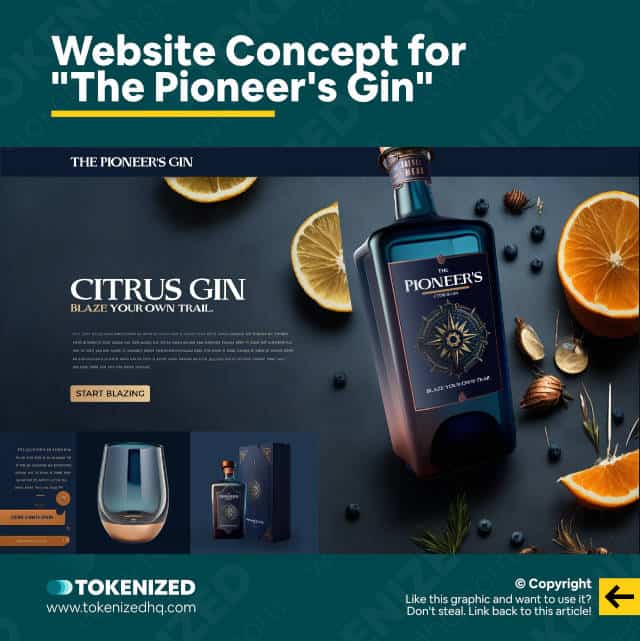 Ok, I'm pretty happy with this now.
What we're still missing in our marketing material are some nice shots of brand ambassadors.
That's right, celebrities.
Brand Ambassadors
So, believe it or not, ChatGPT can help us with this as well.
I told it that I need a brand ambassador for our gin and that I would like it to pick the ideal celebrities.
Ideally, I would both a man and a woman.
ChatGPT immediately made 5 recommendations and even explained why they are a good choice.
I ended up picking Ryan Reynolds and Emma Stone.
Check out what ChatGPT had to say about them.
Ryan Reynolds
"He is a well-known gin enthusiast and owner of Aviation Gin, and his quick wit and charm would be a great fit for the brand. He also has experience promoting luxury products and would appeal to a young professional audience."

ChatGPT
Emma Stone
"She is known for her elegance and poise, and her presence in advertisements could help create a sense of sophistication and class around the brand. She also has a wide appeal across different age groups and demographics."

ChatGPT
Now that we've chosen our brand ambassadors, we also need some nice ads to go with it, right?
Cool, so let's jump back into Midjourney and create some nice shots of Ryan and Emma in settings that fit our brand.
I'll start with Ryan and use this prompt right here:
/imagine
wide angle shot, editorial photography,
ryan reynolds, backpacking --ar 16:9
I'm aiming for a look that suggests that this is an urban city slicker that also appreciates the beauty of the rough outdoors.
Let's do the same for Emma.
I must admit that I'm not a fan of how Midjourney depicts Emma Stone.
The images just don't look like her.
I suspect this is due to the fact that her last name "Stone" and Midjourney doesn't know what to do with it.
I tried to fix this a little bit by making some adjustments to her prompt:
/imagine
wide angle shot, editorial photography,
emma stone at age twenty-five,
hiking the pacific crest trail --ar 16:9
Notice how I've tried to make her character younger?
This tends to help smooth out some of the facial features, although it's not perfect by any stretch.
Now check out how I turned them into full-blown ads.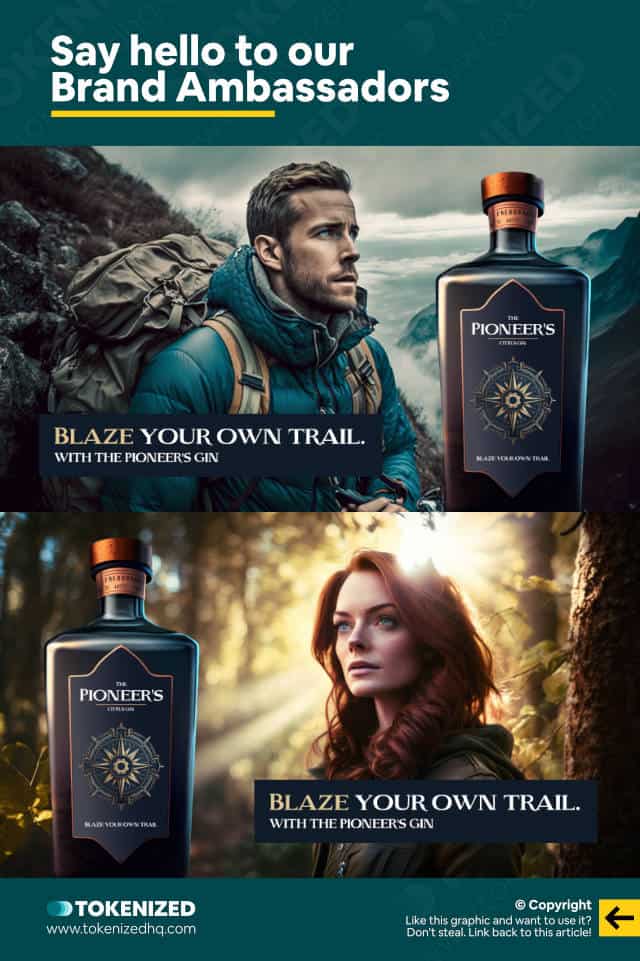 Excellent stuff.
However, as great as Midjourney product design is, we're missing one last ingredient for our gin brand.
We need an origin story.
The Origin Story
This is the moment where ChatGPT really shines.
After giving it so much context throughout our conversation, it is able to spin up a story with beautiful prose within a matter of seconds.
I asked it to create a 250-word origin story for the brand.
I'm not going the read the whole thing to you but I do want to share some snippets.
"Inspired by the spirit of the pioneers who came before them, they decided to create a gin that would embody the adventurous and daring spirit of those who blazed the trail before them. With the help of the master distiller, they crafted a gin that combined the bold flavors of citrus and the subtle notes of botanicals, resulting in a drink that was both refreshing and invigorating."

ChatGPT
And the full story ends like this.
"The Pioneer's Gin" quickly gained a reputation as the drink of choice for those who craved adventure and exploration. It became a symbol of the urban explorer, the trailblazer who was unafraid to forge their own path and discover new horizons. Today, it is enjoyed by people all around the world who seek out the thrill of the unknown and the spirit of adventure that "The Pioneer's Gin" represents."

ChatGPT
I mean, this is seriously good stuff and literally not any different from something an agency would create for you.
So, if you work with agencies and you know they're using Midjourney for their product design, make sure they don't overcharge you.
I asked ChatGPT to sum up our brand's persona in 5 sentences or less.
And here's what it gave me.
"The Pioneer's Gin is a sophisticated and exotic escape for young urban professionals who enjoy new technology. It's bright and zesty citrus flavors and unique blend of copper and glass packaging make it stand out on any bar. The brand's identity is that of a trailblazer, representing the courage and determination of those who explore the unknown. The Pioneer's Gin encourages consumers to embrace their wanderlust and embark on their own adventures. With brand ambassadors Ryan Reynolds and Emma Stone, it's a brand that embodies sophistication, style, and adventure."

ChatGPT
I won't read the whole thing out loud but this is so on point, it's difficult to fathom.
You can also ask it to write a welcome letter for people who buy the high-end box set of the brand.
It will create just the right copy that you need, hitting the right tones and creating a sense of appreciation and excitement for what's to come.
Now…no alcohol brand is complete without its very own signature drink.
And ChatGPT already has the answer you need:
"As per our earlier discussion, the signature drink for The Pioneer's Gin is a cocktail called "The Trailblazer". It is made with our gin, fresh lemon juice, orange bitters, and tonic water, garnished with a slice of orange and a sprig of thyme. This bright and refreshing cocktail is perfect for those who want to escape their urban lifestyle and blaze their own trails."

ChatGPT
Now, I haven't actually tried this recipe, but judging from the ingredients, it's a fairly straightforward cocktail that I'm pretty sure will taste just fine.
So there you have it, this is how I used Midjourney product design to create an entirely new gin brand in a single afternoon and out of thin air.
We literally have everything you could possibly need to pitch this to an investor.
Here's what we have:
Customer persona
Brand name
Brand slogan
Brand colors
Brand logo
Signature flavor
Signature cocktail
Bottle design
Signature glass design
Premium box set
Marketing material
Website concept
Brand ambassadors
Celebrity ads
Origin story
Of course, you can always go even further, but this is already A LOT to work with.
And the best part is that ChatGPT will continue to brainstorm together with you and expand on what you've already created.
This was my very first attempt at Midjourney product design with additional AI tools such as ChatGPT.
But it will surely not be the last.
Frequently Asked Questions (FAQ)
Before we close off this guide, let's quickly address some of the most common questions related to Midjourney product design and branding.
Can I use Midjourney to create a logo?
Yes, Midjourney can help create early concepts of a logo or provide inspiration for new logo designs. However, it currently cannot replace a proper logo designer. 9 times out of 10, additional work needs to be done in an image editor in order for the logo concept to work.
Can Midjourney be used for product design?
Midjourney is an excellent tool for brainstorming product designs as well as potential concepts for the visual identity of a brand. It is extremely useful for producing references that are then turned into professional image assets.
Conclusion
Midjourney is an absolute game changer in the world of creative professionals.
Never before was it so easy to spin up entirely new brand concepts within less than a day while ensuring that they look visually appealing.
Midjourney product design is clearly the way forward in the consumer goods market and this is only the beginning.
Here at Tokenized, we want to help you learn as much as possible about the AI software industry. We help you navigate the world of tech and the digitalization of our society at large, including the tokenization of assets and services.