Are you trying to figure out why Instagram comments are not showing on your phone?
Perhaps you were just scrolling through your Instagram feed and wanted to check out the comments on the particular post but for some reason, they're now showing up or they're not loading properly?
Well, guess what? Instagram comments not showing is much more common than you may think and since there are various reasons why this may happen, it's also not always clear how you can fix it.
In this guide, you'll learn exactly what might be causing the problem and we'll also show you how to fix it.
Let's get right to it.
Key Points (tl;dr)
There are 3 main reasons why comments might not be loading properly on your Instagram app:

Reason 1: You're experiencing connection problems.
Reason 2: The user has disabled comments on the post.
Reason 3: Comments are being blocked or filtered due to comment restrictions set by the user.

If the reason why your comments aren't loading is due to an internet connection problem, then we highly recommend you check out our dedicated guide on how to fix Instagram internet connection problems.
However, if the problem is clearly something else, then you may want to have a look at the various ways how users can block and allow certain types of comments on Instagram.
There's a good chance that the reason why you're not seeing any comments is due to some restrictions on who can comment on a post or what they are allowed to say in their comments.
For a detailed overview of reasons why you can't see comments on Instagram, PLEASE READ THE FULL ARTICLE.
Like this content? Then share it!
Solved: Instagram Comments Not Showing or Loading?
Here's the answer. Great article by @ChrisHeidorn right here: https://tokenizedhq.com/instagram-comments-not-showing/

www.tokenizedhq.com
Why Are Instagram Comments Not Showing?
The most common reason why can't see comments on Instagram is simply that you either don't have an internet connection at all or it's simply too slow. Switching to a better connection usually fixes the issue. Less common reasons are when a user has disabled comments on a particular post or has set filters that block certain people or words.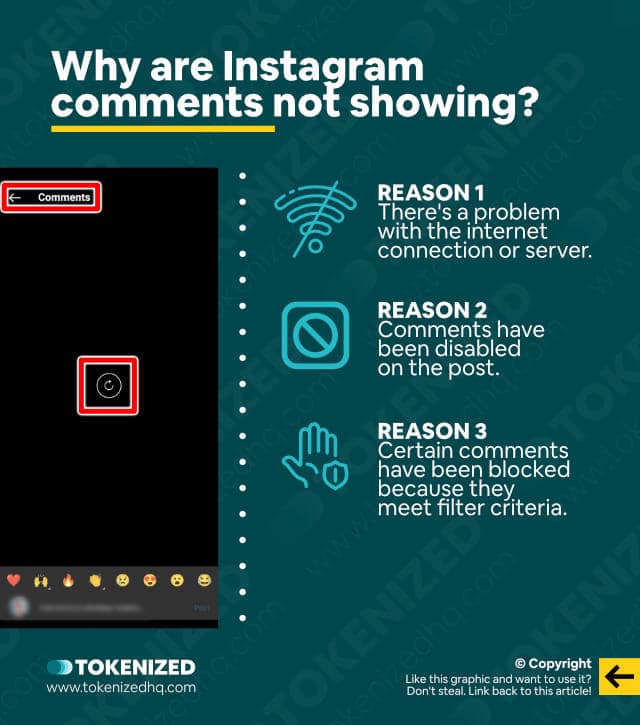 Even though billions of people use Instagram on a daily basis and almost never have issues with Instagram comments now showing, it's still a problem that's far more common than people think.
Technically it's also not really the end of the world, but it frustrates many people because they just hate it when they don't know why something isn't working.
In this particular case, there are 3 main reasons why some people end up with Instagram comments not showing or possibly not loading correctly.
Reason 1: There's a problem with the internet connection or the server.
Reason 2: Comments have been disabled on the post.
Reason 3: Certain comments have been blocked because they meet specific filter criteria.
You can usually tell whether Instagram comments aren't loading due to a connection problem.
For example, if your Instagram feed says that a post has 112 comments, and when you tap to see them nothing loads, then you probably have a connection issue.
Connection problems on Instagram can be caused by all sorts of things and the troubleshooting process is usually always the same.
That's why we strongly recommend that you check out our dedicated article on how to fix the Instagram "No Internet Connection" error if you're having connectivity problems.
However, if your connection clearly is not the problem, then comments are probably being blocked or filtered.
To get a better understanding of how you can block and also allow comments on Instagram, check out the section below.
Although this might not fix your problem of Instagram comments not showing, at least you'll know what's going on.
How to Block or Allow Certain Comments on Instagram
Over the years, Instagram has continuously extended the range of settings that allow you to not only control your privacy but also protect yourself from malicious actors.
So if you're faced with Instagram comments not showing, then it's quite possible that the user has decided to block certain people or words.
To make sure you fully understand the range of possibilities, let's quickly have a look at what can be done to block or allow comments on Instagram.
Disable Comments on a Post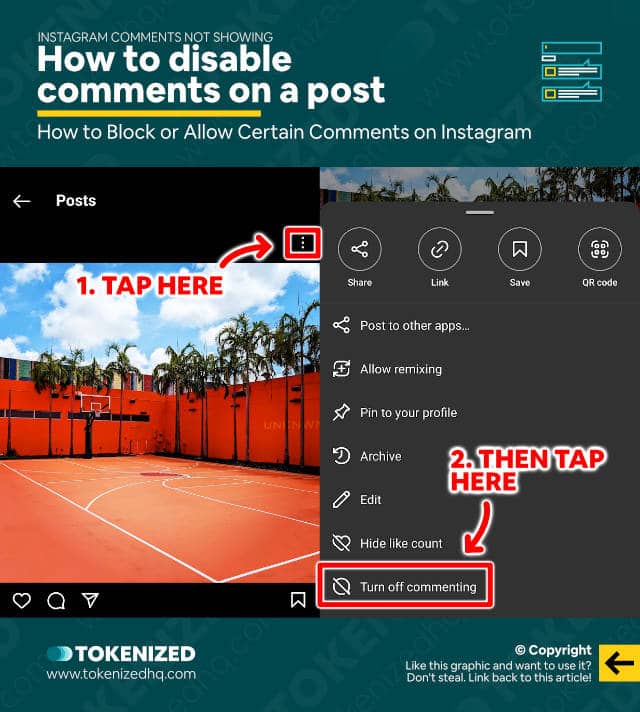 Instagram users have the option to disable comments on each and every one of their posts.
So, for example, if someone has posted a particular photo for which they don't want to deal with comments, they can simply disable them.
A lot of people aren't aware that this is possible, which is why they think it's a case of Instagram comments not showing.
Use White- & Blacklists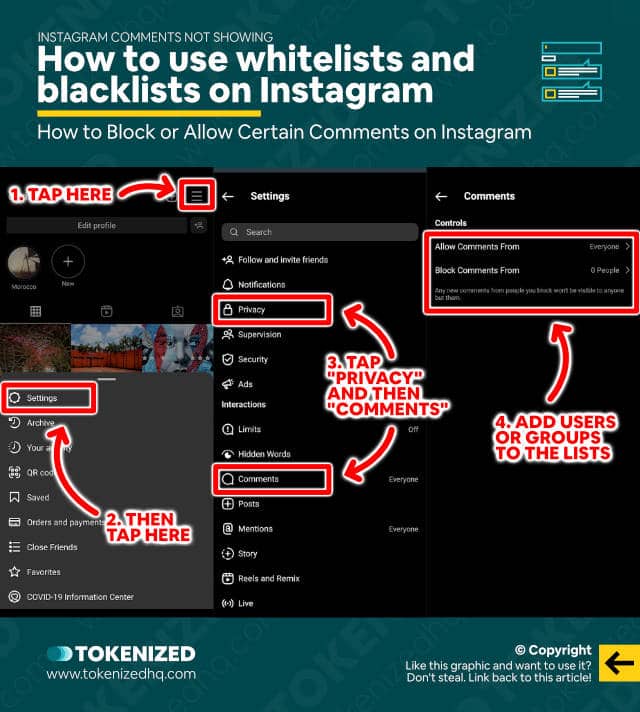 Inside the privacy settings of the Instagram app, you can also add certain people that you want to allow or block comments from.
These settings effectively work like a whitelist and a blacklist.
The whitelist allows you to define broad groups of people who can comment on your posts.
The blacklist gives you the power to block a certain person entirely.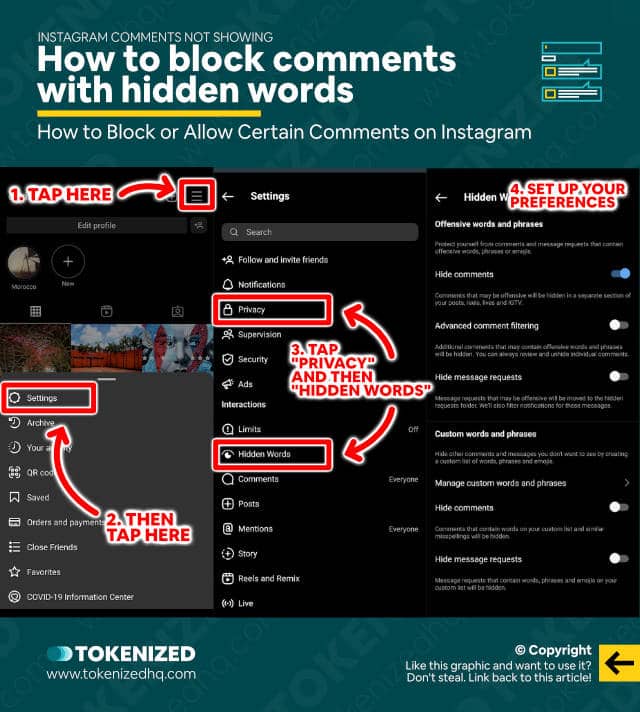 Another section inside Instagram's privacy settings is called "Hidden Words".
Hidden words allow you to hide comments on Instagram that might be deemed offensive and you can also set up a lot more complex filters.
Quite often these hidden words are the reason why someone can't see comments on Instagram.
They used a word that someone blocked and then they wonder why their comment isn't visible.
Limit Unwanted Interactions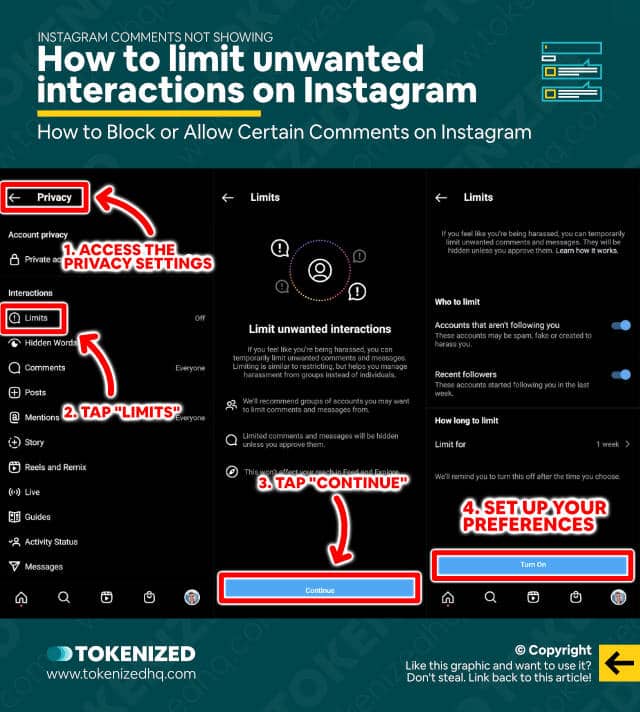 And finally, Instagram also has something they call "Limits".
Limits are meant to protect someone from being harassed and allow the user to temporarily limit unwanted comments and messages.
So be honest and ask yourself whether you've been bothering someone on Instagram lately.
If so, then that might be the reason why you can't see comments on Instagram.
Frequently Asked Questions (FAQ)
Before we close off this guide, let's quickly address some of the most common questions related to Instagram not showing likes.
Why can't I see comments on the posts on the explore page?

Comments do not automatically display when you scroll through a feed on the explore page. In order to see all of the posts' comments, you need to click on the "comment box" which is right below the image or video.

Why can't I see the comment I left on a post?

Users can set certain filters for comments on their posts. If your comment might be considered offensive, then it's possible that it was blocked. Also, if you're internet connection isn't great, then sometimes your comment doesn't get through to the server.

Why are there no comments on a post?

Other than the fact that obviously not every single post always gets a comment, the user may have simply decided to disable comments on the post. In that case, there's nothing to see.

Can you see if someone deleted your comment?

You aren't notified by Instagram if someone deletes your comment. It's nearly impossible to tell whether it was deleted or whether it was simply removed by a filter. So quit wondering and carry on.
Conclusion
Social media has a strange effect on people and we're convinced that it has made people a lot more anxious about stuff that's not really that important.
I mean, why else would you be on this page, trying to figure out why you can't see comments on Instagram?
Remember, in most cases, you're just experiencing some internet connection problems and that's why.
Here at Tokenized, we want to help you learn as much as possible about social media. We help you navigate the world of tech and the digitalization of our society at large, including the tokenization of assets and services.