Are you looking for an official Discord support email that you can write to?
Perhaps you're experiencing technical issues with Discord and you're tired of searching through the Discord support pages?
Well, we've got good news for you because there actually is a Discord Help email address that you can send a message to at any time.
In this guide, we'll quickly show you how to get in touch with customer service via the Discord Support email address.
Let's dive right in.
Key Points (tl;dr)
The official Discord email for support queries is [email protected].
Alternatively, you can help make Discord's life a bit easier by submitting a request via the Discord help center. This allows the system to determine the right support specialist and even propose quick solutions based on the input you provide.
For more details on the correct Discord support email, PLEASE READ THE FULL ARTICLE.
Like this content? Then share it!
Solved: The Official Discord Support Email Address
Here's the answer. Great article by @ChrisHeidorn right here: https://tokenizedhq.com/discord-support-email/

www.tokenizedhq.com
Why Can't I Find the Discord Support Email?
Many large online-based businesses force users to contact their support teams via a structured help request process. Such processes are meant to reduce customer service load by automating large parts of the initial problem analysis.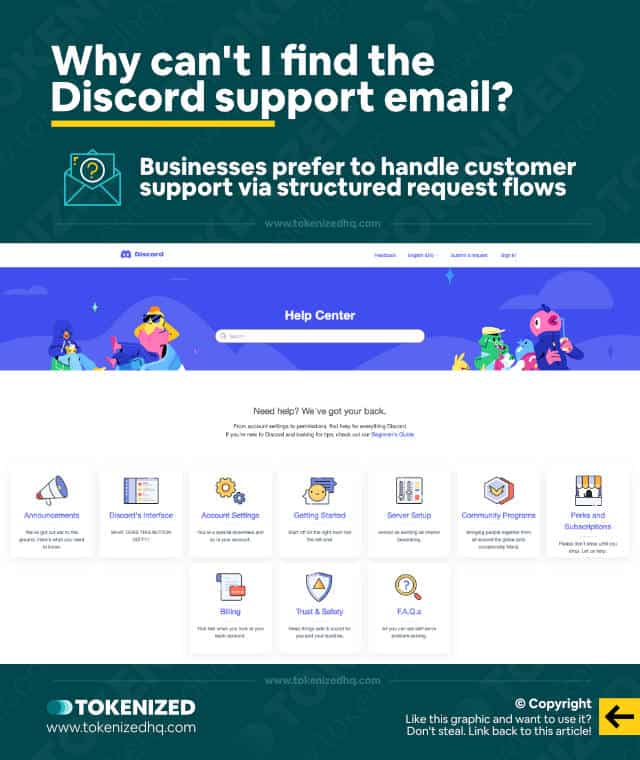 One of the great things about software-based businesses is that they can be scaled to thousands or even millions of users with little effort.
That is why many tech startups are able to grow very quickly with relatively small teams.
Unfortunately, this is not necessarily true for customer support.
As these businesses grow bigger and bigger, so do the number of customer support requests.
The problem is that the vast majority of people are not interested in resolving their issues by consulting FAQs or support pages.
They want to talk to real people and they want them to solve their problems.
Responding to unstructured customer support requests can be very challenging for companies because frontline customer support rarely has sufficient technical expertise.
Another problem is that many users are not very good a describing what their problem is.
That is why most online businesses try to avoid sharing their direct customer support email address too quickly.
Most of the time you'll be asked to navigate through some sort of a request system that helps categorize customer service queries into different topics.
While the experience for the customer obviously isn't great, it's necessary in order to keep the process as efficient as possible.
What is the Discord Support Email Address?
You can contact Discord's customer service team by simply sending an email to [email protected]. Your message will then be forwarded to the most qualified support staff.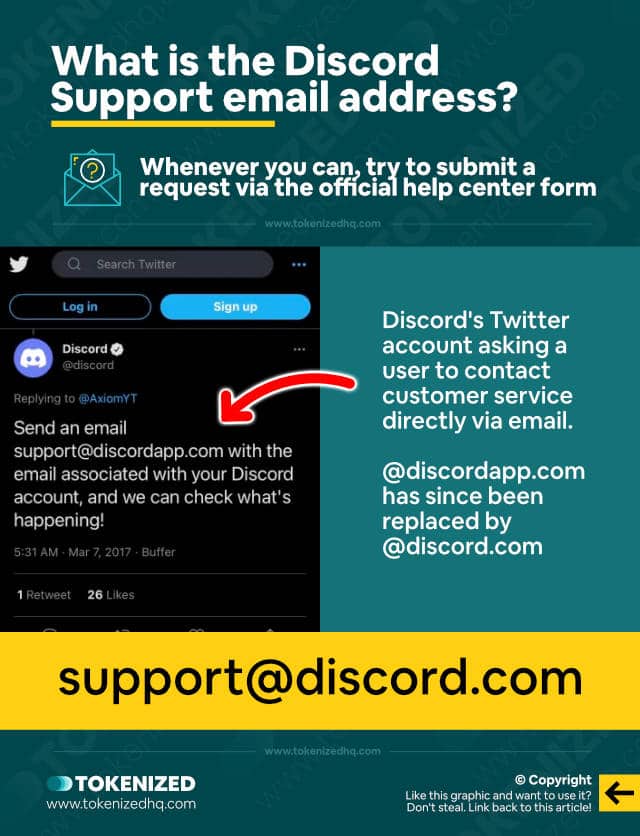 There are a number of different Discord contact emails flying around the internet as of late.
However, currently the only official Discord support email address is [email protected].
Sometimes you'll see websites that list [email protected] as the Discord customer service email.
That's mainly because that used to be Discord's original domain name.
However, as Discord became more and more successful, the company eventually decided that investing in the "discord.com" domain was worth the cost.
The "discordapp.com" domain still works but it automatically forwards the user to "discord.com".
More Ways to Contact Discord
Maybe email isn't your thing and you'd prefer to get in touch with Discord via other means.
Well, you're in luck because Discord is quite active on various different social media platforms and its customer service staff are very helpful.
Alternatively, you can also submit a help & support request via the contact form of the Discord Help Center.
It's effectively the same thing as sending a message to the Discord support email address but it goes a long way in helping Discord figure out which department is best suited to help you fix your problem.
Ironically, you'd think that the most obvious way to contact Discord would be a customer service Discord server where you can chat directly with support staff.
However, given the way most channels in Discord servers work, it's understandable why they decided against this form of tech support.
If you have an upcoming interview for a job at Discord and just want to verify the exact address of the Discord headquarters, then we recommend calling their front desk at +1 415-645-4065.
Conclusion
In this day and age, it's rather uncommon to find online-based businesses of Discord's scale that provide direct support via email.
Well-organized customer help pages have become absolutely necessary in order to reduce the amount of direct support to economically sustainable levels.
However, every now and then you'll run into a company that still maintains an official support email address.
And the Discord support email is definitely one of those great exceptions.
Here at Tokenized, we want to help you learn as much as possible about social media. We help you navigate the world of tech and the digitalization of our society at large, including the tokenization of assets and services.