Want to know where the official Discord headquarters are?
Maybe you've recently applied for a position at Discord and have been invited to an on-site interview, but don't really know where their offices are?
Well, we've got you covered, because we've done some digging and found out the exact address and contact details for Discord's main office.
In this guide, we'll show you where Discord is based, how many offices they have, and how you can get there.
Let's dive right in.
Key Points (tl;dr)
Discord is one of the world's largest community-based communications platforms, competing directly and indirectly with Slack and Microsoft Teams.
Discord was founded in San Francisco in 2012 and the Discord headquarters have remained in California ever since.
The exact address of the Discord head offices is Discord Inc., 444 De Haro St Suite 200, San Francisco, CA 94107, United States.
For the exact street address of the Discord headquarters in San Francisco, PLEASE READ THE FULL ARTICLE.
Like this content? Then share it!
Discord Headquarters: Everything You Need To Know
Here's the answer. Great article by @ChrisHeidorn right here: https://tokenizedhq.com/discord-headquarters/

www.tokenizedhq.com
What is Discord?
Discord is effectively a Voice-over-IP and instant messaging social platform. It acts as a digital town square for many online communities, especially within the gaming industry.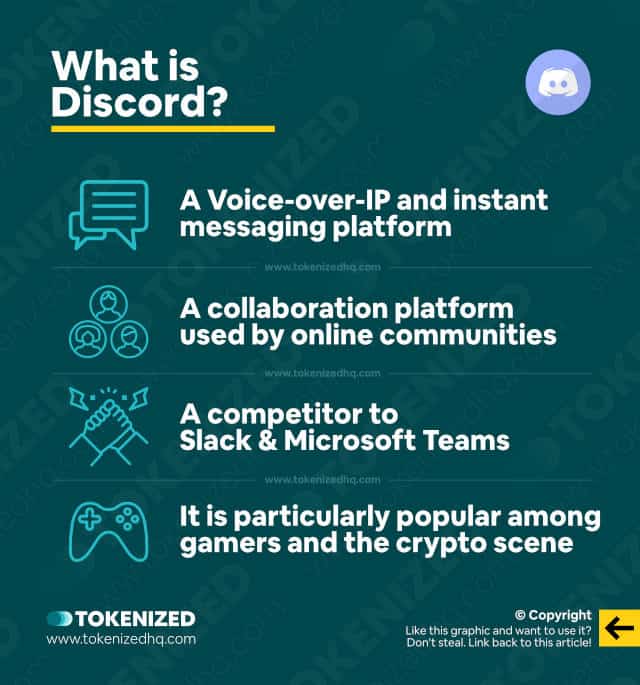 Discord is one of the most popular communication platforms in the world.
The company was founded in 2012 by Jason Citron and Stanislav Vishnevskiy.
What originally started out as a place where gamers could hang out and communicate via text, audio, and video, has since evolved into something far bigger.
Today, Discord is one of the world's largest consumer-oriented instant messaging platforms.
Its look and feel are similar to Slack or Microsoft Teams, however, their core audience is online communities of all shapes and sizes.
Where are the Discord Headquarters?
Discord's main offices are located in Potrero Hills, San Francisco, on the 1st Floor of De Haro Place.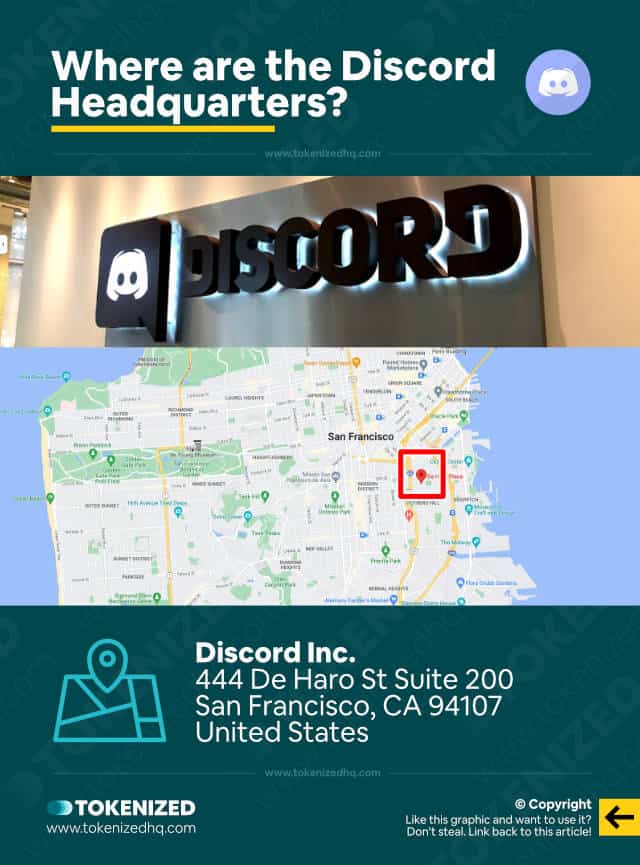 While it is true that Tencent, the Chinese tech giant, has a significant stake in Discord, it is not a Chinese company.
Discord is based in the United States and its head office is in San Francisco.
The exact address of the Discord headquarters is:
Discord Inc.
444 De Haro St Suite 200
San Francisco, CA 94107
United States
If you'd like to get in touch with the front desk at Discord headquarters, you can call +1 415-645-4065.
How Many Offices Does Discord Have?
Although we are only aware of one official Discord office in San Francisco, it seems that the company is branching out into Europe as well.
In early 2021, Discord created a new legal entity called "Discord Netherlands B.V." with an address right on the premises of Amsterdam's Schipol airport.
Discord's jobs page also lists numerous "Customer Experience" positions based in the Netherlands.
We suspect that Discord is opening a customer service center in order to provide better support in other languages and timezones.
That being said, the main Discord headquarters have not changed and will remain in California for the foreseeable future.
Conclusion
Unlike many other startups, Discord has successfully avoided opening too many regional offices.
Considering how Discord also acts as a replacement for Slack or Microsoft Teams, it's no surprise that in the wake of the pandemic, most job positions at Discord are also available on a remote basis.
When the majority of your staff works remotely, you really don't need more than the official Discord headquarters.
Here at Tokenized, we want to help you learn as much as possible about social media. We help you navigate the world of tech and the digitalization of our society at large, including the tokenization of assets and services.