Did you recently get your Discord account disabled?
Maybe you didn't always stick to Discord's community guidelines or perhaps your account was accidentally hit by a recent wave of bans?
Well, you've come to the right place because your situation is a lot more common than you might think and there's usually a fairly simple solution to the problem.
In this guide, you'll learn exactly what you need to do if your Discord account has been disabled.
Let's check it out.
Key Points (tl;dr)
It's always frustrating when your account gets disabled on a platform, especially because you tend to ask yourself: Why is my Discord account disabled in the first place?
Most disabled Discord accounts are related to violations of the terms of service or other suspicious behavior. Unfortunately, the only way to have your account reinstated is to file an appeal or contact Discord support directly.
If, however, you actually disabled your Discord account by yourself (for whatever reason), you can reactivate it by simply logging into your account and then pressing the "Restore Account" button.
For a step-by-step guide on what to do if you got your Discord account disabled, PLEASE READ THE FULL ARTICLE.
Like this content? Then share it!
Solved: Discord Account Disabled. Now what?
Here's the answer. Great article by @ChrisHeidorn right here: https://tokenizedhq.com/discord-account-disabled/

www.tokenizedhq.com
Why Was My Discord Account Disabled?
There are 2 main reasons why a Discord account might be disabled. The first reason is that the user voluntarily disabled their account via the settings. The second reason is that the account violated Discord's terms of service and/or community guidelines.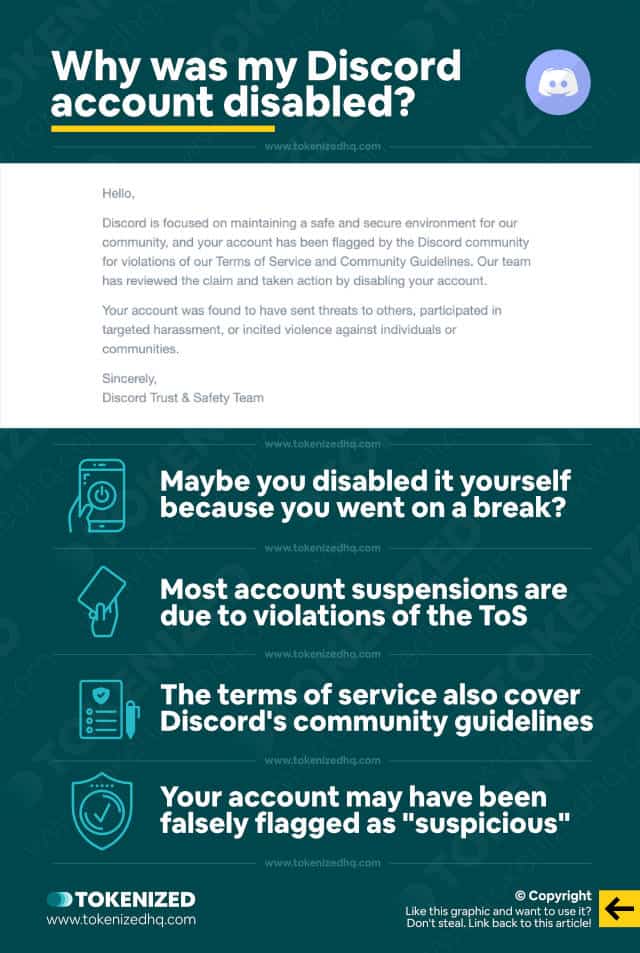 One of our readers recently sent us a message and asked: "My Discord account got disabled. What should I do?".
We get these questions a lot, especially from people who are relatively new to Discord.
The overwhelming majority of people use Discord the way you should.
They engage with communities about the topics that interest them and are generally kind people.
So you can imagine how shocked they are when they find out that they got their Discord account disabled.
Discord will usually send the user a message explaining that they've violated some rules or that their account displayed suspicious activity.
And that just leaves them flabbergasted.
Anyway, in most cases, the situation isn't as bad as it may seem.
You see, it's not unusual for Discord's anti-abuse system to accidentally flag accounts as "suspicious".
It happens a lot more often than you might think.
For example, if you try to reset your Discord password too many times within a certain period of time, that might be considered "suspicious".
Luckily, even if your account has been disabled by Discord, there are ways to recover it.
But there's another reason why your account might have been disabled.
It's quite possible that you disabled your Discord account by yourself.
Why would you do that?
Well, a lot of people like to take a break from social media and messaging systems because they spend far too much time on them.
That's why Discord allows you to temporarily disable your account, without having to process and full Discord account deletion.
Recovering an account that you disabled by yourself is super simple.
Whatever might be the reason that you got your Discord account disabled, we cover solutions for all of them in this article.
What to Do if You Got Your Discord Account Disabled
If you only temporarily disabled your Discord account, then you can reactivate it by simply logging into your account. If the reason for the suspension is related to suspicious activity, you will need to get in touch with Discord through their request form, social media, or via email.
None of the solutions to a disabled Discord account are particularly complicated.
They're actually quite simple, however, depending on the reason for the account suspension, you may have to wait up to 15 days for it to be resolved.
We actually have a detailed guide on how to undisabled Discord accounts, but we've listed the most common solution in this article as well.
So let's check out the following 3 solutions on what to do if you got your Discord account disabled.
Solution 1: Recover Your Discord Account by Logging In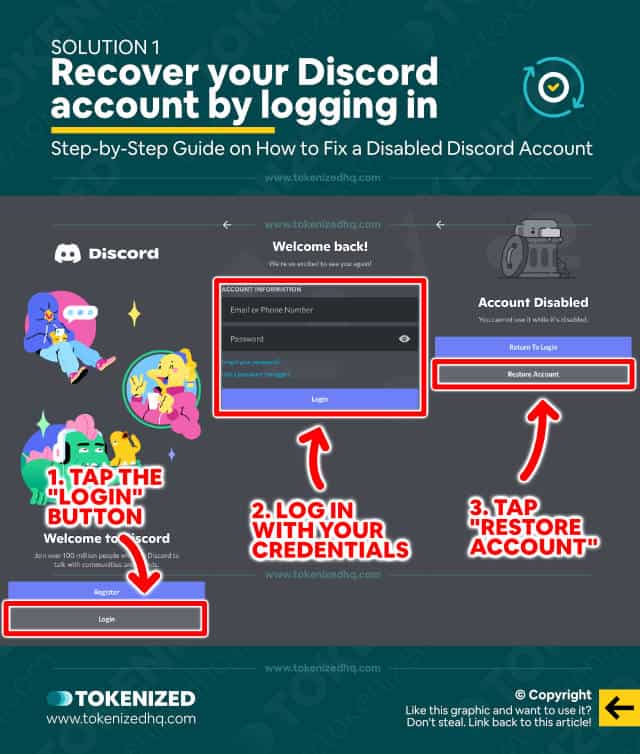 Assuming that you disabled your Discord account on purpose, reactivating it is actually super simple.
To reactivate a voluntarily disabled Discord account, simply follow these 3 steps:
Step 1: Open Discord and click on "Login".
Step 2: Log in with your user details.
Step 3: On the next prompt, click "Restore Account".
Congratulations! You successfully recovered your Discord within just a few seconds.
Unfortunately, most cases of disabled Discord accounts aren't as easy as that.
We address these cases in the next 2 solutions.
Solution 2: Submit a Help Request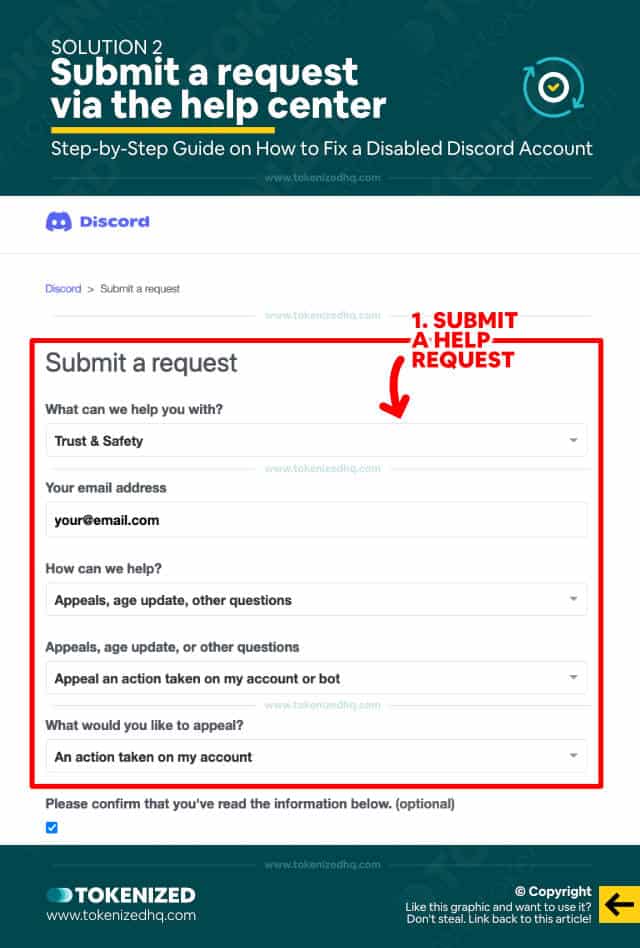 This next solution is for those of you who got their Discord account disabled due to a violation of the terms of service or community guidelines.
It doesn't matter whether you actually did do something that was forbidden or whether it simply happened by accident.
Whether legitimate or not, accounts that are flagged and disabled can only be recovered with help from Discord's support team.
And the most formal way to get support from Discord is to submit a request via their help center.
Here's how to submit a request for reinstatement for your Discord account:
Step 1: Go to the Discord request form.
Step 2: Choose "Trust & Safety" from the dropdown menu.
Step 3: Enter your account's email address.
Step 4: Select "Appeals, age update, other questions" from the "How can we help?" menu.
Step 5: A new dropdown appears. Select "Appeal an action taken on my account or bot".
Step 6: Then choose "An action taken on my account".
Step 7: Finish off by confirming all checkboxes, writing your message, and then clicking "Submit".
You'll probably get a response from Discord relatively quickly, however, bear in mind that it may take up to 2 weeks for the account to be enabled again.
This is especially true if you got your Discord account disabled for legitimate reasons.
Solution 3: Contact Discord Directly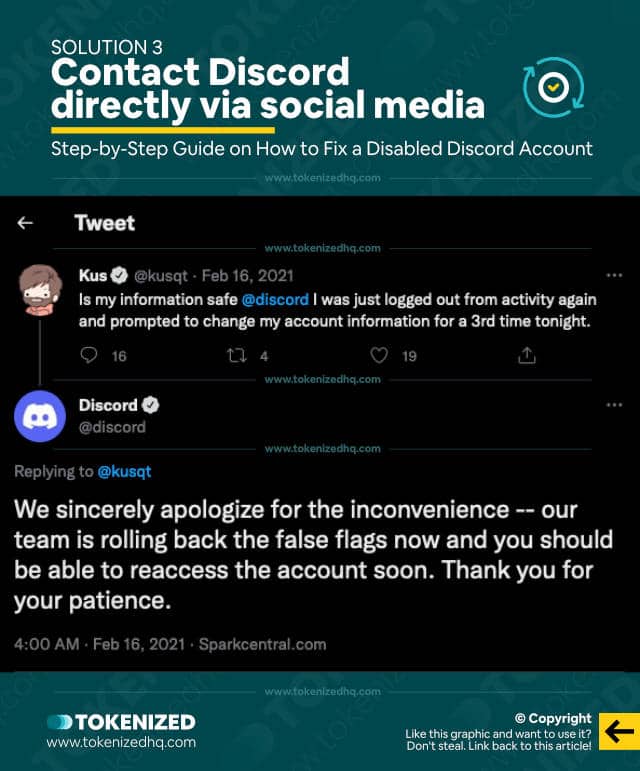 Not everyone likes to submit requests via forms.
It's just not a very popular way of getting help because the user doesn't really know when and how it will be dealt with.
If you prefer to talk to someone directly and maybe you're just too lazy to fill out a form, you can always try to get their attention on social media or via email.
Twitter has generally proven to be a good place to get a quick response from Discord's support team.
Simply send Discord's Twitter profile a direct message or mention them in a tweet.
They'll probably move the conversation to a private chat but they really are known to be very responsive.
If you don't have a Twitter account, you can still send an email to Discord's support team.
Conclusion
Remember, if you got your Discord account disabled by violating fundamental rules of the platform, you will definitely have to wait at least 2 weeks to get it reactivated.
However, if your account was disabled due to an error by their anti-abuse system, it shouldn't take too long to get it resolved.
Either way, as frustrating as it may be, always remember that these systems are in place to protect Discord users like yourself.
Here at Tokenized, we want to help you learn as much as possible about social media. We help you navigate the world of tech and the digitalization of our society at large, including the tokenization of assets and services.