Are you looking for a timeline up until the DALL-E 2 release date?
Unlike many of the more recent AI models that have made headlines, OpenAI's DALL-E was already in the news in 2021.
But sometimes it's difficult to reconstruct the exact timeline of when DALL-E hit certain milestones in its development and when it was officially released.
In this guide, we'll give you a quick overview of DALL-E's evolution from when it was first revealed up until the most recent release of its public API.
Let's dive right in.
Like this content? Then share it!
DALL-E 2 Release Date & Timeline
Here's the answer. Great article by @ChrisHeidorn right here: https://tokenizedhq.com/dall-e-2-release-date/

www.tokenizedhq.com
DALL-E 2 Release Date & Timeline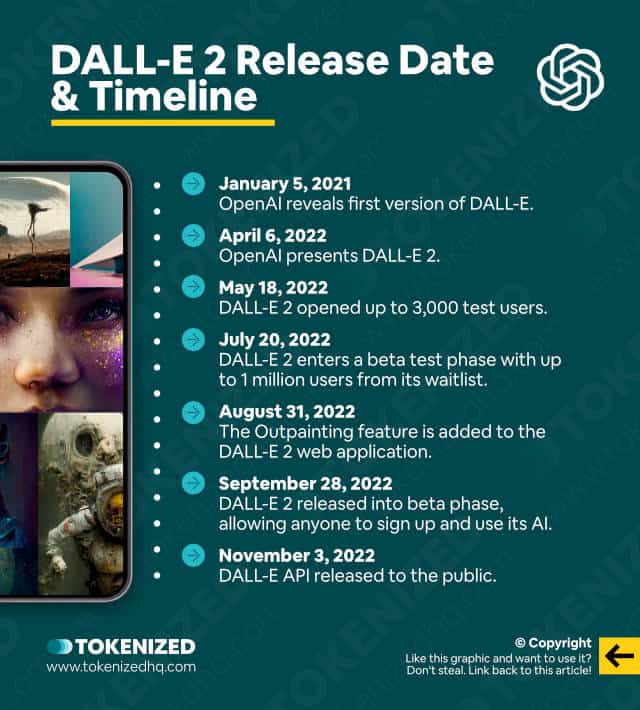 When we read an article about the latest developments in tech, we tend to take so many things for granted.
Sure, a full year or two may have already passed since we last heard about something, but we it's easy to lose track of time.
But let's face it. It's difficult to assess how groundbreaking some of these developments are without the context of time.
The world of AI art generators is an excellent example of an industry where the speed at which the technology improves is far beyond anything we're used to.
Since DALL-E was one of the very first projects to see the light of day, we've decided to put together a timeline of milestones in order to illustrate just how fast things are moving.
A short history of DALL-E:
January 5, 2021: OpenAI reveals the very first version of its text-to-image AI model.
April 6, 2022: OpenAI presents DALL-E 2, a vastly superior successor that is able to generate much more realistic images and can combine concepts, attributes, and styles.
May 18, 2022: DALL-E 2 opened up to 3,000 test users as part of its "Research Preview".
July 20, 2022: DALL-E 2 enters a beta test phase with up to 1 million users from its waitlist (partially free and partially paid).
August 31, 2022: The Outpainting feature is added to the DALL-E 2 web application.
September 28, 2022: The DALL-E 2 release date for its public beta phase, allowing anyone to sign up and use its AI.
November 3, 2022: The public DALL-E API joins OpenAI's growing suite of developer APIs.
Key Points (tl;dr)
The original DALL-E model was first revealed to the world in January 2021.
On September 28th, 2022, OpenAI announced the DALL-E 2 release date, although it is still officially in its beta phase.
In early November 2022, OpenAI also released the DALL-E API, allowing developers from all over the world to finally build applications using its exciting new technology.
Frequently Asked Questions (FAQ)
Before we close off this guide, let's quickly address some of the most common questions related to the DALL-E 2 release date.
When will DALL-E 2 be available?

The official DALL-E 2 release date was on September 28, 2022. Anyone wishing to experiment with its AI art generator can easily sign up for an account and is given 50 free credits in the first month and an additional 15 free credits in each subsequent month.

Is DALL-E 2 available to the public?

Yes, the DALL-E 2 web application and its developer API are available to the public. However, the DALL-E source code is proprietary software and therefore NOT an open-source alternative.

Does DALL-E have an API?

Yes, DALL-E is currently the only public API for AI art generation that we are aware of. Its pricing is considerably lower than regular credits for the DALL-E 2 web application. This makes sense since developers need to be able to build profitable business models on top of the infrastructure.
Conclusion
After months of waiting for everyone who wasn't lucky enough to get into the private beta, the DALL-E 2 release date is finally here.
In late September of 2022, DALL-E finally moved into public beta and is currently generating more than 4 million images per day.
Since November developers can also start building with the exact same technology within just a few minutes.
Here at Tokenized, we want to help you learn as much as possible about the AI software industry. We help you navigate the world of tech and the digitalization of our society at large, including the tokenization of assets and services.