Want to know why the Midjourney Bot went offline?
What many people don't know is that the official Midjourney Discord is by far the largest Discord server in the world.
So it's no surprise that the sheer amount of users may have taken Midjourney offline every now and then, and obviously people will freak out.
In this guide, I'll show you how to check whether Midjourney is indeed offline, what might be causing this, and what you can do in the meantime.
Let's dive right in.

Like this content? Then share it!
Is Midjourney Offline? And why is that?
Here's the answer. Great article by @ChrisHeidorn right here: https://tokenizedhq.com/midjourney-offline/

www.tokenizedhq.com
Key Points (tl;dr)
Is Midjourney down? Holy shit! It's time to freak out! 😆
Server outages are far more common than you think, especially for a fast-growing startup such as Midjourney.
In most cases, these are temporary server issues and you can monitor their status in the #status channel of the Midjourney Discord.
Is Midjourney Offline?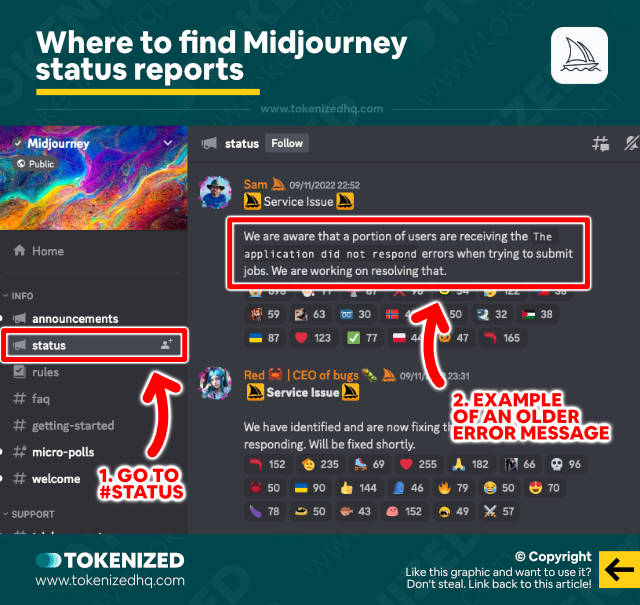 The most intuitive way to figure out whether something may have taken Midjourney offline is to google it.
In most cases, you'll find results on websites that specialize in tracking the status of a website or server.
These websites include:
Down Detector
Is It Down Right Now
While these sites can be helpful, they usually aren't very reliable because they rely on aggregate data from users who submit information on whether they are having connection issues.
Whenever their charts spike, it's a good indication that a server might be experiencing issues.
But if you're already inside Discord anyway, why bother googling or posting a question somewhere on social media?
The best source of information is Midjourney's Discord server itself.
If you believe something has taken Midjourney offline, then the best place to verify this is the following two channels in the Midjourney Discord:
#status: Used for official announcements about service issues.
#member-support: Since #status is a read-only channel, the member support channel can be useful for tracking real-time "chatter".
Another location where you can check if something has taken Midjourney offline is on the official Midjourney status page.
Not many people know about the page because it's not widely advertised, but it's an additional data point that may help in understanding what is going on.
It provides you with the current status of:
The Discord Server
The Discord Bot
The Website
Knowing that something has taken Midjourney offline is one thing, but Discord really is the best place to also find out why Midjourney is offline in the first place.
Errors Associated with Midjourney Going Offline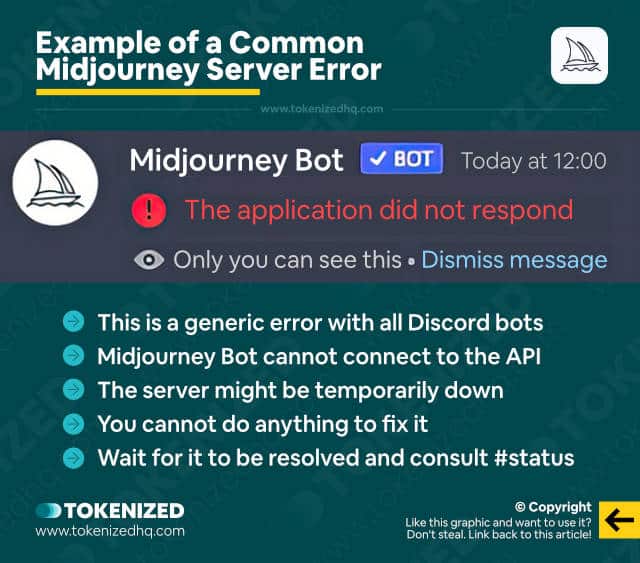 Most people don't just randomly come up with the idea that Midjourney might be offline.
Instead, it's usually a hunch that is triggered by an error that they run into while using Midjourney.
The 2 most common server-related error messages that you'll encounter in Midjourney are:
"This interaction failed."
"The application did not respond."
Whenever you run into the "This interaction failed." error, it usually means that the Midjourney Bot cannot handle the number of requests it is receiving.
It's a very common error among Discord bots.
While it is often a sign of a temporary server outage, it doesn't necessarily have to be that.
It could also just mean that there's too much activity and you're being throttled.
In most cases, the issue resolves itself within 5-10 minutes.
The second error, "The application did not respond", however, usually has its root cause in the Midjourney API itself.
Yes, that's right, Midjourney has an API but it's obviously not publicly available right now.
Either way, this is another common error among Discord bots and happens whenever they have problems interacting with another server.
In this case, there might be an issue with Midjourney's primary API server.
Again, the best place to check all this is the #status channel within the Midjourney Discord.
What Can I Do?
I hate to say it but there really isn't all that much you can do.
You're just going to have to wait it out and hope for the best.
Since every outage literally costs Midjourney tons of money in terms of lost revenue and since millions of people are using the service, you can rest assured that it's in their own best interest to fix things ASAP.
Personally, moments like these usually show us just how addicted we have become to being online at all times.
See it as an opportunity to disconnect and relax a little bit.
We're already stressed out enough as it is.
Frequently Asked Questions (FAQ)
Before we close off this guide, let's quickly address some of the most common questions related to something taking Midjourney offline.
Can you use Midjourney without Discord?

Unfortunately, you cannot use Midjourney without Discord at this time. We know that Midjourney is working on improving its web interface and it's quite likely that you'll be able to use it via the web UI at some point as well. But in the end, if their API server goes down, it won't help you in these situations.

Why isn't the Midjourney Bot working?

There are 2 main reasons why the Midjourney may not be working. For one, it might be overwhelmed with too many requests and therefore cannot process your command. The other potential reason is that there is a technical problem with the Midjourney API.
Conclusion
Whenever Midjourney goes offline, it feels like the world is coming to an end for many of its users.
In most cases, these are temporary issues that are resolved quite quickly and you can monitor their status in real time via the #status channel in the Midjourney Discord.
That being said, I fully understand that you all have a strong urge to understand what exactly is going on, especially when you use Midjourney for work.
Here at Tokenized, we want to help you learn as much as possible about the AI software industry. We help you navigate the world of tech and the digitalization of our society at large, including the tokenization of assets and services.