Want to know how knolling works in Midjourney?
Maybe you don't even know what knolling is but I'm absolutely positive you've seen people do it in Midjourney.
But why is it that in Midjourney knolling has become a bit of a craze?
In this guide, I'll show you what knolling is, how it works, and what awesome images you can create using this technique.
Let's dive right in.

Like this content? Then share it!
Explained: Midjourney Knolling
Here's the answer. Great article by @ChrisHeidorn right here: https://tokenizedhq.com/midjourney-knolling/

www.tokenizedhq.com
What is Knolling?
Knolling is a popular visual organizational technique in many different fields.
It creates a sense of order and aesthetic appeal, which is why it's so popular.
The term was first coined in 1987 by a janitor named Andrew Kromelow.
He used this method to organize tools and parts while working at Frank Gehry's furniture design studio.
Key Points (tl;dr)
Knolling is the process of arranging objects at a right angle on a flat surface, creating a sense of order and aesthetic appeal.
Contrary to common belief, knolling in Midjourney is incredibly easy to do and also very versatile.
A very basic template that you can use is /imagine knolling of [YOUR TOPIC OR OBJECTS].
How to Apply Knolling in Midjourney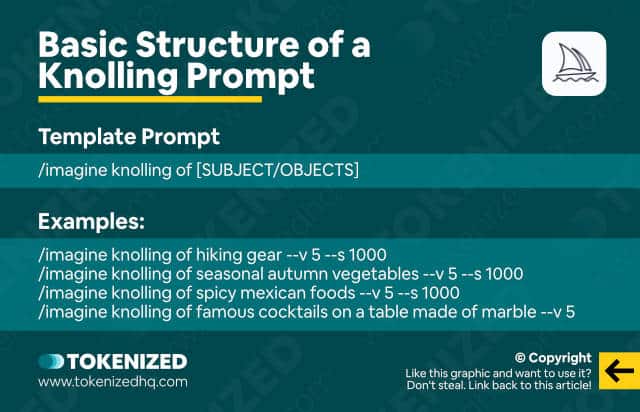 As challenging as knolling may look when you see the final images shared on social media, Midjourney knolling is actually surprisingly easy.
It's one of the easiest Midjourney tricks in the book and literally only requires a very simple prompt that can be applied to anything you like.
Here's a brief example:
/imagine knolling of hiking gear --v 5 --s 1000
Of course, you don't need to keep your prompt as basic as the example above.
Midjourney knolling works in all sorts of variations, both in the text prompt as well as the parameters.
So, for example, if you wanted to create a knolling of food, you could easily spice things up by being more explicit about what type of food.
You could also define what sort of colors the food should have.
Here are some examples:
/imagine knolling of seasonal autumn vegetables --v 5 --s 1000
/imagine knolling of spicy mexican foods --v 5 --s 1000
And it doesn't stop there.
You can add to your prompt as much as you like.
For example, you could also define the background.
/imagine knolling of famous cocktails on a table made of white marble --v 5 --s 1000
Midjourney knolling never gets old.
If you'd like to see the examples above live in action, check them out in the section below.
Examples of Midjourney Knolling
Here are some examples of knolling from the previous section.
Hiking Gear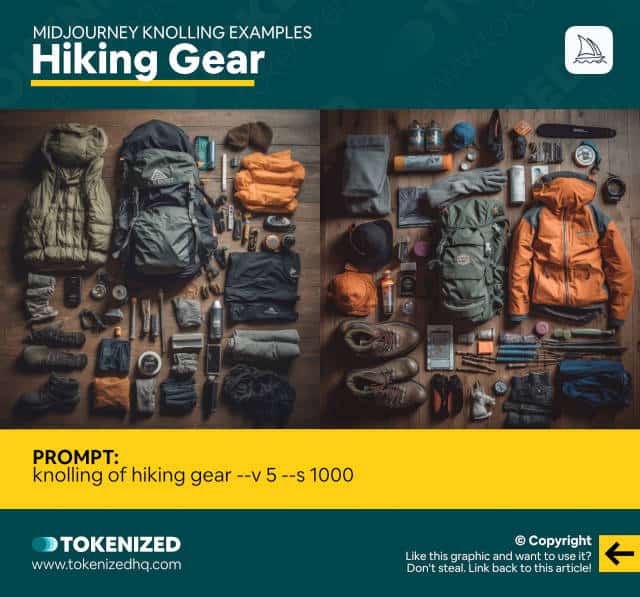 Seasonal Vegetables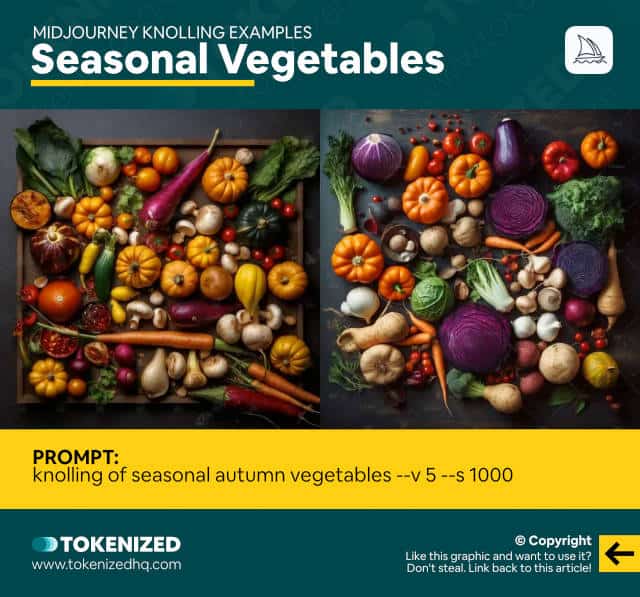 Mexican Food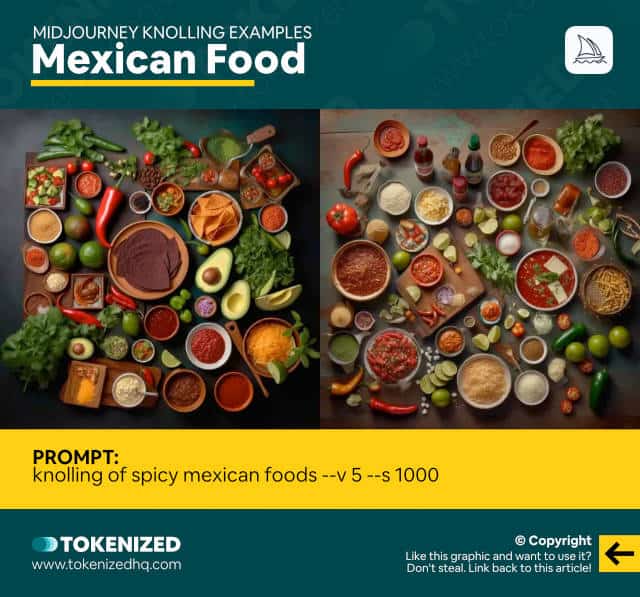 Cocktails on a Marble Table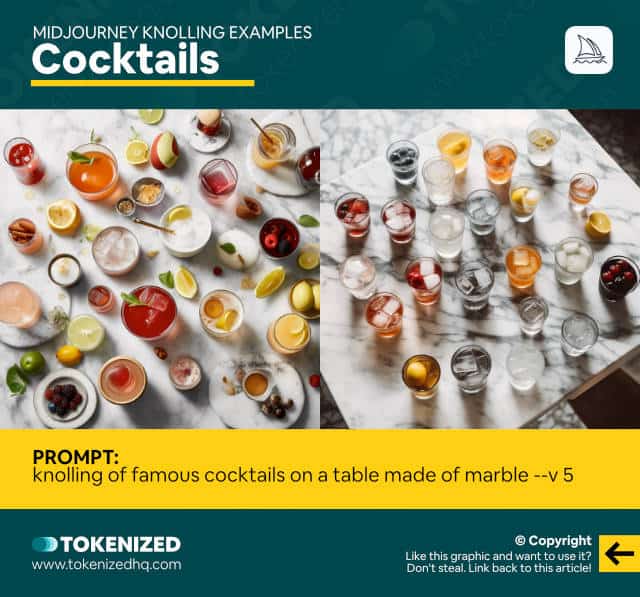 What is the Purpose of Knolling?
The primary purpose of knolling is to bring a sense of order and clarity.
Some examples of how knolling is applied across different domains include:
Photography: In product and still-life photography, knolling is often used to showcase multiple items in an organized manner. It helps viewers quickly understand the relationship between the objects.
Design: Industrial and graphic designers use knolling to communicate the structure and function of their designs. By displaying all components neatly, they can effectively demonstrate the assembly process.
Workspace organization: In workshops, laboratories, and studios, knolling helps in maintaining an efficient and clean working environment.
Retail: Merchandising teams use knolling to create eye-catching and organized product displays in stores. This technique helps customers easily browse and compare products.
Education: Teachers and educators may use knolling to present learning materials in a clear and structured manner. This can help students learn more effectively.
Overall, knolling serves as a visual tool for improving comprehension and aesthetic appeal in various fields.
In the context of Midjourney, knolling usually refers to the systematic arrangement of elements within the generated images.
The images usually result in visually appealing and well-organized compositions that closely match the user's prompt.
Frequently Asked Questions (FAQ)
Before we close off this guide, let's quickly address some of the most common questions related to Midjourney knolling.
What is knolling in Midjourney?

Midjourney knolling is when you generate visually appealing and well-organized images of items placed at right angles on a flat surface. Knolling is very popular in Midjourney because it conveys the impression that a lot of work went into the prompt, when in fact, it's one of the easiest things you can do in Midjourney.

How does knolling work in Midjourney?

The easiest way to achieve a good knolling result in Midjourney is to use the following prompt template: /imagine knolling of [YOUR TOPIC OR OBJECTS].
Conclusion
When people are first confronted with knolling images created in Midjourney, their initial impression is that it's very difficult to do.
However, in reality, Midjourney knolling is one of the easiest things you can do because the prompts are simple and the results are reliable.
With the instructions I share here, anyone can have fun knolling in Midjourney.
Here at Tokenized, we want to help you learn as much as possible about the AI software industry. We help you navigate the world of tech and the digitalization of our society at large, including the tokenization of assets and services.