Are you looking for a good Midjourney course?
Maybe you've recently started playing around with Midjourney but you're just not getting the type of results you have hoped for?
As easy as it is to get started with Midjourney, mastering all of the ins and outs of this fascinating tool is considerably more difficult than most people think.
In this guide, we'll introduce you to 5 popular and affordable Midjourney courses that can help you get to the next level.
Let's dive right in.

Like this content? Then share it!
5+ Midjourney Courses to Improve Your Skills
Here's the answer. Great article by @ChrisHeidorn right here: https://tokenizedhq.com/midjourney-courses/

www.tokenizedhq.com
Why Should I Pay for a Midjourney Course?
I know there's quite a bit of stigma around buying online courses and many people believe that you can learn anything for free by just watching videos on YouTube.
Although there's a kernel of truth to that statement, most free instructional videos lack the structure and exercise-based curriculum that comes with a fully-fledged online course.
Remember, it's in an expert instructor's best interest to provide you with the best Midjourney course experience possible.
His own success is largely dependent on yours and therefore he has much greater motivation to teach you the necessary skills in a way that will help you achieve your goals.
Furthermore, there are many very affordable options for Midjourney courses that will cost you less than a few cups of coffee.
Therefore, we strongly recommend that you consider buying a Midjourney course from someone who knows what he's doing and save yourself the hassle of having to learn by trial and error.
Key Points (tl;dr)
Although there is already a lot of free content out there, paying for a well-structured Midjourney course can make a lot of sense.
Although there is already a lot of free content out there, paying for a well-structured Midjourney course can make a lot of sense.
Based on what we've seen so far, our current recommendation is that you purchase either one of Samson Vowles' courses since they currently offer the best value for money.
My Upcoming Midjourney Course
I am currently in the process of putting together all of the material for my upcoming Midjourney Course.
If you're interested in taking the course, sign-up for the pre-launch waiting list via the form below.
In the meantime, you can take a closer look at my teaching style on the Tokenized AI YouTube channel.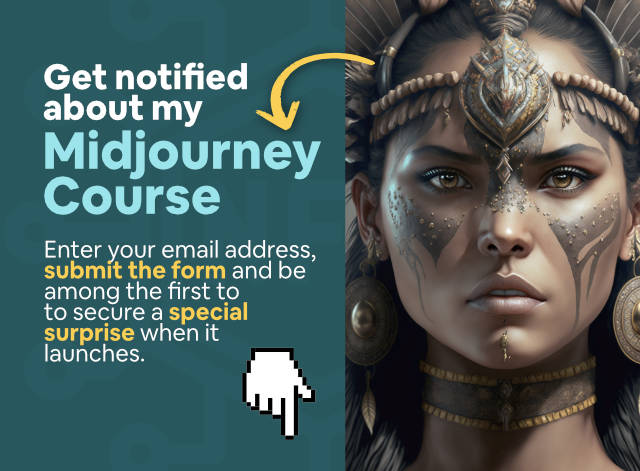 5 Affordable Midjourney Courses
Considering how new AI art software still is, it's not surprising that there aren't many Midjourney courses, to begin with.
We also want to make it clear that we haven't personally tested any of the course content.
However, since most of these courses are hosted on platforms that provide stats on how many students have completed the course and how satisfied they were with the content, we can still give you an idea of how good they are.
Here are our 5 Midjourney course recommendations.
1. Midjourney Mastery
If you've spent any amount of time searching for YouTube videos about Midjourney, then you've most likely come across Samson Vowles' channel before.
Samson is an artist who seems to have identified AI art as an excellent niche for himself and he's been releasing tons of quality content about Midjourney over the past few months.
His Midjourney course is hosted on Udemy and priced very reasonably for roughly 165 minutes of content.
What we really like about this course is that it doesn't just show you how to use Midjourney, but also how to sell your artwork.
Course Outline
Introduction (7min)
Midjourney Fundamentals (50min)
Midjourney Advanced Features (67min)
Selling Your Art (26min)
Course Completion (3min)
Student Feedback
Over 481 students have purchased Samson's course so far and he's received an overall rating of 4.6 with a total of 116 ratings.
Here's what some of his students are saying:
Learned a lot from this video. Too bad there isn't a "make me an amazing artist button" as I still got to practice and learn how to do these still lol

Thanks for making this video.

Andy T.
If you are stuck and want to beat Midjourney's promptcraft block fast, Midjourney Mastery will help..The coach is amazing and the curriculum is easy to follow. I had a great experience and I highly recommend it to artists and creators who want to learn how artificial art is created.

Robin L.
2. Create & Sell AI Art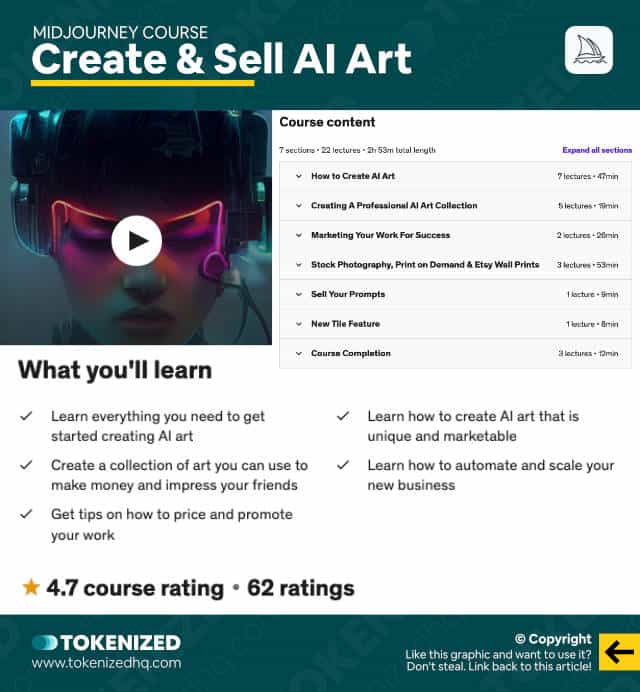 Samson also has another Midjourney course on offer that seems to be more tailored toward marketing the artwork you've created with Midjourney.
The initial chapter of the course goes over all of the essentials of creating AI art with Midjourney, while the rest of the course is all about marketing.
This makes particular sense for those of you who tend to learn quickly and are keen on building some passive income streams from your artwork.
Course Outline
How to Create AI Art (47min)
Creating A Professional AI Art Collection (19min)
Marketing Your Work for Success (26min)
Stock Photography, Print on Demand & Etsy Wall Prints (53min)
Sell Your Prompts (9min)
New Tile Feature (8min)
Course Completion (12min)
Student Feedback
While this course hasn't had as many students as his first one, 367 students are definitely nothing to complain about.
With an overall rating of 4.7 from 62 ratings, it's even more popular than his first course.
Considering how many people will easily make back their course tuition just by selling their artwork online, it's a really good deal.
Here are some quotes from his students:
This certainly went above and beyond my expectations. I was afraid I was mostly going to get information that I already knew, but I learned a great deal. It was fantastic to be able to go through the process with Mr. Vowles of making a certain type of image/art and then uploading it onto various platforms.

I definitely recommend this course for anyone interested in dipping their toe into the AI art-selling market.

Jeremy R.
Pretty straight-forward and was definitely what I was looking for. Watching Samson go step-by-step from taking inspirations of art, then creating them, then uploading them on the marketplaces, it just completely demystified any concern or doubts I had. Definitely worth it.

Erin K.
3. How to Create AI Art with Midjourney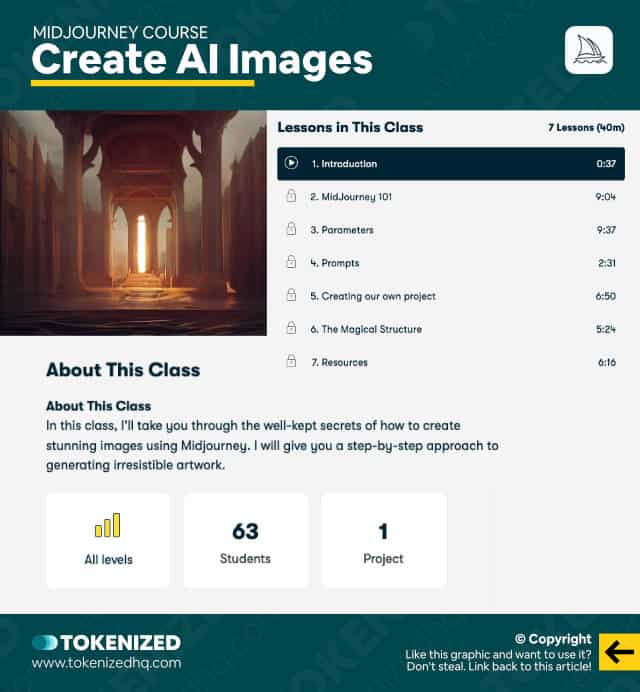 We're now going to switch platforms and move from Udemy to Skillshare.
The next 3 Midjourney courses are all hosted on Skillshare and it's important to understand the difference in pricing.
On Udemy you pay for each course individually while on Skillshare you subscribe to flat-rate membership that gives you access to unlimited content on the platform.
The first course is from Jonathan Parker and it mainly focuses on teaching you the necessary skills to create artwork with Midjourney.
Course Outline
Course Intro (1min)
What is Midjourney (5min)
Existing Work Made with Midjourney (4min)
Creative Pieces of Art with Midjourney (5min)
Upscaling, Variations, and Dimension (11min)
Prompt Tips (6min)
Project Tasks (1min)
Bonus Lesson (4min)
Student Feedback
With 291 students it's the most popular Midjourney course on Skillshare right now.
Although the course's outline and the length of the course don't feel very convincing to us, Jonathan's students are mostly happy.
60% say that it exceeded their expectations, while 40% say it at least met them.
Good course; thanks for your teaching.

Robert B.
4. Create Stunning AI Images Using Midjourney
Next up is a Midjourney course created by Hasen Hafid.
Once again, this is a fairly short course that only lasts about 40 minutes.
This might be a good entry point for someone who isn't willing to commit more than an hour to learn how to use Midjourney.
That being said, don't expect more than a high-level overview of what it can do.
I find it highly unlikely that you're going to be taught how to properly use the advanced features of Midjourney because that simply requires more time.
Course Outline
Introduction (1min)
Midjounrey 101 (9min)
Parameters (10min)
Prompts (3min)
Creating Our Own Project (7min)
The Magical Structure (5min)
Resources (6min)
Student Feedback
Currently, more than 60 people have taken Hasen's Midjourney course and the majority of them have been happy with their outcomes.
And I guess that's what counts.
I thoroughly enjoyed this class and learned so much, thank you.

Vivienne B.
5. Generative AI Art for Beginners
This course was created by Oliver Theobald and it is bar far the shorted one of the bunch with only 32 minutes of runtime.
Once again, I would like to stress that such a short amount of time is barely enough to get you started with Midjourney.
Claiming that the course will teach you "the tactics of killer text prompts" is absolutely misleading because it's impossible to convey that knowledge in half an hour.
Course Outline
Introduction (2min)
Welcome to the World of AI Prompts (10min)
AI Fundamentals & AI Art Software (9min)
Unleashing Art with Midjourney (8min)
Project Time (1min)
Conclusion (2min)
Student Feedback
Unfortunately, there isn't any information available regarding the feedback of his 50+ students so far.
Free Midjourney Course on YouTube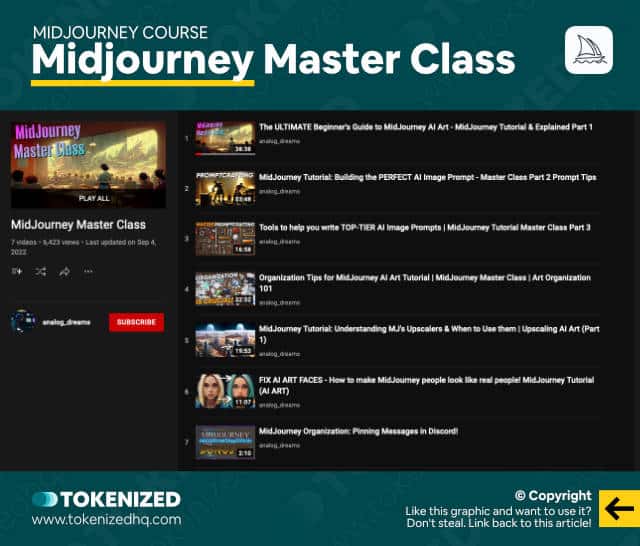 I know we said earlier that there are many good reasons to pay for a Midjourney course, especially when it goes above and beyond to actually teach you something.
However, some people simply can't afford to buy a course or don't think that the course content is any better than the free option.
While we can't make any claims as to whether freely available content is better than any of the courses above, it's true that YouTube has endless amounts of content to choose from.
If you prefer to start off with some free tutorials, then we recommend you check out the Midjourney Master Class by analog_dreams.
Frequently Asked Questions (FAQ)
Before we close off this guide, let's quickly address some of the most common questions related to Midjourney courses.
Do I need a paid Midjourney membership for these courses?

While you could potentially complete these courses just by using Midjourney's free trial, you will be severely limited in your ability to text different commands and parameters. We strongly urge you to get the Basic membership.

How much does Midjourney cost?

Midjourney's Basic membership costs $10 per month and should be more than enough to complete any of these courses and still have tons of fun by yourself. If you think you're going to be a heavy user, then you should consider choosing the Standard plan for $30 per month which essentially gives you unlimited usage.

What is the best Midjourney course?

Although we haven't seen any of the course content, we are very familiar with Samson Vowles' YouTube channel. Based on the hard facts and our experience with these videos, we would recommend that you buy either one of his Midjourney courses, depending on what you want to achieve. There's still surely some overlap, but if you can afford it, just get both.
Conclusion
Midjourney is still a very piece of AI software and most people are busy experimenting with it, trying to figure out what is possible and what isn't.
If you're considering getting deeper into Midjourney and maybe even want to use it commercially, then a paid Midjourney course can make a lot of sense.
Not only will it save you lots of time trying to figure things out yourself, but it will also show you how to monetize your work afterward.
Here at Tokenized, we want to help you learn as much as possible about the AI software industry. We help you navigate the world of tech and the digitalization of our society at large, including the tokenization of assets and services.