Are you trying to figure out why Instagram won't let you post photos, videos, stories, or even just a comment?
Maybe you just took the most awesome photo ever and wanted to share it with your followers, but now you're thinking: Help! Instagram won't let me post!
Well, your issue isn't as rare as you might think, but there are many different reasons why you might be facing this problem.
In this guide, you'll learn some of the potential reasons why you can't seem to post anything as well as several ways how you can fix it.
Let's dive right in.
Key Points (tl;dr)
The 7 most common reasons why Instagram won't let me post are:

I've posted content that violated the guidelines
My Instagram is not up to date
I'm been posting, commenting, and liking too quickly
Something's wrong with the file I'm uploading
My internet connection is having issues
Some of my apps violate Instagram's guidelines
I've been temporarily blocked or shadow-banned

Here are 5 proven ways how to fix the "Instagram won't let me post" issue:

Solution 1: Clear the app cache
Solution 2: Update the Instagram app
Solution 3: Resize the image or video
Solution 4: Make your image "native"
Solution 5: Delete 3rd party app that violate the community guidelines
For a detailed overview of several things you can do when Instagram won't let me post, PLEASE READ THE FULL ARTICLE.
Like this content? Then share it!
[SOLVED] Instagram Won't Let Me Post! How Do I Fix It?
Here's the answer. Great article by @ChrisHeidorn right here: https://tokenizedhq.com/instagram-wont-let-me-post/

www.tokenizedhq.com
7 Reasons Why Instagram Won't Let Me Post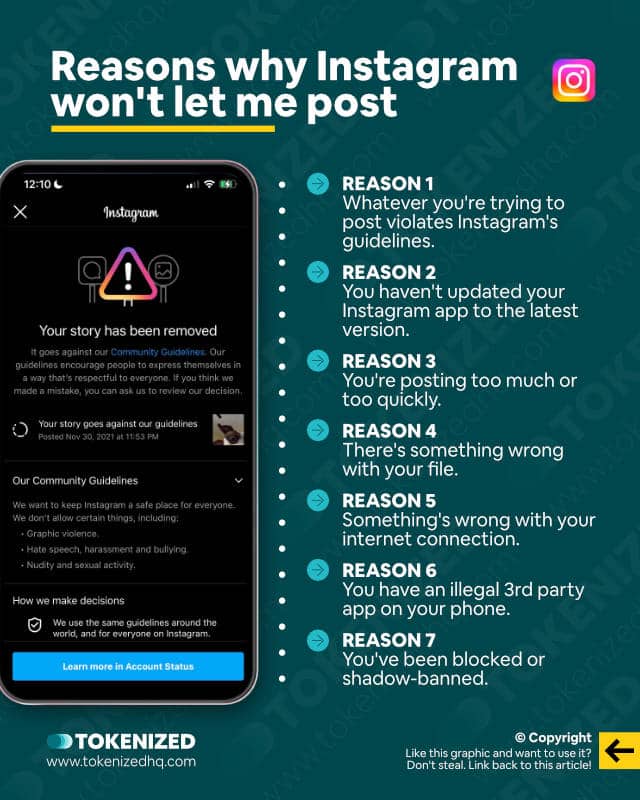 First of all, it's important to note that not every case where you can't post something, is necessarily the same problem.
You see, Instagram has a wide array of rules, technical limitations, as well as specific restrictions that can all lead to you not being able to post something.
Problems with posting on Instagram can affect various parts of the app experience:
Posting photos
Uploading videos
Sharing stories
Commenting on other people's posts
Re-sharing someone else's content
Every case is slightly different, so it's not always easy to troubleshoot.
However, based on most of the messages we receive from our readers, there seems to be general agreement on the fact that most of them boil down to about 7 distinct cases.
So, if you're asking yourself, "Instagram won't let me post. What did I do wrong?", then it's most likely due to one of the following reasons:
Whatever you're trying to post violates Instagram's community guidelines.
You haven't updated your Instagram app to the latest version.
You're posting too much or too quickly.
There's something wrong with your file.
Something's wrong with your internet connection.
You have an illegal 3rd party app on your phone.
You've been blocked or shadow-banned.
If any of the above cases apply to you, then you won't be able to post anything on Instagram.
One of the most common issues is when you simply post too much or too quickly.
Unfortunately, Instagram will only inform you of your mistake if you're violated their guidelines or if your action is being blocked for security reasons.
In all other cases, you're going to have to try a number of solutions to see what works.
5 Ways to Fix Things When Instagram Won't Let You Post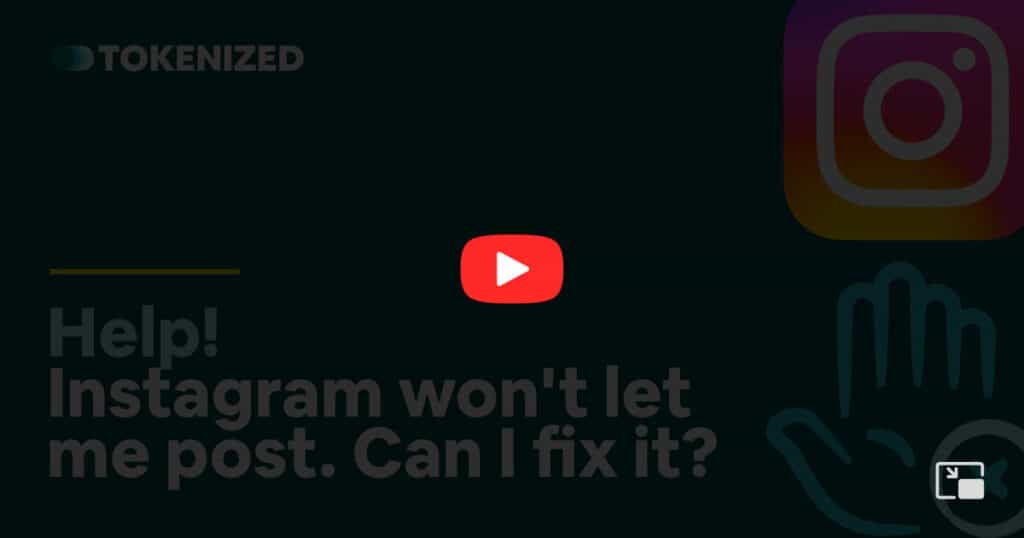 As we've already explained, it's not always entirely clear what the origin of the problem is.
That's why, in many cases, you'll have to try several different solutions to fix it.
To make things easier for you, we've collected 5 of the most common solutions.
Solution 1: Clear the App Cache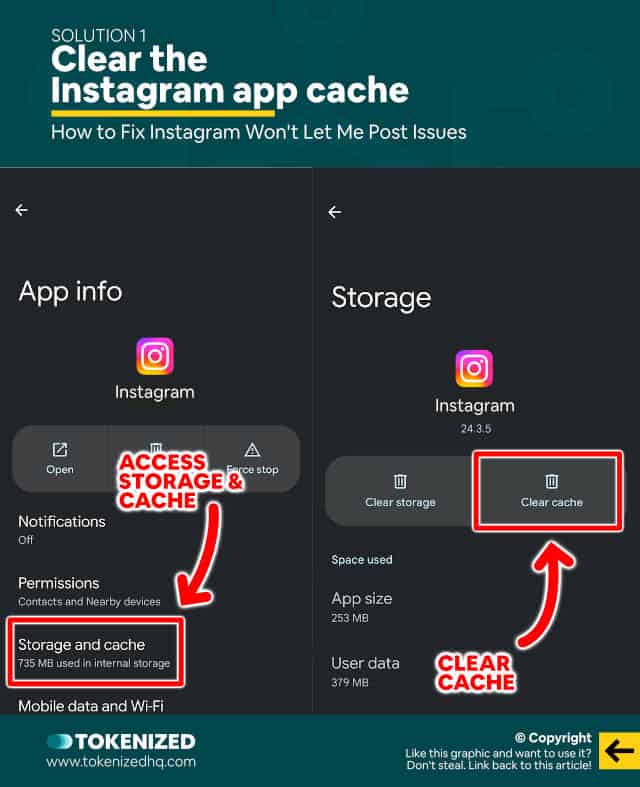 Usually, the cache of your app is meant to help speed things up on your phone and avoid having to download files over and over again.
While that's usually a good thing, app caches are also known to cause problems whenever a file actually needs to be updated.
So, in some cases, clearing your Instagram cache can actually be quite beneficial.
For example, this fix has also proven to work quite well when Instagram has no internet connection.
Instructions for Andoid
Here are the steps to clear your app cache on Android:
Step 1: Go to your phone's "Settings".
Step 2: Now select "Apps" and find the Instagram app.
Step 3: Then tap "Storage and cache".
Step 4: Finally, tap "Clear cache".
If that doesn't fix things, then you can also try to tap "Clear storage" as well.
And if push comes to shove, uninstall the app and reinstall it again.
Instructions for iPhone
If you have an iPhone, then the steps are slightly different.
Step 1: Go to "Settings".
Step 2: Scroll down until to you find "General" and select it.
Step 3: Now tap "iPhone Storage".
Step 4: Find the Instagram app in the list and tap it.
Step 5: Tap "Offload app".
Just like on Android, if this doesn't fix things, you can choose to uninstall and reinstall the app.
Solution 2: Update the Instagram App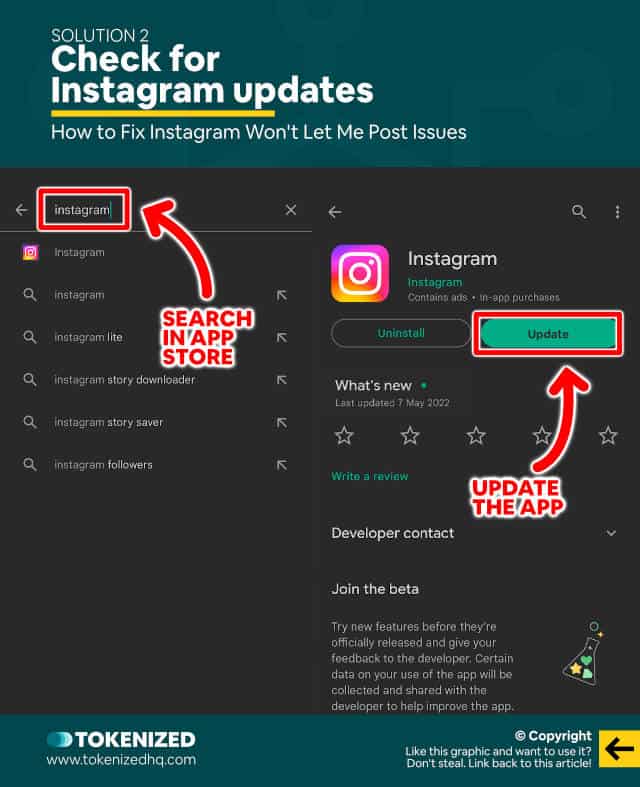 Rather than going all the way and completely reinstalling the app, it's sometimes worth checking whether your app is actually up to date.
Not everyone has automatic updates turned on, so it's not unusual for apps to become outdated and no longer work the way they should.
To update your Instagram app, follow these steps:
Step 1: Open the Apple App Store or Google Play Store.
Step 2: Find the Instagram app.
Step 3: Tap the "Updated" button if the app is outdated.
To be honest, this is rarely the root cause of your problems, so you'll definitely want to check out Solution #3.
Solution 3: Resize the Image or Video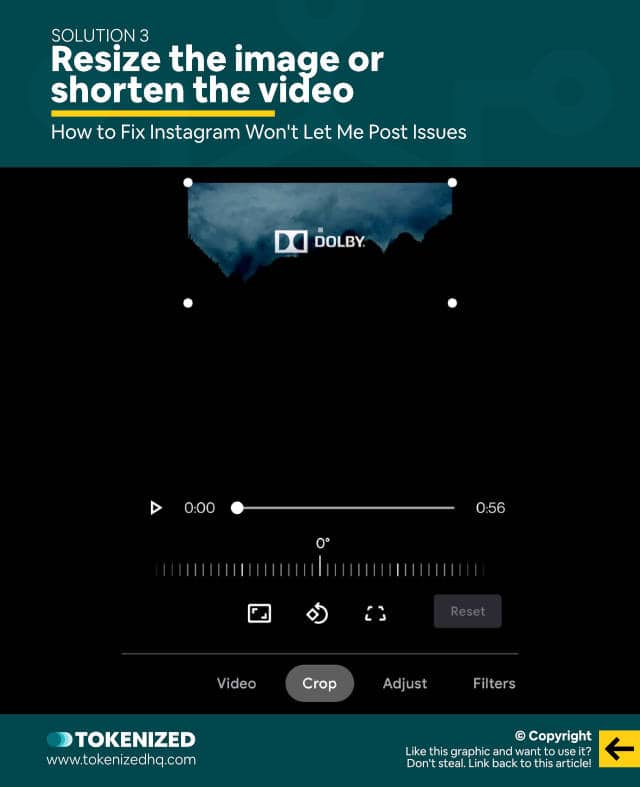 Most of the time when people search for "Instagram won't let me post", it's because they're having issues with photos or videos.
There's a good chance that the photo or video that you're trying to upload is simply too big.
Not many people know this but the Instagram app has a file size limit.
If you're trying to upload a video that's longer than 60 seconds or bigger than 4GB (which is a lot!), then you'll receive an error from Instagram.
For images, the limits are as follows:
Square posts: 1080 x 1080 pixels
Landscape posts: 1080 x 566 pixels
Portrait posts: 1080 x 1350 pixels
The easiest way to fix the problem for photos is to simply screenshot it.
Since smartphone screens are fairly small, the resolution is usually more than sufficient.
For videos, it's a bit different.
You can try to use compression software or simply shorten your video.
Solution 4: Make Your Image "Native"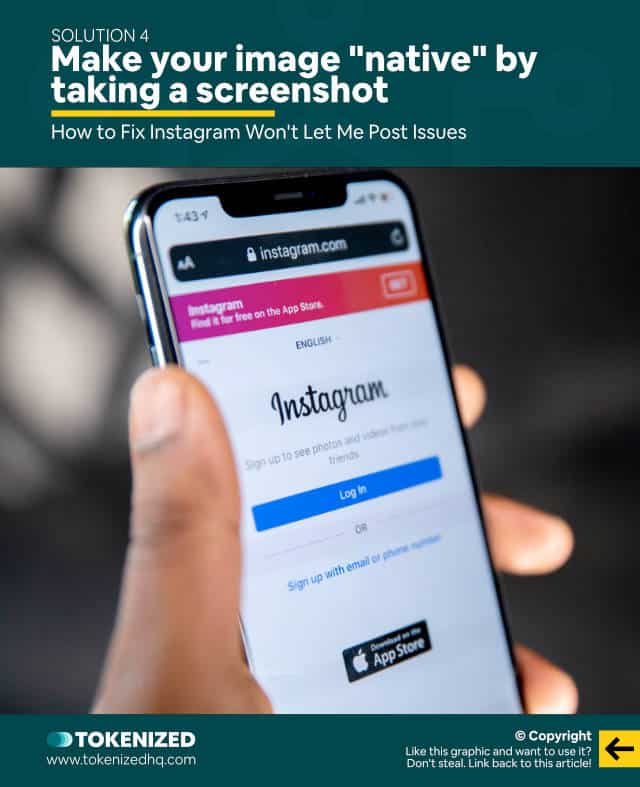 One of the more recent issues that have been coming up a lot is the fact that Instagram won't let you post your image because it doesn't originate from your phone.
The concept of "native" posts is new to most people.
Basically, the idea is to prevent people from posting content that they didn't create themselves.
And let's face it: Millions of people do just that.
The easiest way to fix this is to simply screenshot the content on your phone, crop the image and then post it.
Since the screenshot was generated on your phone, it will usually be deemed as "native".
Solution 5: Delete 3rd Party Apps That Violate the Terms of Service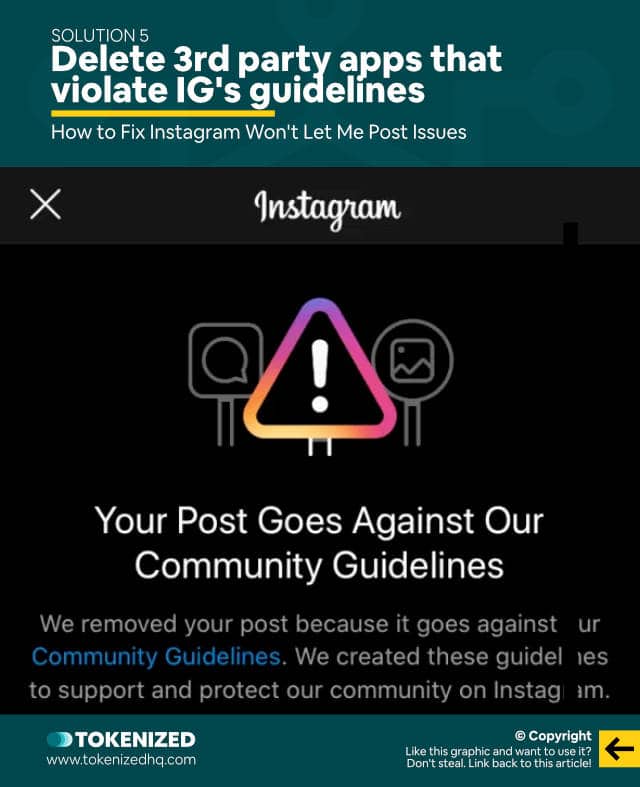 Instagram and many other social media platforms are completely flooded with people trying to make a quick buck.
They are lazy and not willing to do the hard work that's necessary in order to become successful.
So they start to buy fake likes, fake followers, and sorts of other shenanigans.
In many cases, these "tricks" require you to install a 3rd party app on your phone.
If Instagram knows about this app and has deemed it to be in violation of its community guidelines, then your account may have been flagged.
In fact, you may have already been shadow-banned.
Try deleting any violating 3rd party apps and see if that fixes your issue.
Frequently Asked Questions (FAQ)
Before we close off this guide, let's quickly address some of the most common questions related to Instagram not letting you post content.
Why can't I upload photos to Instagram?

The most common reason is that you're trying to upload images that have not originated from your phone. In other words, they are not considered "native". You should try to only upload images that you've taken with your phone. Alternatively, you can try to screenshot the image and then upload it.

Why won't Instagram let me post landscape photos?

If you want to upload a photo in landscape format, make sure that it meets Instagram's image size criteria. Landscape photos should not be bigger than 1080 x 566 pixels.

Instagram won't let me post any comments. Why?

If you're not able to post comments on a certain Instagram post, then the user has most likely turned off commenting for the post. However, if you can't seem to comment on any posts, then you probably have a connection problem.

Why won't Instagram let me like any photos?

There's no way to prevent users from actually liking a photo on Instagram. So, if you're having issues with liking other people's posts, then you're probably experiencing connection problems.

Why is Instagram not letting me post my story?

If you're not able to post content on your Instagram story, then it's either a glitch or you're trying to post an image that wasn't actually taken on your phone to begin with.

Why is Instagram blocking me from posting?

If Instagram is blocking your posts, then your content either violates their community guidelines or you've been taking too many actions within a short period of time. In such cases, Instagram will limit your activity for at least a couple of hours, but sometimes even up to a full day.
Conclusion
You wouldn't believe how many emails we get with the subject line "Help! Instagram won't let me post!".
It's become a bit of a running gag here at Tokenized, especially because most of the solutions are fairly simple.
The only time you need to worry about this sort of problem is when you clearly know that you've been doing something that you shouldn't be doing.
Here at Tokenized, we want to help you learn as much as possible about social media. We help you navigate the world of tech and the digitalization of our society at large, including the tokenization of assets and services.