Are you looking for the best Instagram PFP Downloader?
Perhaps you've been trying to download someone's Instagram profile picture from the Instagram app but just can't get it to work?
The Instagram app was never meant to allow you to simply download someone else's profile picture and that's you'll need to use a workaround.
In this guide, you'll learn 2 different methods on how to download a user's Instagram profile pic using your phone.
Let's dive right in
Like this content? Then share it!
The 7 Best Instagram PFP Downloaders in 2023
Here's the answer. Great article by @ChrisHeidorn right here: https://tokenizedhq.com/instagram-pfp-downloader/

www.tokenizedhq.com
What is an Instagram Profile Picture?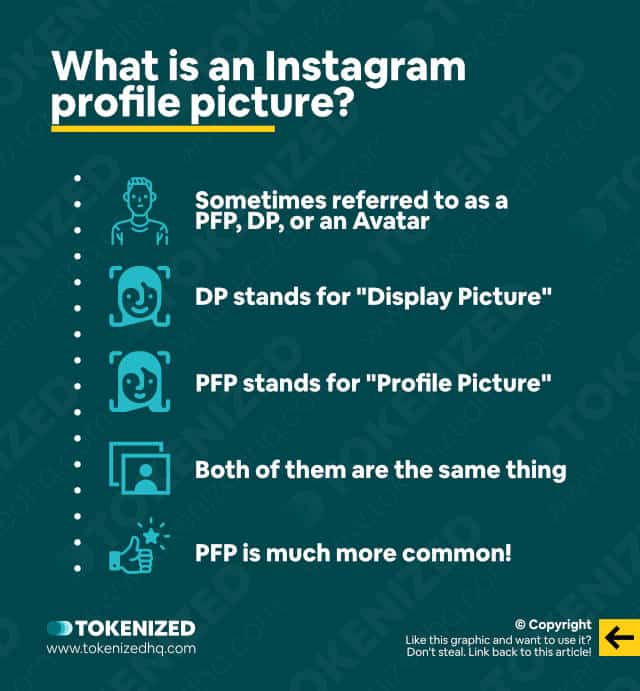 An Instagram profile picture is like a little window into your soul.
It should be carefully curated to show the world who you are, what you're about, and what you're into.
And, of course, it should be stylish and visually appealing.
Whether you're aiming for a cute and colorful photo or a sleek and modern look, your Instagram profile picture is an essential part of your personal brand.
So make sure it represents you in the best possible light!
If you really like someone else's profile picture (also known as a DP; DP stands for "display picture") you might be asking yourself how you might be able to download it.
Since you can't download it directly inside the Instagram app, you'll have to use a different method.
In the next section, we'll show you 2 of those methods that will allow you to download Instagram profile pictures in a matter of seconds.
Key Points (tl;dr)
Every now and then we come across a Instagram profile picture that we think is really cool. So we wonder whether it's possible to download the profile picture and either uses it as inspiration or upload it as our very own PFP.
Unfortunately, the Instagram app doesn't let you download someone's profile picture through the app. Therefore you'll have to resort other methods.
There are ways to do this manually by using your phone's browser app, however, by far the easiest method is to use an Instagram PFP downloader.
There are many free tools that allow you to download Instagram profile pictures and we've put together a list of the 7 best tools on the market right now:

Save Instagram
IGDownloader
PokoInsta
InstaBig
InstaDP
Toolzu
Inflact
How to Download Instagram Profile Pictures
There are two basic ways how you can download someone's Instagram profile picture on your phone.
The first method involves a clever workaround that doesn't require you to use any external software.
The second method uses a 3rd-party website that will scrape the image off the Instagram website for you.
Method 1: Use your phone's web browser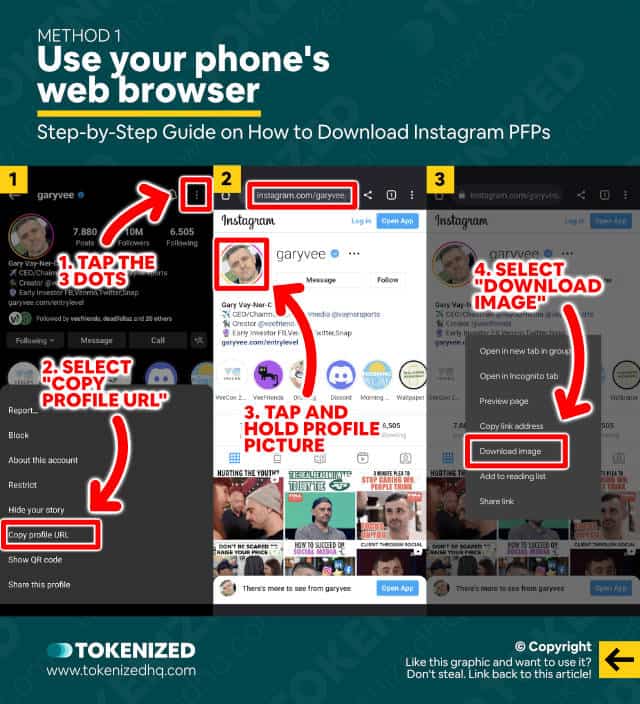 Let's start off by showing you how to download an Instagram profile picture by just using your phone's web browser.
Follow these steps:
Step 1: Open the Instagram app and go to the user's profile.
Step 2: Now tap the 3 little dots in the top right corner and select "Copy profile URL".
Step 3: Open any standard browser app on your phone and navigate to the URL you just copied.
Step 4: Tap and hold the profile picture and select "Download Image" from the context menu.
Unfortunately, the above steps do not work on all Instagram users, mainly because the Instagram website seems to restrict the ability to tap and hold or right-click profile images.
Luckily, there's another way to do it.
Just use one of the Instagram PFP downloaders we've included in this article.
Method 2: Use an Instagram Profile Picture Downloader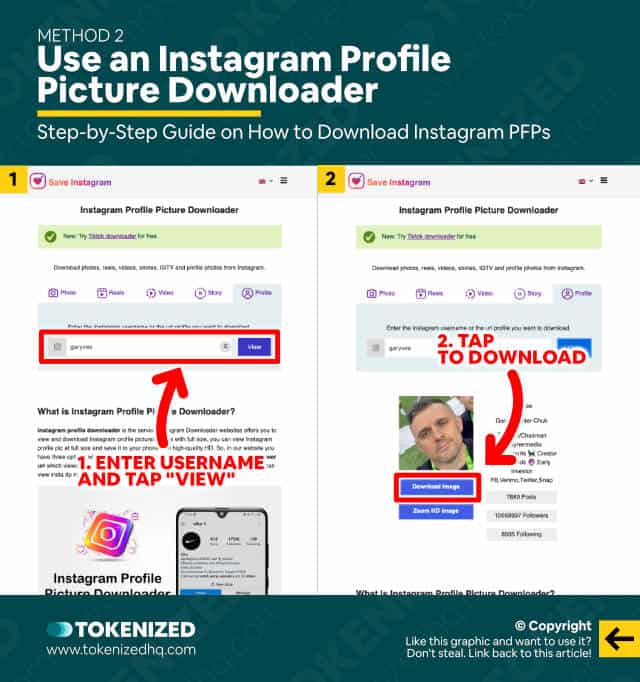 Before we get to our list of the best Instagram profile picture downloaders, let us quickly show you how to use them.
The process is essentially always the same, so feel free to use the following steps as a guide:
Step 1: Visit the website of your Instagram PFP downloaders of choice.
Step 2: Enter the username of the profile whose PFP you would like to download.
Step 3: Tap the "View" or "Download" button.
Step 4: Tap and hold the profile picture or simply tap the "Download" button to download it to your phone.
And that's it, you've successfully downloaded a high-resolution image of someone else's Instagram profile picture.
The 7 Best Instagram PFP Downloaders
Now that you know how to use these Insta profile downloaders, it's time to go through the full list.
For each one of them we've also included additional information on how well they work, what other features they have, and whether they cost anything.
1. Save Instagram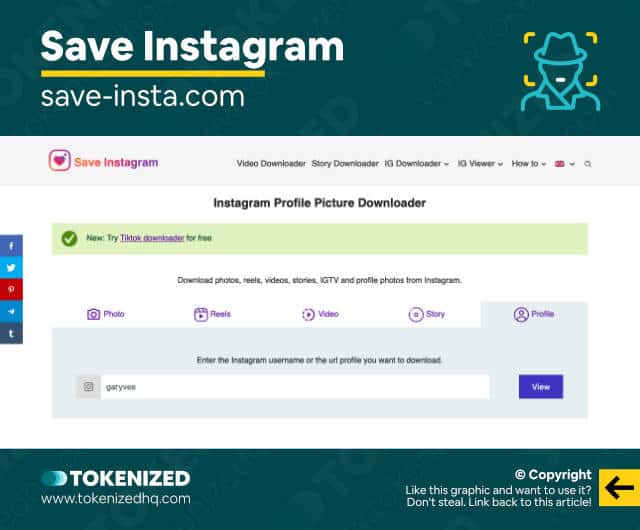 Let's start off our list with Save Instagram, a site that allows you to download or simply zoom into someone's profile picture.
The site is clean and easy to use, and more importantly, the Instagram DP download works like a charm.
Other features include:
Download or view photos
Retrieve videos, Reels, and Stories
2. IGDownloader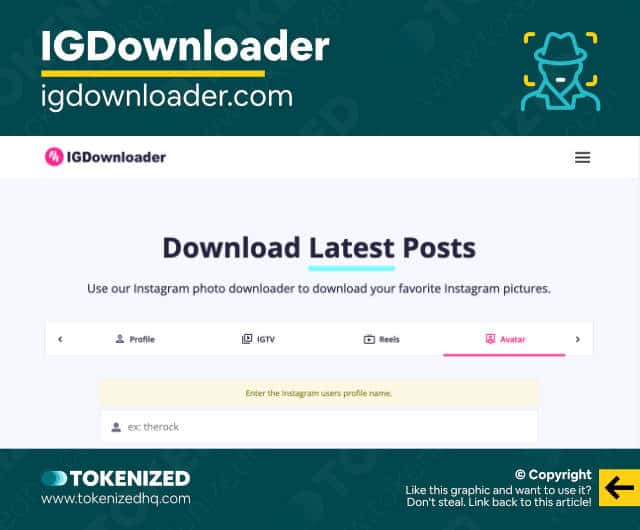 Next on our list is IGDownloader, a relatively simplistic and straightforward Insta profile downloader.
Make sure you look for the "Avatar" tab, which is just another name for a profile pic.
All of our tests worked fine and it actually returned the profile pictures in a much higher resolution than we expected.
Other features include:
Download photos, videos, IGTV, and Reels
A profile downloader that lists all the latest posts
A private Instagram downloader that allows you to browse someone's account privately
3. PokoInsta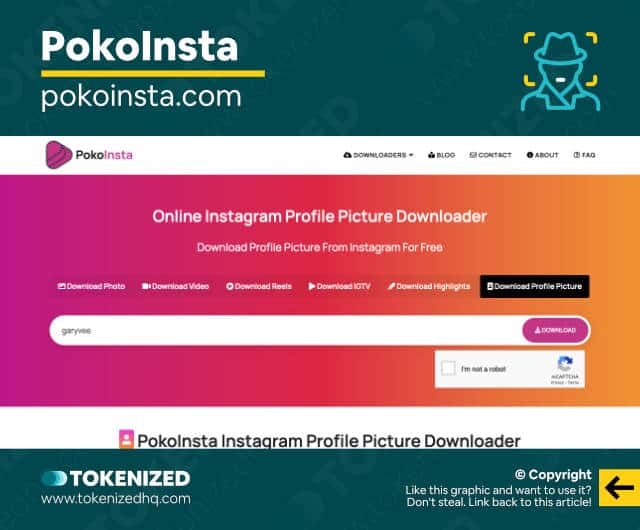 Then we tried out an Instagram PFP downloader called PokoInsta.
It worked right out of the box and gave us a nice high-resolution version of the profile picture.
Other features include:
Downloaders for all sorts of Instagram media
Instagram caption copyer
4. InstaBig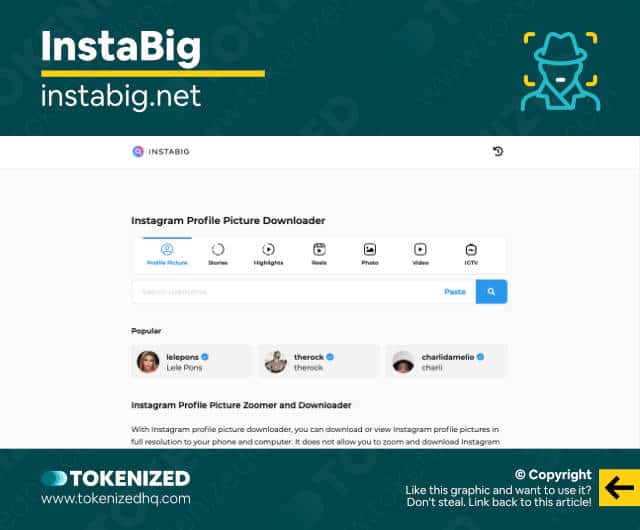 The InstaBig website is very clean and tries to replicate the vibe of the Instagram website.
Unfortunately, the tool failed on several attempts and we have to reload the page multiple times in order to get it to work.
But at least it worked.
Other features include:
Download Stories, Highlights, Reels, or IGTV
Download entire post histories
5. InstaDP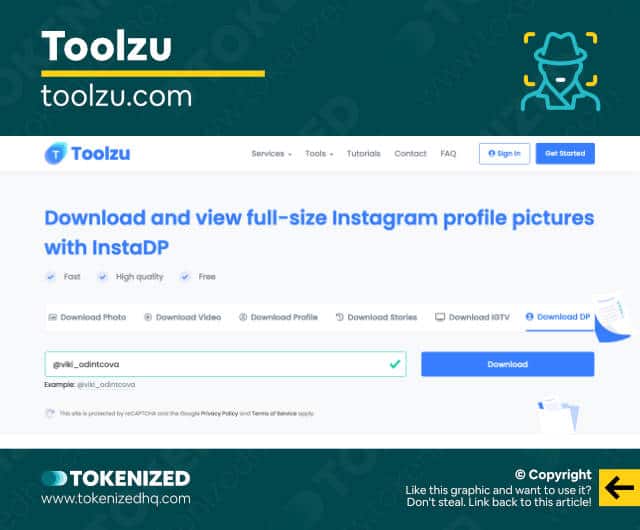 Although InstaDP looked promising at first, even though it kept annoying us with Captchas.
Unfortunately, our experience with the service was not very satisfying.
It kept returning broken image links and we were only able to download Instagram profile pictures a few times.
6. Toolzu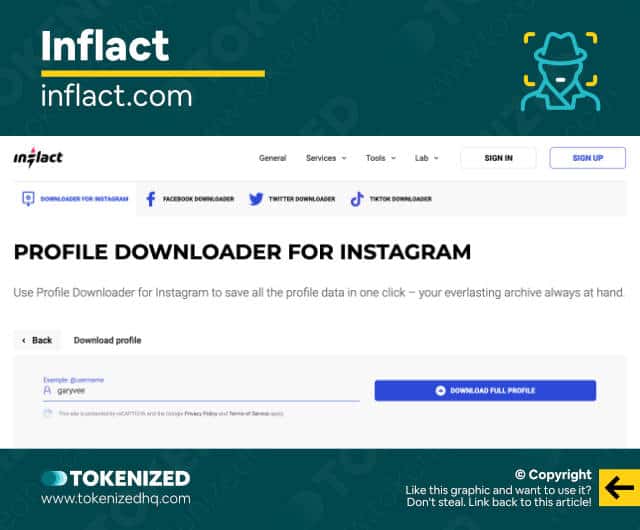 Toolzu was one of the slower tools in all of our tests and it failed quite often.
We should point out that Toolzu is using this downloader primarily as a lead generation tool for its commercial products.
Other features include:
Hashtag generator
Profile catalog
Profile analyzer
7. Inflact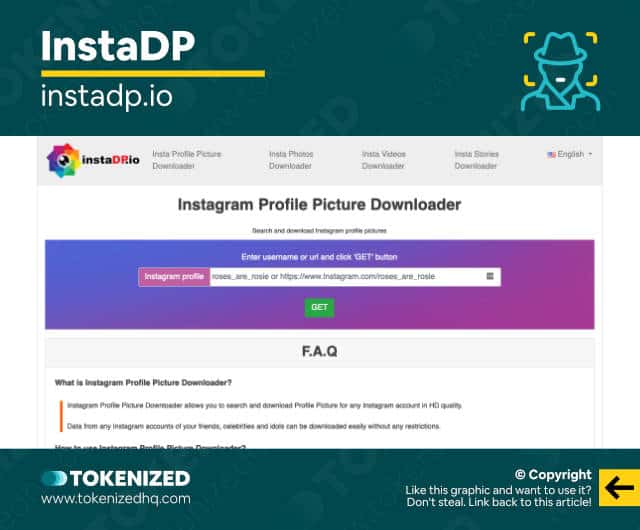 The Inflact website comes across as rather professional and it looks like they are also using their Instagram DP downloader as a lead generation tool.
Ironically, the layout is almost the same as with Toolzu.
Unfortunately, you can't actually download any of the content without signing up first.
Frequently Asked Questions (FAQ)
Before we close off this guide, let's quickly address some of the most common questions related to Instagram PFP downloaders.
How can I download a PFP from Instagram?

You can download Instagram profile pictures of other users either by right-clicking and saving the image on a desktop computer or using one of the many Instagram PFP downloaders that are freely available on the Internet.

Can I see IG profile pictures if I don't have a valid account?

Yes, most Instagram profile picture downloaders can also be used to privately view another person's account. The Insta viewer will download the person's Instagram profile and display it for you.

Can users see if I look at their Instagram accounts?

Users can only see if you've viewed their Instagram Stories. All other types of posts, whether photos, videos, or Reels do not tell the user who has viewed them. If you want to look at someone's Stories privately, you can use a private Instagram viewer tool to do so.

What is InstaDP?

InstaDP used to be a very popular Instagram viewer that also allowed you to download another user's profile picture. Unfortunately, its service has been plagued by technical issues. Therefore, we recommend that you switch to another service if you can.
Conclusion
There are many different reasons why someone might want to download another user's profile picture on Instagram.
Some people might think that it's a weird thing to do, but let's face it, everyone's spying on everyone else in the wild era of social media.
We hope you found our list of the best Instagram PFP downloaders useful and were able to find what you need.
Here at Tokenized, we want to help you learn as much as possible about social media. We help you navigate the world of tech and the digitalization of our society at large, including the tokenization of assets and services.