Trying to figure out how you can get access to the new Instagram Notes feature?
Perhaps you've heard how Meta is currently testing the new Instagram Notes update with a select group of users around the world?
When news broke of the new feature, it left large parts of the online community confused, mainly because they had trouble imagining what Instagram Notes might be useful for.
In this guide, you'll learn everything you need to know about this new Instagram feature, including when you might get access to it yourself.
Let's check it out.
Key Points (tl;dr)
Instagram Notes are a brand new feature that has been in a limited test phase since June 2022.
This new feature allows Instagram users to share short, 60-character updates with their closest friends and they disappear after a 24-hour period.
You can think of Notes as a text-based alternative to Instagram Stories that are slightly more private. This is also one of the reasons why it is being mocked for being very similar to Facebook status updates or Tweets.
Due to the limited test phase, only very few people have access to the feature right now. You can check for yourself by updating your Instagram app and checking your direct messages inbox. If you're part of the test, you'll see a big button that says "Leave a note". If you don't, you'll have to wait until it's rolled out to everyone.
For a detailed overview of all of the latest information on the new Instagam Notes feature, PLEASE READ THE FULL ARTICLE.
Like this content? Then share it!
Instagram Notes: Everything You Need to Know
Here's the answer. Great article by @ChrisHeidorn right here: https://tokenizedhq.com/instagram-notes-update/

www.tokenizedhq.com
What are Instagram Notes?
Instagram Notes are a new form of text-based status update that is very similar to Instagram Stories but limited to your closest circle of friends and people who follow each other reciprocally.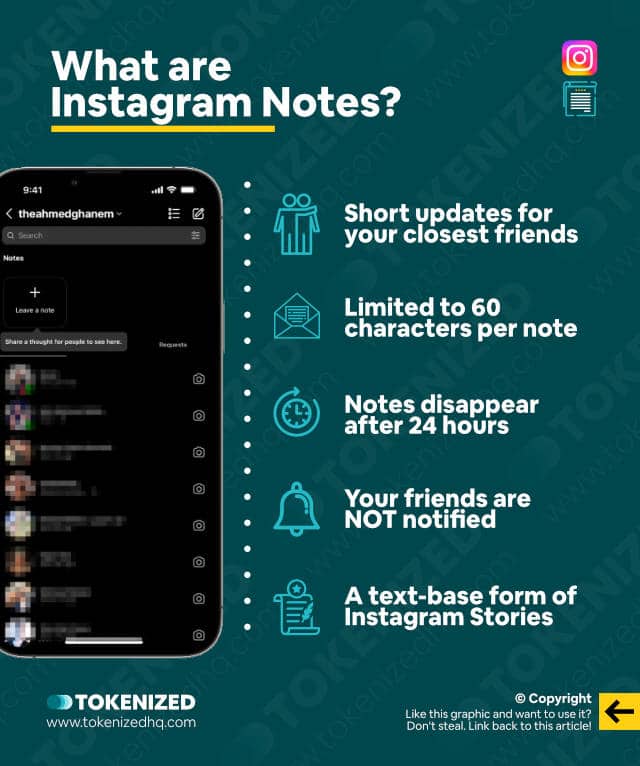 Instagram Notes are a brand new feature that Meta (formerly known as Facebook) is testing with a select group of people.
The new feature allows users to share short updates with their closest friends and followers and they disappear 24 hours after sharing them.
Messages are also limited to 60 characters, which really isn't much to work with.
Notes are only shared with close friends and mutual followers, so they won't automatically show up for everyone that follows your account.
You can essentially think of Instagram Notes as Stories in text form, except that they are only visible when you access your Instagram inbox.
It sounds like this new feature is borrowing ideas from many different places:
Notes are text-based updates, similar to Tweets
They have to be very short, which reminds us of Facebook status updates.
Notes disappear after 24 hours, which is like Stories, but that was copied from Snapchat.
Overall, the purpose of the feature is a little bit confusing right now, but we're pretty sure people will find reasonable things to do with them.
In the end, the objective of social media companies is to lure users into their apps, constantly checking for new things to pay attention to.
How to Get Instagram Notes
If you've been selected for the Notes testing phase, all you need to do is update your Instagram app and check your direct message inbox.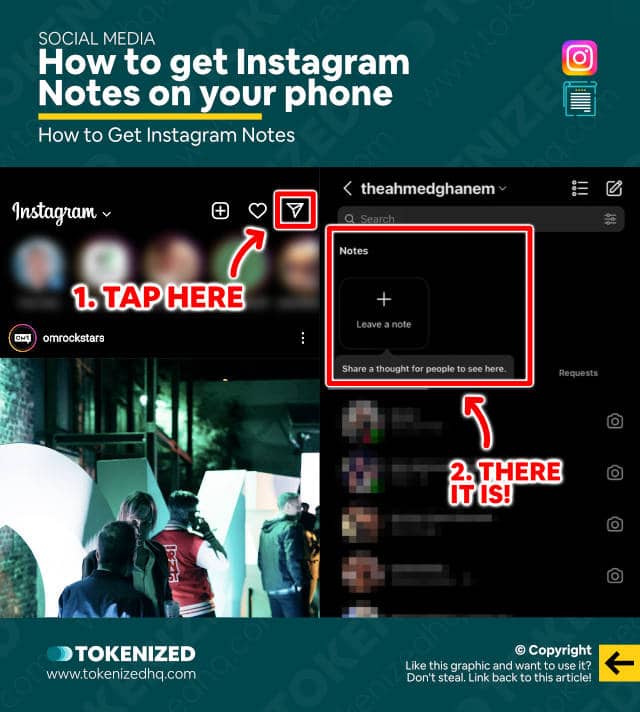 As we already stated earlier, the Instagram notes update was limited to a select group of users.
Although it's safe to assume that the new feature will ultimately be rolled out to all users if it gets the green light, it's hard to tell when that will be.
Here's the official statement from a Meta spokesperson:
"We're now testing Notes so people can quickly share thoughts with their friends".
There's an easy way to find out whether you've been selected for the test.
Here's how to check whether you have access to Instagram Notes:
Step 1: Update your Instagram app in the app store.
Step 2: Open Instagram
Step 3: Tap on the Direct Messages icon.
Step 4: Look for a "Leave a note" button.
If you're part of the test, you'll find a bit fat "Leave a note" button at the top.
If you don't see any Instagram Notes button, then you'll just have to wait until it's rolled out to you as well.
How to Post Notes on Instagram
Posting Notes on Instagram is very simple. Go to your direct message inbox, tap the "Leave a note" button, share a quick 60-character update, select who to share it with, and then hit "Send".
Are you among the lucky ones who were invited to the Instagram Notes beta test?
Great, then let's have a look at how posting notes actually works.
Head over to your Instagram message inbox and follow these steps:
Step 1: Tap on the "Leave a note" button.
Step 2: Type your note with 60 characters or less.
Step 3: Select who you want to share it with and hit "Share".
It's important to note that users will not be notified when you share an Instagram Note.
Your friends will have to actively check their Instagram app on a regular basis in order to see whether you've posted anything.
If you see a note from one of your friends, you can tap on the note and send them a DM if you want to.
It really is very similar to how Instagram Stories currently work.
How Businesses Can Benefit from Instagram Notes
It's still too early to tell but we can imagine a future where businesses have a close relationship with their most loyal customers via social media platforms such as Instagram. Notes could be used to share discount codes on exclusive deals that are only available for a limited time.
Many people have been wondering what on earth this feature might be useful for.
Well, first of all, I think it's important to bear in mind that not everyone is super tech-savvy or necessarily driven by the bleeding edge of tech.
Humans do all sorts of quirky stuff and just because you can't relate to it, does not mean that it's pointless.
It's just not for you and that's OK.
That being said, we can definitely see how this feature may become useful for local businesses that have an intimate connection to their customers.
Instagram Notes offer the ability to send out limited discount codes for exclusive deals without having to deal with the visuals of an Instagram Story.
Even though the world has become a more visual place, some people just prefer text.
That's one of the reasons why Twitter is still so popular.
What Are People Saying About Instagram Notes?
As you might imagine, the response to Instagram Notes has been quite mixed.
Some people love it, others hate it, and a few are already creating their own set of memes for it.
We've collected some nice Tweets that successfully capture the mood right now.
Not everyone is amused.
Some are downright upset.
A lot of people don't really mind.
And this guy is having a blast making fun of it.
Frequently Asked Questions (FAQ)
Before we close off this guide, let's quickly address some of the most common questions related to Instagram Notes.
Where can I find notes in the Instagram app?

If your account has access to the feature, you'll be able to find it inside the "Direct Messages" inbox of your Instagram app. You'll see a big button at the top that says "Leave a note".

Why can't I find notes on my Instagram?

If you can't seem to find the Instagram Notes feature inside your app, then you've either not updated your app yet or you simply haven't been selected for the beta test phase. Meta is currently conducting a limited test before deciding whether to roll it out globally or not.

Are Instagram Notes public?

They are semi-public. Notes work in a similar way as Instagram Stories, however, they are not visible to followers that you do not follow yourself. Before sharing a note you can select which group of people should be able to see it or not. However, notes are not really meant to replace regular direct messages.
Conclusion
It's nice to see the Instagram team trying out new features, even if some of the elements feel familiar.
You'll never be able to please everyone, so it's no surprise that the social media community is quite divided about the new Instagram Notes feature.
Let's wait and see how the official test phase goes and who knows, it might even not get rolled out at all.
Here at Tokenized, we want to help you learn as much as possible about social media. We help you navigate the world of tech and the digitalization of our society at large, including the tokenization of assets and services.