Are you looking for an overview of DALL-E 2 styles?
If you've used other AI art generators before then you may have come across some of their elaborate style references that help you figure out how to get the results you want.
While most of the styles that work with other AI models are likely to work with DALL-E as well, there's no central reference that illustrates which styles DALL-E 2 knows.
In this guide, we'll show you some of the most common DALL-E styles that we've seen in action.
Let's dive right in.
Like this content? Then share it!
DALL-E Styles Reference with Prompts & Examples
Here's the answer. Great article by @ChrisHeidorn right here: https://tokenizedhq.com/dall-e-styles/

www.tokenizedhq.com
Overview of DALL-E Styles by Category
Some of the artwork coming out of AI image generators is downright mind-blowing.
It makes you wonder whether we are all going to end up becoming artists that use AI.
But in reality, while AI does most of the heavy lifting, the very best images still require a lot of skill to create them.
You see, writing a prompt may sound easy, but the amount of work that goes into creating these masterpieces is much greater than you think.
Describing a scene or a detailed object already requires a lot more imagination and creativity than the average person has.
But things get really challenging if you need an image to have a very specific style or mood.
DALL-E styles aren't fundamentally different from the art styles of other AI image generators since their training data usually covers the same range of artwork.
However, since every model also uses slightly different algorithms, a particular style may still look different in DALL-E than in, for example, Midjourney.
To get a better idea of what to expect from some of the most popular DALL-E styles, check out the 3 categories below:
Famous Artist Styles
Art Styles
Futuristic & Surreal Styles
Key Points (tl;dr)
The best AI image generators, including DALL-E 2, are capable of reproducing almost any kind of art style known to man, including famous artists.
Most people lack imagination and creativity, which is why style references have become so popular ever since AI art came to prominence.
One of the most comprehensive databases of artist styles is a community-driven project that contains over 2,000 artist styles.
Famous Artist Styles
One of the most amazing aspects of AI art is the fact that the models are capable of emulating the art styles of some of the most famous artists in history.
Geniuses that have long disappeared from the face of the earth are suddenly brought back to life with entirely new content and ideas.
We are going to take a look at the following examples of DALL-E styles for famous artists:
Leonardo da Vinci
Pablo Picasso
Salvador Dali
Vincent van Gogh
Claude Monet
If you're particularly interested in old and contemporary artists, we highly recommend you check out this database of 2,000 artist styles.
It's community-managed and by far the most comprehensive collection of artist styles we have ever seen.
Although it was specifically created for Midjourney and not all styles may necessarily be available in DALL-E 2, it's still an incredibly useful resource.
Leonardo da Vinci
A steampunk leonardo da vinci repairing a broken helicopter prototype. Charcoal on parchment, high resolution. The rotors look like hundreds of tiny knives!
Pablo Picasso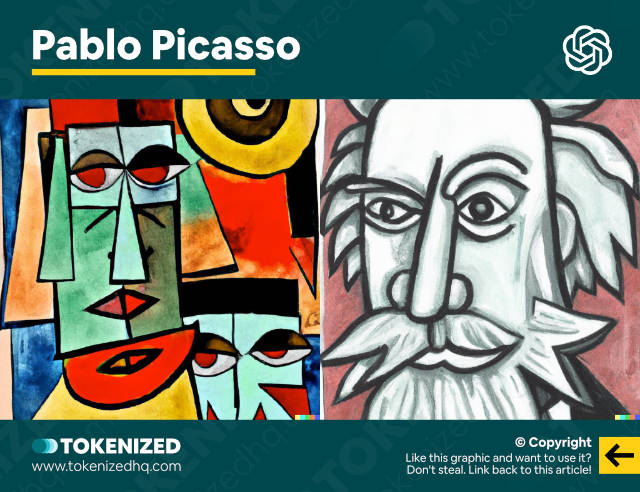 Cubist picasso like art abstract of faces oil paint with primary colors
Salvador Dali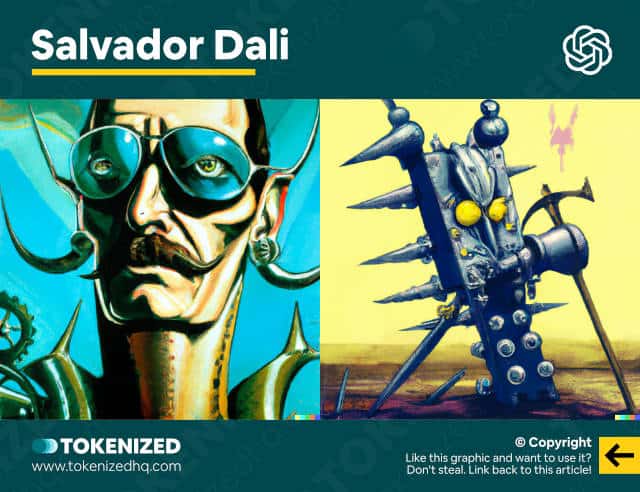 A portrait of Terminator, painted by Salvador Dalí.
Vincent van Gogh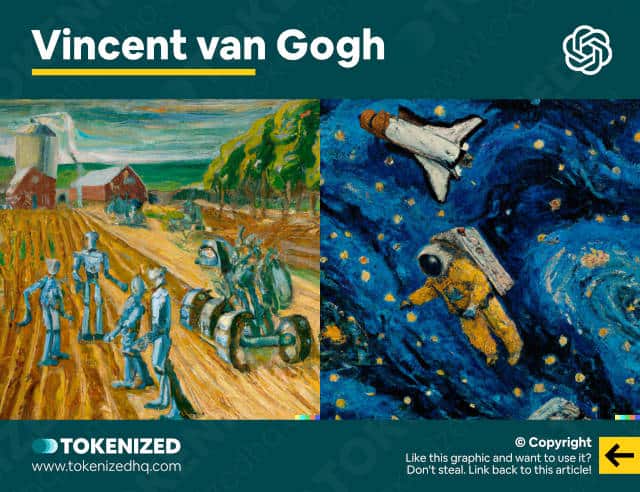 a van gogh painting of humanoid robots working on a farm
Claude Monet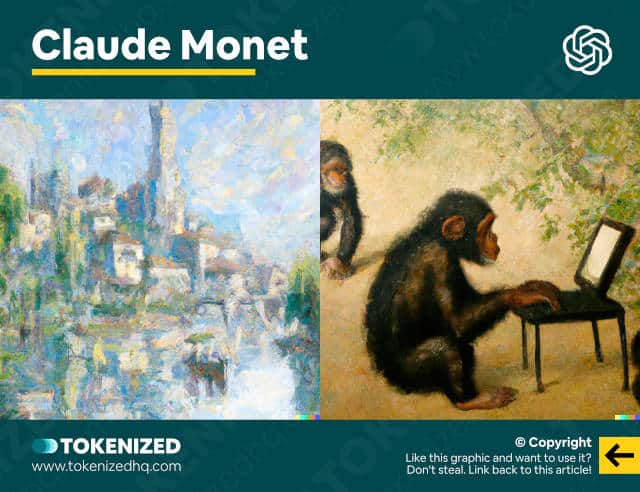 The elfin city of Gondolin, painted by Claude Monet
Art Styles
The good news is that DALL-E styles are not limited to those of famous artists.
In fact, DALL-E knows tons of historical art styles that have had a lasting impact on the cultures of the world.
Below, we've selected 5 DALL-E styles that believe to be of particular interest:
Bauhaus
Baroque
Pop Art
Impressionism
Cubism
Bauhaus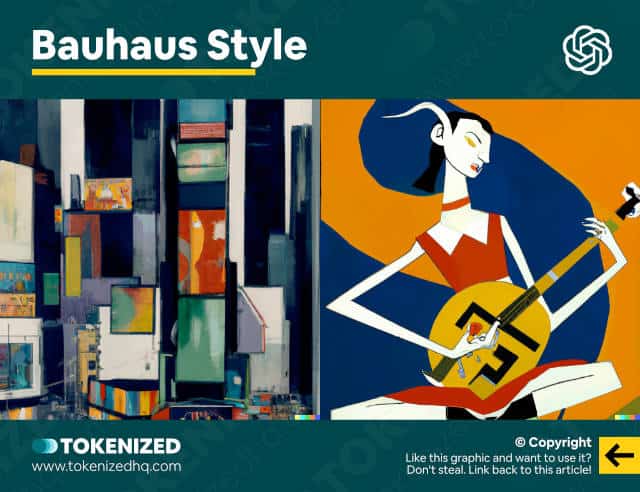 A Bauhaus style painting of New York Times Square in the early 2000s | 100
Baroque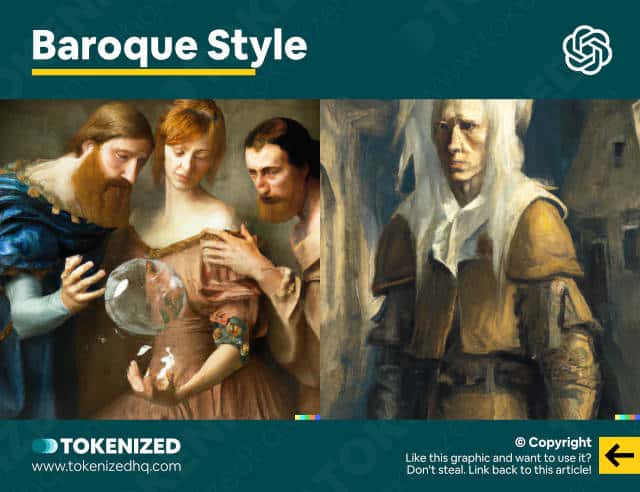 Baroque painting of three doomed lovers lamenting a broken glass sphere.
Pop Art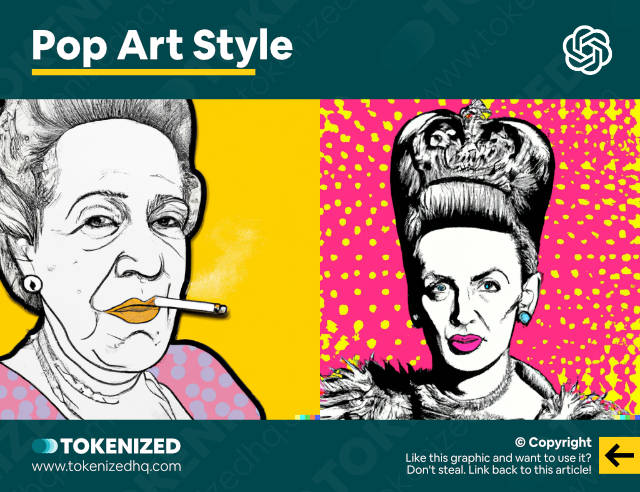 Pop art, Old woman with a cigarette coming out of her mouth.
Impressionism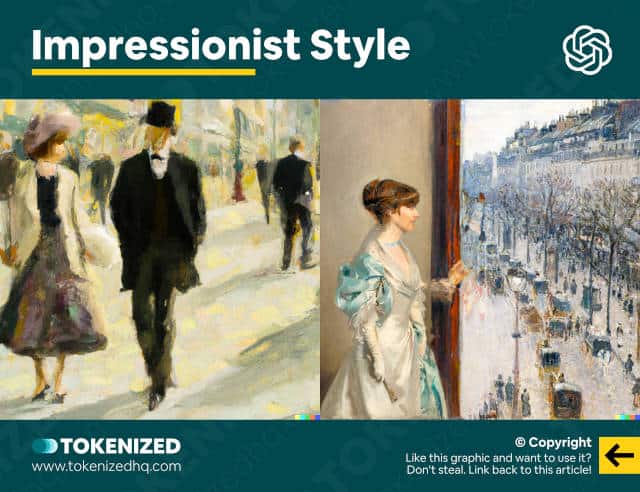 painting of upper middle class couple walking on the pavement of a busy Parisian boulevard in 19th century clothes, in impressionist style
Cubism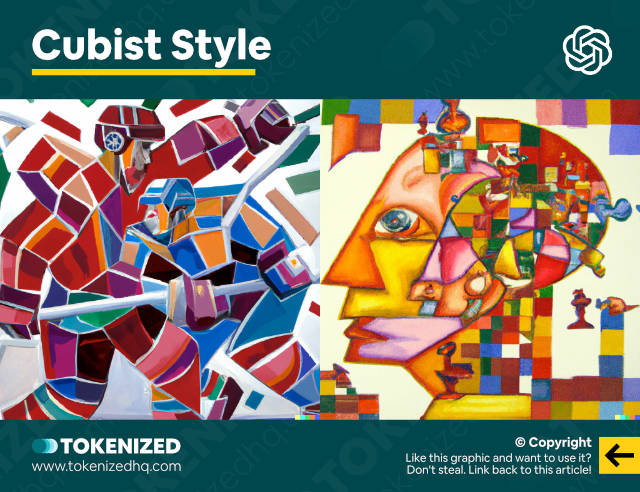 cubist painting of hockey players fighting on the ice
Futuristic & Surreal Styles
Finally, some of the most popular art styles in the AI art scene are those that reflect futuristic or dystopian themes.
We suspect this is due to the fact that they have their origins in science fiction, gaming, and digital art communities.
That being said, these DALL-E styles produce some of the most fascinating art you've ever seen.
For the purpose of this article, we've chosen the following 5 styles:
Cyberpunk
Low Poly
Post-Apocalyptic
Steampunk
Vaporwave
Cyberpunk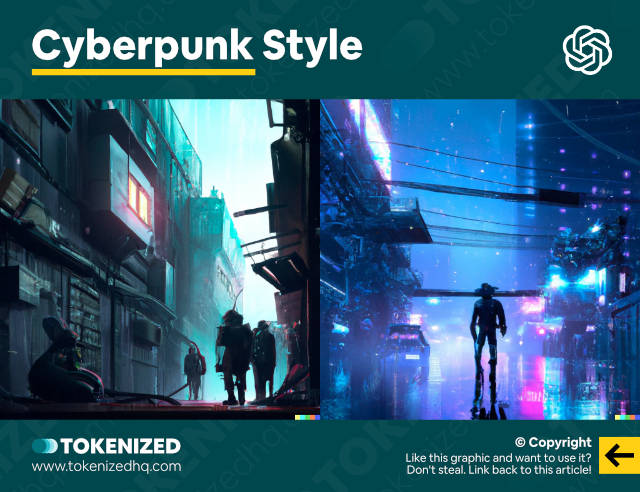 A picture of a cyberpunk house in an alley like a slum and people are walking by
Low Poly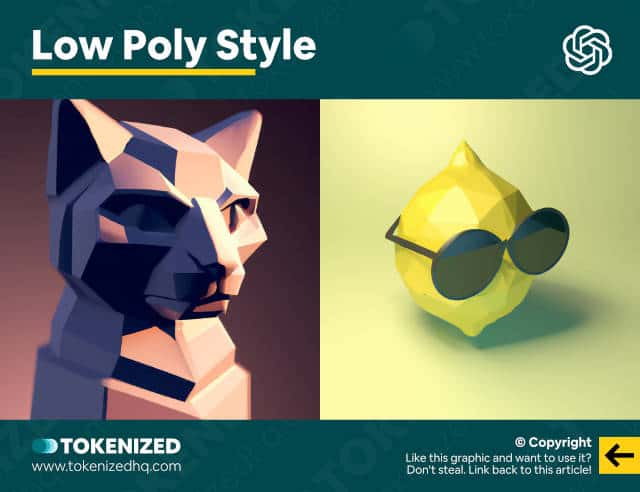 low-poly statue of the head of a cat, with long eyelashes. warm and cool lighting. brutalist, soviet, imposing
Post-Apocalyptic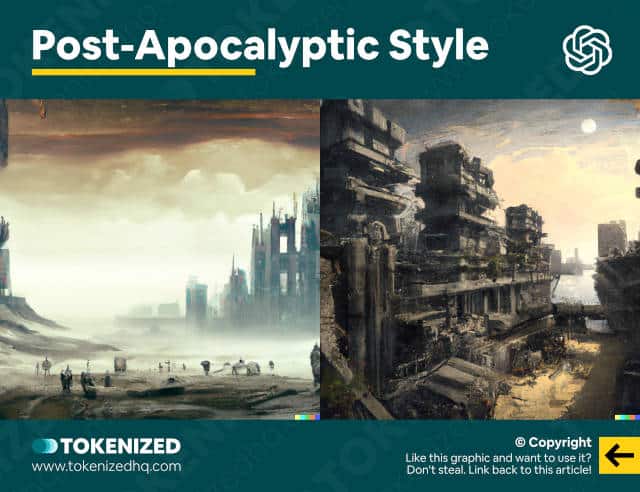 alien vs humans battle, post apocalypse landscape, oil painting, high definition
Steampunk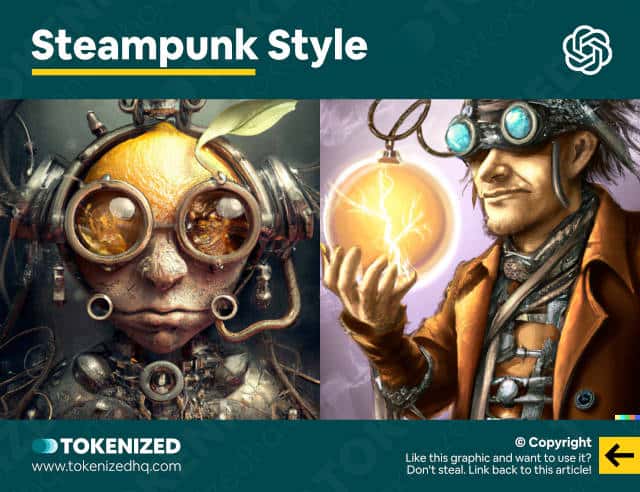 A cool steampunk lemon guy with dark sunglasses
Vaporwave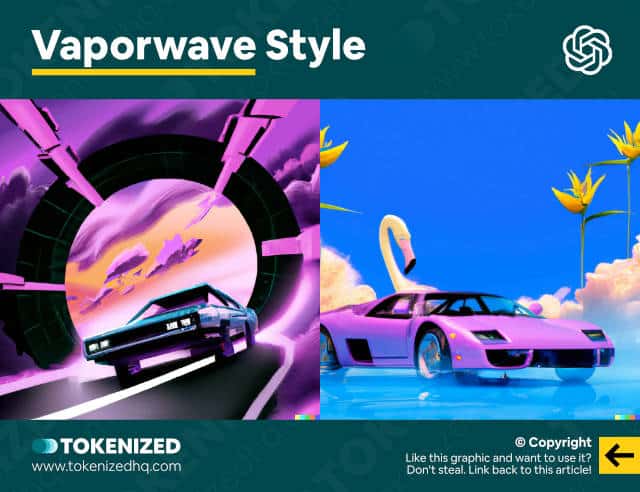 Futuristic car from the 1980's entering a black hole, digital art in the style of vaporwave, trending on artstation
Frequently Asked Questions (FAQ)
Before we close off this guide, let's quickly address some of the most common questions related to DALL-E styles.
Does DALL-E know all art styles in history?

DALL-E's AI model was trained with an incredibly big database of images that likely contain nearly every art style that humans have documented in digital form. That being said, it is possible that DALL-E isn't aware of every single artist's distinct style. However, if the artist or movement has gained a critical amount of notoriety, DALL-E will most likely be able to replicate it.

Can I use Midjourney styles in DALL-E as well?

While Midjourney and DALL-E styles are not 100% identical, it's safe to assume that the same keywords will generate similar outcomes in both AI generators. Most style references can therefore be used for both of them.

Can I combine two styles in DALL-E?

Yes, it's possible to combine two different styles into the same image, as long as your prompt is properly structured. However, bear in mind that some art styles tend to be more dominant than others and not all styles are easily blended together.
Conclusion
The AI art ecosystem has exploded with useful resources, including lots of comprehensive style references.
Unfortunately, while a lot of content is available for Midjourney, there are few resources that are specific to DALL-E.
That's why we've put together this collection of DALL-E styles to give fans of DALL-E 2 a reference point for their own art experiments.
Here at Tokenized, we want to help you learn as much as possible about the AI software industry. We help you navigate the world of tech and the digitalization of our society at large, including the tokenization of assets and services.