Want to know more about the DALL-E commercial use terms?
Despite the monumental rise in popularity of AI art generators such as DALL-E 2 and others, many questions remain with regard to commercial use, licensing, and above all copyright.
Although most services use a similar approach, the devil tends to be in the details and it doesn't change the fact that much of the AI industry is operating in legally uncharted territory.
In this guide, you'll learn what you may and may not do with DALL-E and whether you actually own your image generations or not.
Let's dive right in.
Like this content? Then share it!
In a Nutshell: DALL-E Commercial Use & Copyright
Here's the answer. Great article by @ChrisHeidorn right here: https://tokenizedhq.com/dall-e-commercial-use-copyright/

www.tokenizedhq.com
DALL-E Commercial Use Explained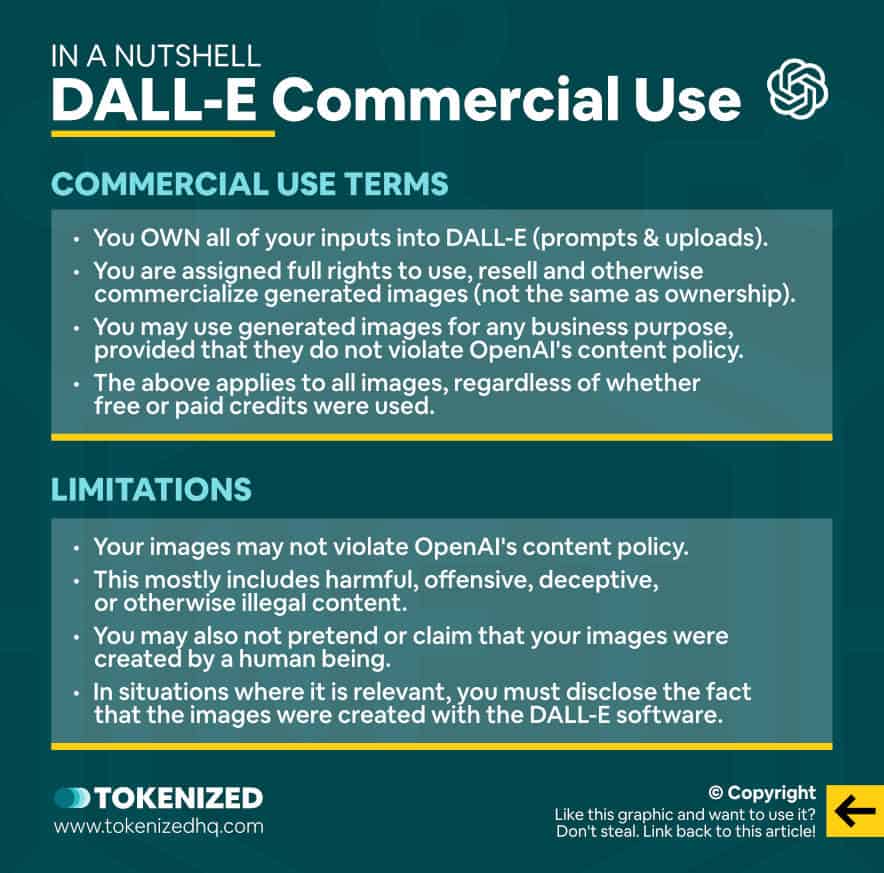 OpenAI's terms of use for DALL-E have gone through various iterations over the past few years.
As the industry learns more and more about what its technology is capable of and what customers are using it for, the company is clearly reacting to user feedback as well as the competition.
OpenAI has been very open and upfront about the fact that DALL-E may be used for commercial projects, regardless of whether you created your images with free or paid credits.
The DALL-E commercial use terms allow you to commercialize images created with DALL-E, including selling them or printing them on merchandise.
But let's have a closer look at the actual terms:
(a) Your Content. You may provide input to the Services ("Input"), and receive output generated and returned by the Services based on the Input ("Output"). Input and Output are collectively "Content." As between the parties and to the extent permitted by applicable law, you own all Input, and subject to your compliance with these Terms, OpenAI hereby assigns to you all its right, title and interest in and to Output. OpenAI may use Content as necessary to provide and maintain the Services, comply with applicable law, and enforce our policies. You are responsible for Content, including for ensuring that it does not violate any applicable law or these Terms.

DALL-E Terms of Use
What this essentially means is that you "own" all of the prompts and images that you upload (collectively referred to as "Input") to DALL-E as well as the images it generates for you.
We've put "own" in quotes because from a legal point of view you don't actually own the output you receive.
Instead, OpenAI is effectively assigning extensive and perpetual usage rights to the images, provided that you comply with the other provisions of the terms of use.
In other words, you're allowed to do whatever you want with the images you generate, as long as they don't violate the OpenAI usage policies.
So from a legal standpoint, you're not really the owner at all, however, you are given far-reaching rights that let you do (almost) anything you could do if you did own them.
But in 99% of the cases, this nuance doesn't really matter.
Key Points (tl;dr)
The DALL-E terms of use explicitly permit the use of generated images for business purposes.
Such cases include, but are not limited to, marketing material, posters, book covers, album covers, blogs, media publications, printed apparel, merchandise, and many other products and services.
However, the above rights only apply as long as the specific use case does not violate any of OpenAI's content policies.
Limitations to Commercial Use in DALL-E
The DALL-E commercial use terms are effectively only limited by the DALL-E content policy and here's what they say.
You are not allowed to use DALL-E to generate any of the following types of content:
Hate
Harassment
Violence
Self-harm
Sexual
Shocking
Illegal activity
Deception
Political
Public and personal health
Spam
Although most of these are pretty straightforward, some users may need additional clarification and therefore we recommend you read the full DALL-E content policy for more details.
Another limitation of the DALL-E commercial use terms is that you may not pretend that your generated images were entirely created by a human.
You also may also not claim that your generated image is a photograph of a real event when in fact, it is not.
In other words, you are required to disclose the fact that you used an AI tool to create the image.
What Does Commercial Use Mean?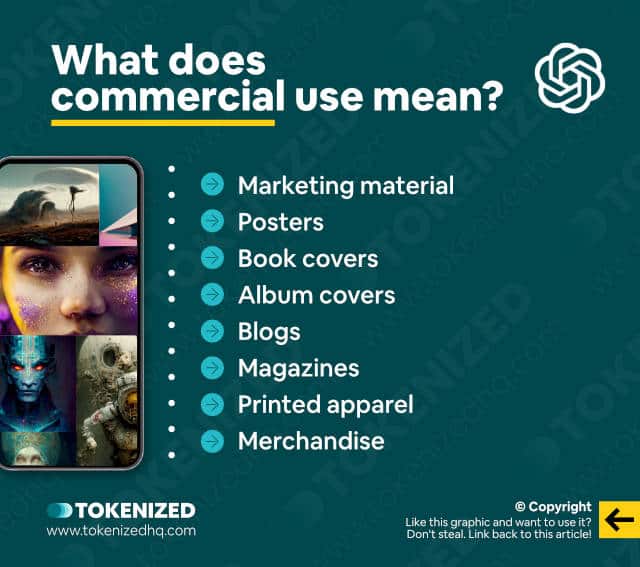 The DALL-E commercial use terms effectively mean that you can use it for any business purpose, as long as your designated use cases do not violate the content policy outlined above.
Typical business purposes include but are not limited to:
Marketing material
Media publications
Posters
Book covers
Album covers
Printed apparel
Merchandise
We also suspect that NFTs are a valid use case, although that largely depends on whether the NFT is sold as artwork or a utility token.
In contrast, OpenAI's competitor Midjourney has explicitly stated that they permit the use of its AI art generator for NFTs as well.
Some of you may also be wondering whether you need to give attribution in any of the above cases.
In most cases, the answer would be "No", simply because none of the above use cases are pretending that the artwork was created by a human.
That's because the artwork complements the products or services that you are offering and isn't the product itself.
The situation would be very different, however, if you were selling the images to someone else, without disclosing the fact that you used AI software to create them.
That's also why there is still considerable skepticism within the stock image industry.
There is much debate about how AI-generated artwork and photography may impact the market for stock imagery in the future.
The Trouble with Copyright & DALL-E
AI software is currently one of the most controversial topics in the legal space and it's definitely not limited to DALL-E alone.
No matter what your specific use case may be, literally, all AI models require vast amounts of existing data in order to train the machine learning models.
Technically, anything the AI generates is effectively based on work that was done by someone else.
So how can we ever claim that generated images are original works of art and who actually owns the copyright?
Little is known about the datasets that were used to train AI art generators such as DALL-E or Midjourney.
For all we know, the true intellectual property of an image generated by DALL-E could belong to a multitude of different artists, including the developers of the AI model itself.
So, how can OpenAI assign rights to a user, when OpenAI may not actually own any of the original IP that went into training the model?
It's definitely a complex subject and most of the industry is in uncharted territory.
Frequently Asked Questions (FAQ)
Before we close off this guide, let's quickly address some of the most common questions related to the DALL-E commercial use terms.
Can I use DALL-E for my business?

Yes, DALL-E's terms of use explicitly permit the use of generated images for commercial projects. The DALL-E commercial use cases include, but are not limited to, cases such as marketing material, posters, book covers, album covers, blogs, magazines, printed apparel, as well as other merchandise.

Are DALL-E images copyrighted?

The legal status of AI-generated images remains unclear and most of the industry is engaging in a controversial debate about how AI impacts our existing legal frameworks. The datasets that were used to train DALL-E are not in the public domain, so it is hard to say. Whenever you generate an image with DALL-E, OpenAI assigns you full rights to the image. In other words, within the scope of the service contract between you and OpenAI, you are free to use the image as you please. However, this does not necessarily translate into "copyright" in the legal sense of the term.
Conclusion
Needless to say that copyright and licensing terms in the AI industry are one of the most complex subjects you can choose nowadays.
That being said, most users merely want to understand whether the DALL-E commercial use terms permit them to use generated images for business purposes.
And the simple answer is: Yes. As long as you respect OpenAI's content policy, you can do whatever you want with your images.
Here at Tokenized, we want to help you learn as much as possible about the AI software industry. We help you navigate the world of tech and the digitalization of our society at large, including the tokenization of assets and services.