Want to convert 1 Sweatcoin to USD easily?
Perhaps you recently heard that Sweatcoin is finally launching its own blockchain token and now you're curious to know how much your balance would be worth if you convert Sweatcoin to Dollars?
Well, don't worry, because, despite a lot of the misinformation that you'll find on low-quality sites on the internet, we've been able to put together a decent Sweatcoin to USD conversion table.
In this guide, you'll not only find out the right conversion rate for Sweatcoin to USD but also how you can cash out your Sweatcoin.
So, let's get started!
Key Points (tl;dr)
You can easily determine how much your Sweatcoin balance is worth by using our Sweatcoin to USD conversion table below.
Sweatcoin is a global fitness movement based on a smartphone step tracking app that rewards users in so-called "Sweatcoins" for their physical activity.
Sweatcoins have real monetary value and can be exchanged for goods, services, and discounts on the internal marketplace of the app.
Since Sweatcoin isn't listed on any exchanges yet, the value tends to fluctuate based on what the offers on the marketplace are worth and how many Sweatcoin you need to purchase them.
A generally accepted rule of thumb is that 1 Sweatcoin is worth $0.02 to $0.05, though it can also be lower or higher.
Since Sweatcoin isn't a cryptocurrency yet, the only way you can cash out your Sweatcoin into cash is by purchasing PayPal gift cards, Amazon gift cards, or selling your Sweatcoin to another person directly.
For a detailed overview of all Sweatcoin to USD conversion rates, PLEASE READ THE FULL ARTICLE.
Like this content? Then share it!
Sweatcoin to USD Conversion Table
Here's the answer. Great article by @ChrisHeidorn from @Tokenized_HQ here: https://tokenizedhq.com/sweatcoin-to-usd/

www.tokenizedhq.com
Sweatcoin to USD Conversion Table
| | | |
| --- | --- | --- |
| Sweatcoin (SWC) | Lower Range | Upper Range |
| 1 Sweatcoin | $0.02 | $0.05 |
| 50 Sweatcoins | $1.00 | $2.50 |
| 100 Sweatcoins | $2.00 | $5.00 |
| 500 Sweatcoins | $10.00 | $25.00 |
| 1,000 Sweatcoins | $20.00 | $50.00 |
| 5,000 Sweatcoins | $100.00 | $250.00 |
| 10,000 Sweatcoins | $200.00 | $500.00 |
| 20,000 Sweatcoins | $400.00 | $1,000.00 |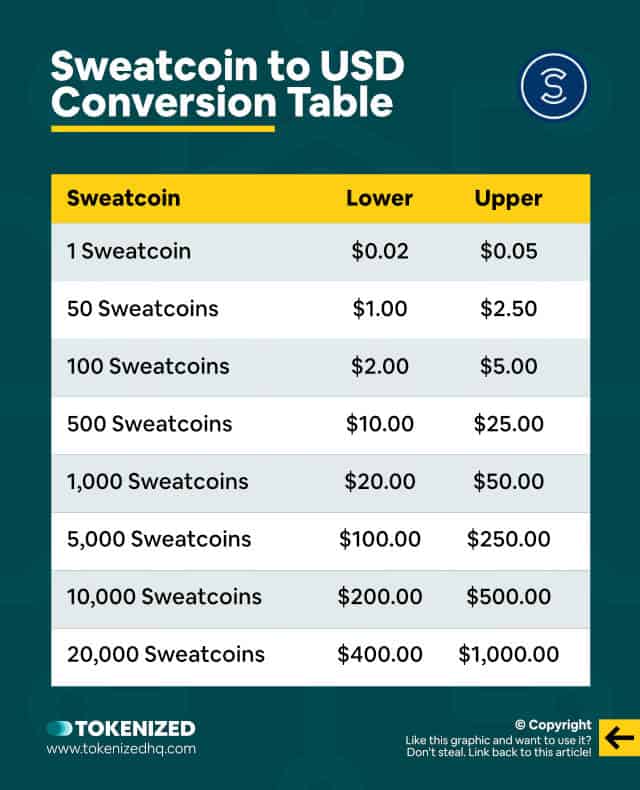 Since Sweatcoin isn't listed on any crypto exchanges right now, there's not really any point in using Sweatcoin to USD calculators.
There is no specific Sweatcoin price and its value changes depending on the promotions that you use it for.
That's why we've put together this Sweatcoin to USD conversion table in order to give you a quick overview of the approximate value of your Sweatcoin balance.
What is Sweatcoin?
Sweatcoin is a global fitness movement based on a smartphone step tracking app. Daily physical activity is rewarded with points (Sweatcoin) that can be exchanged for goods, services, and discounts on an internal marketplace, very similar to how airline loyalty programs function.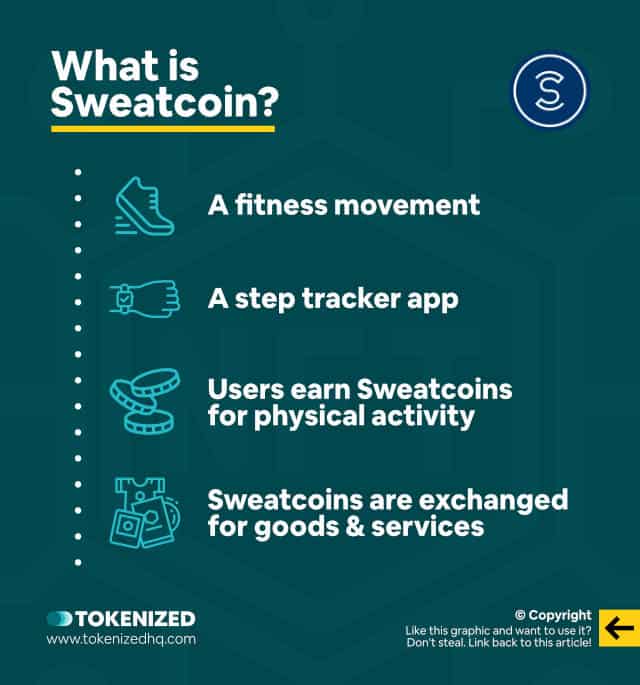 Sweatcoin has become one of the biggest fitness movements in the world and we recently published a full-fledged Sweatcoin review on Tokenized as well.
Founded in 2016, the objective was to use a step-tracking app as an accessible way to incentivize people to be more active.
By gamifying the experience of being more active, even if only by walking, Sweatcoin was able to grow into one of the biggest user bases in the world.
Users receive Sweatcoins for steps they make and they can then exchange them for products, services, and discounts that have real value.
The company also recently announced that they are launching the Sweat Economy, a blockchain-based successor to the current Sweatcoin system.
This decision effectively puts it into the same category as other Move-to-Earn projects such as STEPN.
However, if you've read our article on how to play STEPN, then you'll already know that STEPN's NFT-based game system is quite elaborate and requires you to buy NFTs first.
The Sweat Economy, however, will most likely remain considerably more accessible since all you need to do is collect steps that you already make on a daily basis.
This has obviously sparked some skepticism regarding the viability of Sweatcoin and a lot of people are wondering whether Sweatcoin is legit.
How much the token will be worth if you convert Sweatcoin to USD is still uncertain as this is something the market will have to decide.
However, for the time being, we are working with the values we have from the current incentive model and the Sweatcoin to USD conversion table above should do the trick.
How Much is Sweatcoin Worth?
There is no official Sweatcoin price since it is not yet a cryptocurrency that can be traded on a public exchange. However, based on the value of what can be purchased in their marketplace, the value of 1 Sweatcoin is estimated to be between $0.02 and $0.05 USD.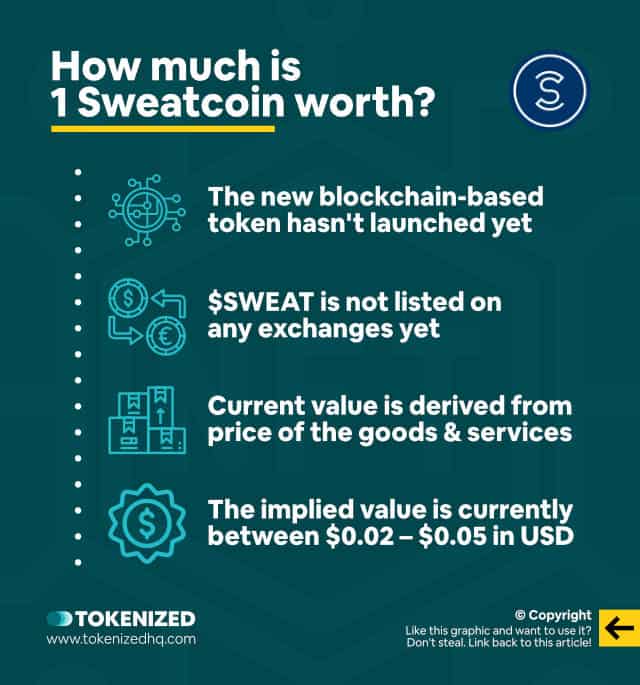 As we've said before, since Sweatcoins are currently not listed on any public exchange, it's difficult to say how much 1 Sweatcoin is actually worth.
Instead, when thinking about the value of Sweatcoins you need to work with price ranges.
Similar to airline miles that can have a different value depending on whether you're paying for physical products or a cabin upgrade, the value of Sweatcoins is different from one product to another.
So while a 20% discount on a new fitness watch may give you a value of $0.05 per Sweatcoin, it could easily be much less if you're trying to buy a PayPal gift card.
You also need to think about what other people are willing to pay you for your Sweatcoin and that might be even lower, depending on how desperate you are to sell them.
However, the Sweatcoin to USD conversion table above is a good indication of what your balance might be worth.
Whether you're looking to convert 1 Sweatcoin to USD or 100 Sweatcoin to USD doesn't really matter.
We've addressed the most relevant Sweatcoin to Dollar conversions that most people search for.
And by the way, if you're from Europe and Dollars aren't really your thing, we also have a dedicated price conversion table for Sweatcoin to Euro.
How To Cash Out in Sweatcoin
There is no direct way to cash out Sweatcoin into currency right now. The only way to convert Sweatcoin into cash is to purchase PayPal or Amazon gift cards, which can either be spent or sold to another person for cash.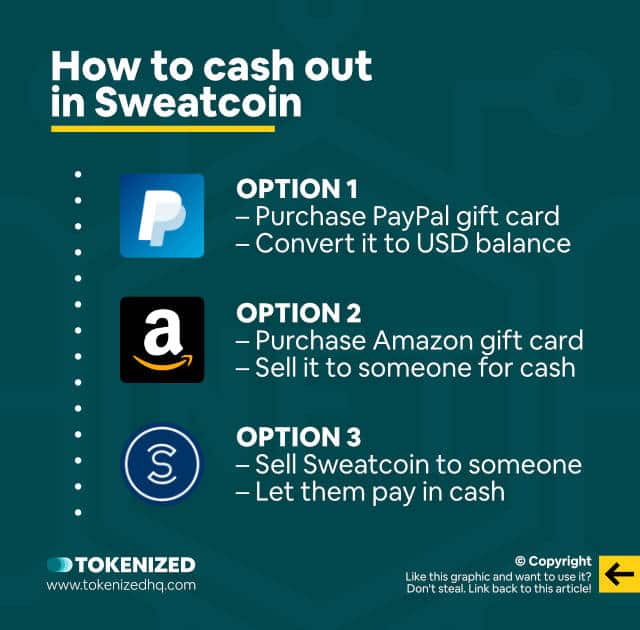 One of the problems with the current system of Sweatcoin is that users cannot directly cash out their Sweatcoin to PayPal or their bank accounts.
There's a reason for this that most people don't understand.
You can only extract value from an economy if value is also being added or generated elsewhere in it.
Currently, Sweatcoins are just points that you receive out of thin air, which means that they are extremely inflationary.
They still have value due to the partnerships and promotions that are offered on the marketplace and in a sense, this is that value that companies are putting into the system.
In order for someone to cash out his or her Sweatcoins to Euros or another currency, there needs to be someone else on the other side who is willing to provide that cash.
The only way to do that in the current (non-blockchain) system is to purchase PayPal or Amazon gift cards.
That's right. If you are looking for a way how to withdraw money from Sweatcoin to PayPal, the only realistic way is to buy gift cards.
These are the two categories of items that provide the most direct conversion to something that is similar to cash, however, they are very limited.
For most people, the best chance to cash out their Sweatcoin directly is to wait for the launch of the Sweat Economy and immediately convert them on a decentralized exchange into cryptocurrency.
As we've learned from other token launches, their value tends to crash in the initial stages, so you're better off cashing out early.
Conclusion
Given Sweatcoin's recent announcement that they are launching a blockchain-based Sweat Economy, it's not surprising that users are curious about how much their Sweatcoins may be worth.
Since there are no direct Sweatcoin to USD pairings on any crypto exchanges right now, we've put together a helpful conversion table.
Those who are looking for a EUR equivalent, check out our article on Sweatcoin to Euro conversions as well.
And if you're based in the Philippines, go check out our Sweatcoin to PHP conversion table to find out what it's worth in Pesos.
Here at Tokenized, we want to help you learn as much as possible about finance and cryptocurrency. We help you navigate the world of tech and the digitalization of our society at large, including the tokenization of assets and services.