Are you trying to convert 1 Sweatcoin to Euro?
Perhaps you've been using Sweatcoin for some time already, but you don't know what they'd be worth if you checked the Sweatcoin to Euro conversion rate?
Well, we've got good news for you, because despite the fact that most of the sites out there will quote you a price in USD, we've created a useful Sweatcoin to Euro conversion table.
In this guide, you'll learn more about the Sweatcoin to Euro exchange rate as well as you can cash out your Sweatcoin if need to.
So, let's get started!
Key Points (tl;dr)
The Sweatcoin to Euro conversion table that we've listed below will help you determine how much your Sweatcoin balance is currently worth.
Sweatcoin was originally founded in 2016 and although they had been playing with the idea for a very long time, only recently announced that they are transitioning Sweatcoin to a blockchain-based "Sweat Economy".
Having Sweatcoins effectively trade on open exchanges as $SWEAT will make it considerably easier to cash out token balances into cryptocurrency and ultimately also cash.
At the moment, Sweatcoins are currently valued at around 0.019€ to 0.048€ per coin, although this value is primarily derived from the value that it can buy you on the internal marketplace.
The only way to effectively cash out these Sweatcoin is to either sell them to another person or exchange them for PayPal or Amazon gift cards, although these are very limited in supply.
For a detailed overview of all Sweatcoin to Euro conversion rates, PLEASE READ THE FULL ARTICLE.
Like this content? Then share it!
Sweatcoin to Euro Conversion Table
Here's the answer. Great article by @ChrisHeidorn from @Tokenized_HQ here: https://tokenizedhq.com/sweatcoin-to-euro/

www.tokenizedhq.com
Sweatcoin to Euro Conversion Table
| | | |
| --- | --- | --- |
| Sweatcoin (SWC) | Lower Range | Upper Range |
| 1 Sweatcoin | 0.019€ | 0.048€ |
| 50 Sweatcoins | 0.95€ | 2.40€ |
| 100 Sweatcoins | 1.90€ | 4.80€ |
| 500 Sweatcoins | 9.50€ | 24.00€ |
| 1,000 Sweatcoins | 19.00€ | 48.00€ |
| 5,000 Sweatcoins | 95.00€ | 240.00€ |
| 10,000 Sweatcoins | 190.00€ | 480.00€ |
| 20,000 Sweatcoins | 380.00€ | 960.00€ |
NOTE: Based on current EUR/USD exchanges rates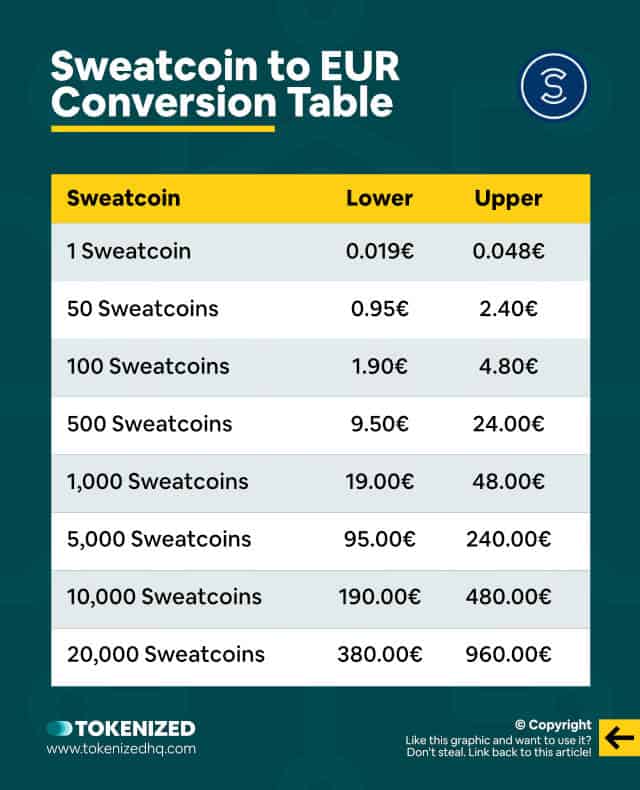 One of the problems with determining a fair Sweatcoin price is that it's currently not listed on any exchanges.
Since Sweatcoin isn't a cryptocurrency yet, there's no trading activity going on that would lead to proper price discovery as you see with other tokens.
So the value of Sweatcoin is still mostly a function of the value of the products and services that are promoted on the marketplace.
And that's exactly why we've created this Sweatcoin to Euro conversion table to help you get a quick estimate on your holdings.
What is Sweatcoin?
Sweatcoin is a step-based Move-to-Earn platform that rewards users for physical activity. The current platform resembles a classic loyalty program, however, Sweatcoin will soon launch the Sweat Economy, a blockchain-based successor to its current system.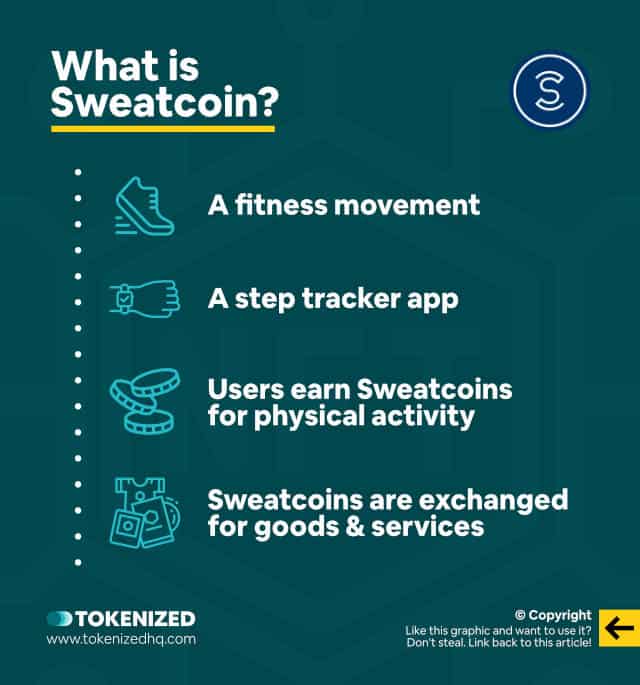 At its core, Sweatcoin is a step-tracking app that's been around for more than 5 years already.
The objective has always been to incentivize people to be more active and live healthier lifestyles.
Sweatcoin achieves this by creating a gamified experience that rewards users with points the more they walk or run.
These points are called Sweatcoins.
You may have recently heard of numerous blockchain-based projects launching in the Move-to-Earn space.
The most prominent example of this is STEPN, which also uses NFTs to add additional complexity to the game.
Sweatcoin is different, not only because it's not a blockchain-based game yet, but also because it's slightly more accessible to the masses.
However, both want to enable people to earn money through their physical activity.
That is also why Sweatcoin announced that they are launching the Sweat Economy, their very own Ethereum-based cryptocurrency.
It will be interesting to see how this impacts the Sweatcoin to Euro exchange rate since cryptocurrencies are free-floating and are traded on exchanges.
At the very least it will allow users to cash out their Sweatcoins more easily, something that isn't directly possible right now and has caused many people to ask whether Sweatcoin is even legit.
How Much is Sweatcoin Worth?
The estimated value range for Sweatcoins is between 0.019€ and 0.048€ and is mainly derived from their alternative purchase value. If Sweatcoins were freely tradable on exchanges, the Sweatcoin price would most likely be significantly lower.
Since Sweatcoins are currently not cryptocurrency tokens, their issuance is technically infinite.
The more users walk, the more Sweatcoins they receive, which can then be exchanged for products or discounts on their marketplace.
Since the total circulation of Sweatcoins is constantly increasing while value is only added via promotions, it's difficult to determine their true value.
Determining a fair market-based Sweatcoin to Euro rate is nearly impossible.
Therefore, the only way to estimate the 1 Sweatcoin to Euro conversion rate is to look at what a Sweatcoin can buy.
The conversion table we shared above is a rough estimate of the value of Sweatcoins and it is based on the goods, services, and discounts that you can exchange them for.
That being said, if you were to try to sell your Sweatcoin directly to another person, chances are that the Sweatcoin to Euro rate would be considerably lower.
How To Cash Out in Sweatcoin
Since you cannot connect Sweatcoin to PayPal or your bank account, there is no way for you to cash out your Sweatcoin directly. The only way to turn your Sweatcoins into cash is by purchasing gift cards or selling them directly to another user.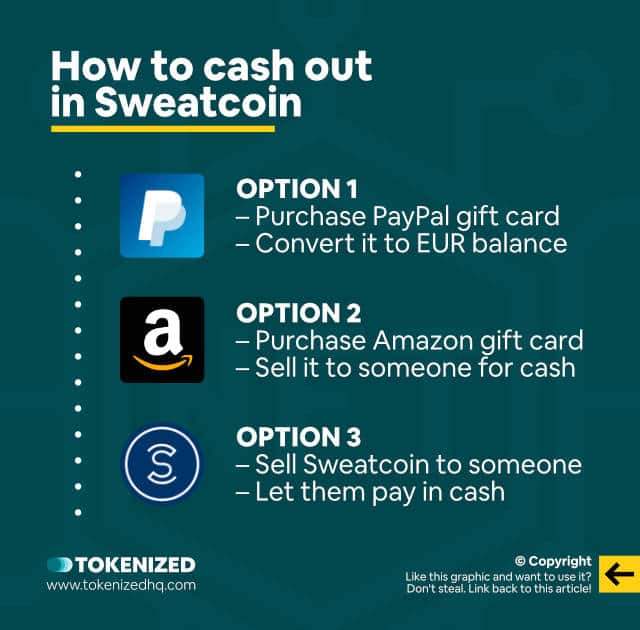 Until Sweatcoin officially transitions to the blockchain-based Sweat Economy, it will remain impossible to cash out your Sweatcoin directly into currency.
The only way how you can convert your Sweatcoin to cash right now is by either selling them to another person or by purchasing a gift card from the marketplace.
That's right. If you really want to know how to cash out Sweatcoin to PayPal, gift cards are the key.
There are 2 types of gift cards on the marketplace.
The first one is a PayPal gift card that effectively allows you to cash out Sweatcoin to PayPal balance.
The second option is Amazon gift cards that you can use to purchase items or which you can onward to someone else.
Both of these methods are only indirect conversions into cash and not only are they limited in supply but you will usually lose value along the process.
Once Sweatcoin launches its own cryptocurrency token, you will most likely be able to trade them on an exchange.
Just bear in mind that the circulation will be high and most people will initially look to sell their tokens.
It is therefore advisable to sell your tokens as soon as you can.
This doesn't mean that their value won't increase again in the future, however, we've seen this process play out many times over and there's no reason to assume this time will be any different.
Conclusion
Although it's fairly easy for us to estimate the Sweatcoin to Euro rate right now, cashing out that value is another story.
For the time being, most people are still stuck in the current Sweatcoin system and things will only change once the Sweat Economy launches.
If you're not based in Europe and need an estimate in Dollars, then I highly recommend you check out our Sweatcoin to USD conversion table instead.
Here at Tokenized, we want to help you learn as much as possible about finance and cryptocurrency. We help you navigate the world of tech and the digitalization of our society at large, including the tokenization of assets and services.