Are you looking for an honest Sweatcoin review?
Perhaps you recently discovered Sweatcoin and really love the idea but still have your doubts on whether Sweatcoin is actually still worth it?
Well, look no further, because we've written extensively about the popular step tracking app already and today we're releasing our big Sweatcoin review for 2022.
In this guide, you'll learn everything you need to know about Sweatcoin and its plans for the Sweat Economy.
Let's get right to it!
Key Points (tl;dr)
Sweatcoin is one of the leading digital fitness movements in the world, incentivizing millions of people to become more active by rewarding them with Sweatcoins.
In our Sweatcoin review, we look at the following key criteria in order to come to an overall assessment:

Barriers to Entry
Ease of Use
Impact on Fitness
Earnings & Rewards

Based on our holistic assessment and taking into consideration different types of primary motivations, we give Sweatcoin a 4-star rating based on its current product.
We cannot give a 5-star rating simply because the financial incentives are not yet strong enough. This may change once Sweatcoin transitions to the Sweat Economy, in which case an updated review will be necessary.
For a detailed overview of the criteria we've used in this Sweatcoin review, PLEASE READ THE FULL ARTICLE.
Like this content? Then share it!
Sweatcoin Review: Is It Still Worth It in 2022?
Here's the answer. Great article by @ChrisHeidorn from @Tokenized_HQ here: https://tokenizedhq.com/sweatcoin-review/

www.tokenizedhq.com
What is Sweatcoin?
Sweatcoin is an incentive program that allows users to earn rewards for being physically active. The Sweatcoin app has an integrated step tracker that counts how many steps you walk in a day and rewards you with 1 Sweatcoin per 1,000 steps. Sweatcoin can then be spent on the in-app marketplace for goods and services or donated to charity.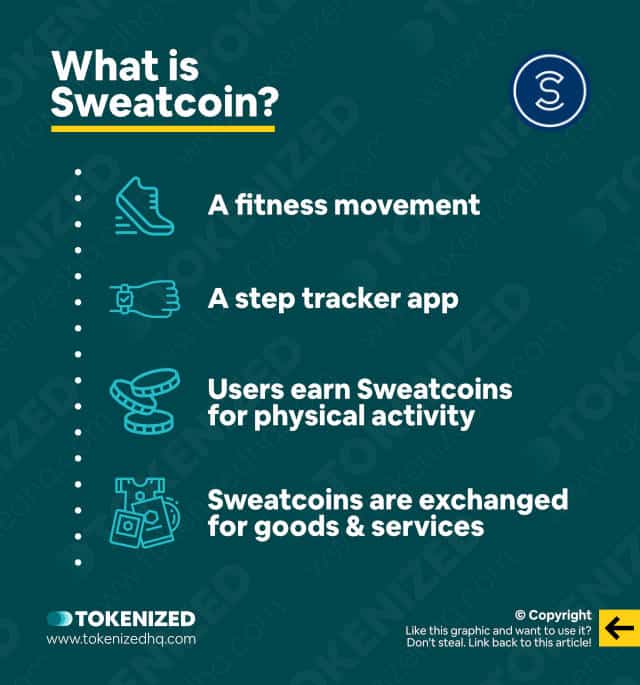 At its core, Sweatcoin is effectively just another step tracking app that counts how much you walk in a day.
But in reality, Sweatcoin is much more than just that.
Over the years, it has become one of the leading fitness movements in the world.
It's important that you don't confuse Sweatcoin with STEPN, which is yet another Move-to-Earn project and which we've covered extensively in a separate STEPN review.
Sweatcoin isn't a game but it's also not just a step tracker
It's actually more like an incentive program designed to reward you for being active.
The more you walk or run, the more points (Sweatcoin) you earn and spend on Sweatcoin's in-app marketplace.
There's been a lot of talk about earning money with Sweatcoin and some people have confused it for a cryptocurrency.
Others have theorized that Sweatcoin is a scam, mainly because they came in with unrealistic expectations.
In today's Sweatcoin review, we're going to a closer look at how Sweatcoin works, how it can benefit you, and whether it's still worth it in 2022.
Our Assessment Criteria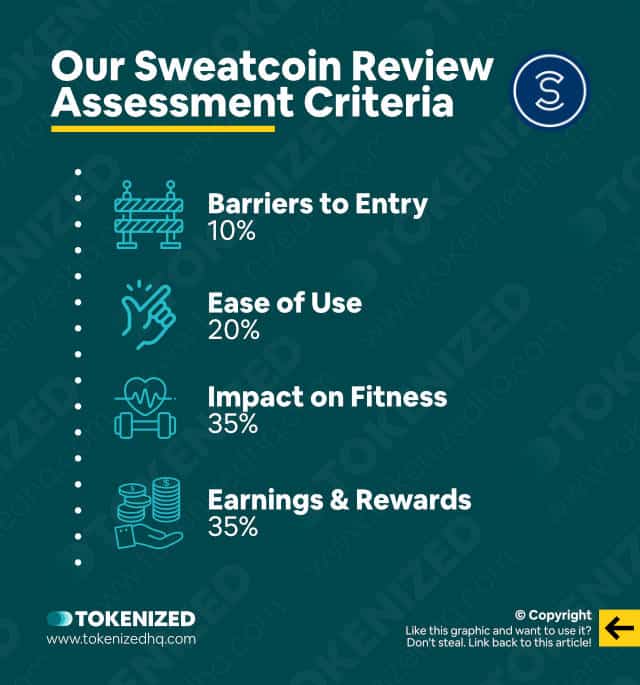 Before we get into the nitty-gritty details, let us quickly explain the methodology of our Sweatcoin review.
We want to be fully transparent about how we evaluate this program and you also need to understand what we are actually looking at.
For this Sweatcoin review, we are going to look at 4 key criteria with different weightings.
Barriers to Entry (10%)
Ease of Use (20%)
Impact on Fitness (35%)
Earnings & Rewards (35%)
Let's quickly look at each criterion and also explain why we've chosen these specific weightings.
Criterion 1: Barrier to Entry
"Barrier to Entry" looks at how difficult it is to get started with the app.
Things that would impact this are overly complicated registration processes or the need to spend money upfront.
While barriers to entry are generally not a good thing, they don't really say much about whether something is worth the effort or not.
Criterion 2: Ease of Use
"Ease of Use" is relatively important because it influences whether we are likely to stick with something or not.
The easier it is to use something, the less likely we are to give up, simply because it's so easy to do and requires little effort.
Criterion 3: Impact on Fitness
"Impact on Fitness" is arguably one of the most important factors for this type of program.
Of course, some people are more attracted by the financial incentives, but living a healthy lifestyle should generally be the primary objective of a fitness app.
And anything that helps you stay fit is usually worthwhile.
Criterion 4: Earnings & Rewards
"Earnings & Rewards" usually shouldn't be the primary motivator.
Nevertheless, we're not oblivious to the fact that humans respond to financial incentives.
Therefore, the greater the incentives, the better for your health and that's why it's important.
The Official Sweatcoin Review by Tokenized
This review was written on July 19th, 2022. It is based on the original Sweatcoin app and its marketplace promotions. It is not a review of the future "Sweat Economy" that is being launched as cryptocurrency.
How to Get Started With Sweatcoin
Once you've decided that you want to give Sweatcoin a try, getting started is very easy to do.
You head over to the app store of your smartphone device (Android or iOS) and download the Sweatcoin app.
Once you've installed and launched the app, you register your account and you're ready to go.
The will almost instantaneously start counting your steps and usually displays them in a step-counter widget on your screen.
How Does Sweatcoin Work?
Once you start counting your steps and moving around, there really isn't much else you need to do.
The app will automatically count your steps all day long, display them on the screen and you'll be credited with 1 Sweatcoin for every 1,000 steps you make.
Your total balance of Sweatcoin is displayed in the top right corner of the app.
The Sweatcoin app also provides various other opportunities to earn rewards by watching specific ads.
Overall it does a good at "activating" you and getting you to do things.
Once you've earned enough Sweatcoin, you can spend it on a variety of items on the marketplace or simply donate it to charity.
Does Sweatcoin Make You More Active?
The impact on your fitness should not be overlooked and it is quite substantial if you are a person who is easily influenced by metrics.
You see, many feel the urge to walk or run more as they see the number of steps increase.
The psychological impact of setting realistic and achievable goals and then pursuing them has been scientifically proven over and over again.
That's also why it's so important that the step-counter widget remains active on your screen.
The fact that I'm constantly confronted with my daily steps creates a considerable amount of awareness on my end.
It shows me just how little I tend to move throughout the day.
If I've set myself a particular step goal, then the constant reminder of my looming failure is likely to motivate me to change that.
Especially if I know that I could be collecting rewards for doing so.
How Much Can You Earn With Sweatcoin?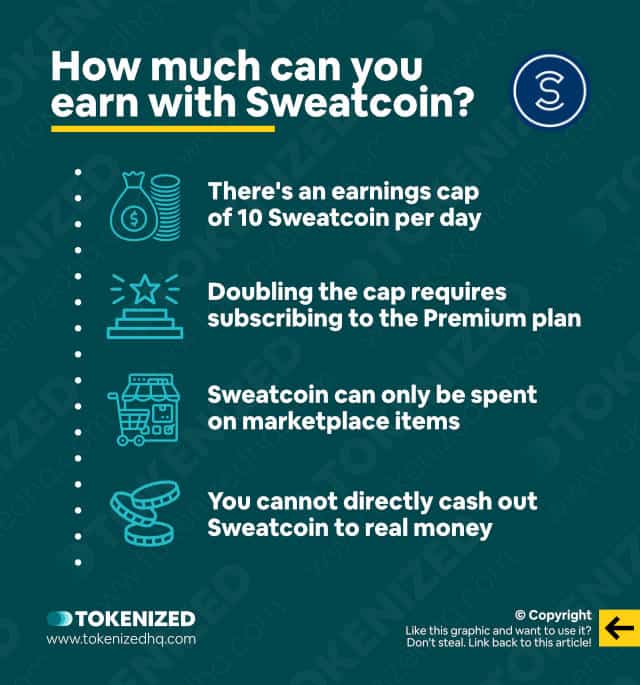 This is probably Sweatcoin's biggest caveat and an important reason why this Sweatcoin review will probably not end with a full 5 stars.
You see, the problem with Sweatcoin is that it's effectively just an incentive program that's similar to frequent flyer programs or other loyalty schemes.
It's incredibly easy to earn Sweatcoin and they are not objectively scarce.
Users also do not have to spend any money in order to earn them, so the only value that is injected into the system comes from companies who promote their products on the Sweatcoin marketplace.
Furthermore, there's currently no way to directly cash out your Sweatcoin, even though they do have some value.
You can only extract the value by spending your Sweatcoin on items on the marketplace and in many cases, they are only discounts.
So you're spending money in order to extract value and that's not very attractive to people who are more interested in the financial incentives than in the health benefits.
This might change once Sweatcoin launches its $SWEAT token, a blockchain-based cryptocurrency, but we'll only find out in September 2022.
Our Final Verdict
We really love the idea behind Sweatcoin simply because it gives us a glimpse into a potentially utopian future where it becomes good business to stay healthy.
However, for this Sweatcoin review, we need to remain objective and take into consideration that the financial incentives are not yet ideal.
Obviously, there's little reason not to use Sweatcoin right now, simply because it doesn't cost you anything and you can just collect your Sweatcoin for as much as you walk.
So while the financial incentives of Sweatcoin are still limited, there aren't any real detractors either.
We simply cannot give this Sweatcoin review a full 5-star rating, however, the other criteria are still strong enough and the benefits clearly outweigh the disadvantages.
Barriers to Entry: 5 stars
Ease of Use: 5 stars
Impact on Fitness: 4 stars
Earnings & Rewards: 3 stars
Conclusion
This Sweatcoin review exclusively looks at the current state of the Sweatcoin ecosystem in July 2022.
Once the new Sweat Economy launches and we gain a better understanding of how its tokenomics work, we will re-assess all parameters and update this Sweatcoin review.
Until then we recommend that you collect as much Sweatcoin as you can since you are guaranteed to receive an equal amount of $SWEAT once it launches on September 12th, 2022.
Here at Tokenized, we want to help you learn as much as possible about the coming NFT revolution. We help you navigate this fascinating new world of non-fungible tokens and show you how you can integrate tokenization into your own business.
Overall Sweatcoin Review Score
Overall Sweatcoin Review Score
In its current form, Sweatcoin is good enough, so that there's no real reason to stop using it. However, the financial incentives are not strong enough to justify a 5-star rating at this time.
In its current form, Sweatcoin is good enough, so that there's no real reason to stop using it. However, the financial incentives are not strong enough to justify a 5-star rating at this time.
Total Score
i

Based on our weighted assessment of 4 different criteria.
The Good
Super simple to get started
Visually appealing and functioning app
Recently launched their SWEAT blockchain token
The Bad
Limitation in daily steps also limits earning potential
Rewards won't convince everyone