Are you looking for the current Sweatcoin price in USD?
Perhaps you recently heard that Sweatcoin is finally building its own Sweat Economy on the blockchain and now you're curious what the Sweatcoin crypto price will be?
Well, don't worry, because we've done some digging and have most of the answers that you're looking for.
In this guide, you'll learn how much 1 Sweatcoin is currently worth as well as where you'll be able to check the price of Sweat in the future.
Let's dive right in.
Key Points (tl;dr)
Sweatcoin is a fitness movement created around a step tracking app that allows you to collect Sweatcoin points for physical activity.
These Sweatcoins can then be exchanged for goods and services via the internal marketplace of the app.
Based on the value of the products and services offered in the marketplace, the current implied value of 1 Sweatcoin is estimated between $0.02 and $0.05 in USD.
However, once the new Sweat Economy token launches, there is no guarantee that the market's price discovery will necessarily lead to the same value. Therefore any future estimates are pure speculation.
Once $SWEAT is listed on major exchanges, you'll be able to find the new Sweatcoin price on all of the usual websites that provide up-to-date pricing for cryptocurrency tokens.
For a detailed valuation of the current implied Sweatcoin price, PLEASE READ THE FULL ARTICLE.
Like this content? Then share it!
What is the Current Sweatcoin Price in USD?
Here's the answer. Great article by @ChrisHeidorn from @Tokenized_HQ here: https://tokenizedhq.com/sweatcoin-price/

www.tokenizedhq.com
What Is Sweatcoin?
Sweatcoin is a fitness tracker app that incentivizes physical activity by rewarding its users with points that can be exchanged for goods and services. Sweatcoin recently announced that it is entering the Move-to-Earn industry and plans to launch the Sweat Economy on September 12th, 2022.
The company behind Sweatcoin was originally founded back in 2016 by Oleg Fomenko and Anton Derlyatka.
Everything started out with a simple step tracker app that rewarded people with points (Sweat) for moving.
The idea was to promote a healthier lifestyle by incentivizing movement with real-life value.
Value was mainly derived from product promotions that could be purchased within their marketplace from partner companies using Sweatcoin.
It's safe to say that Sweatcoin was amongst the very first companies to enter the Move-to-Earn space before it actually became a thing on the blockchain.
After watching the crypto industry grow year after year, Sweatcoin finally made the decision to create its own blockchain-based Sweat Economy.
It is being built on top of Ethereum using the NEAR protocol.
In many ways, the idea behind Sweatcoin is similar to STEPN which we covered in our article on how to play STEPN, although the latter involves considerably more gamification elements.
How Much Is 1 Sweatcoin Worth?
Sweatcoin is currently not listed on any cryptocurrency exchange. Therefore its value is primarily derived from the price of the goods and services that can be purchased with it. Based on this, the current implied value of 1 Sweatcoin is between $0.02 and $0.05.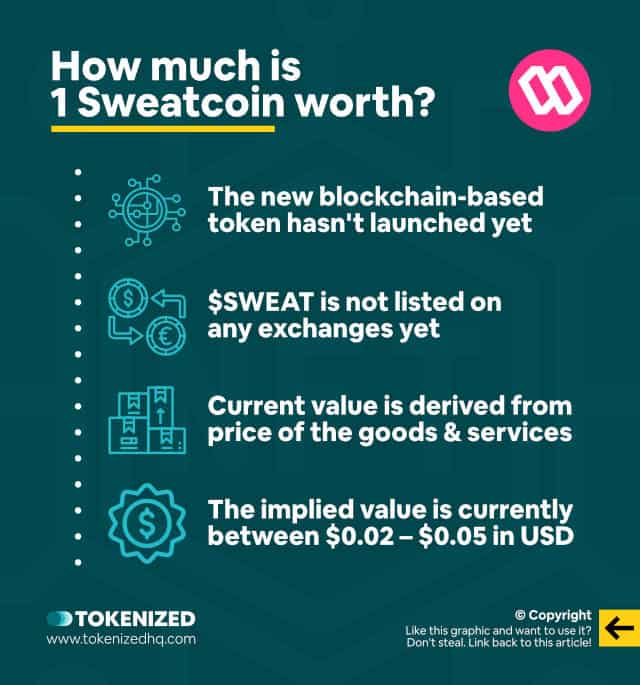 It's difficult to determine what the true Sweatcoin price is, simply because there is no official Sweatcoin market cap.
What I mean by that is that the new Sweat Economy simply hasn't launched yet and therefore the new Ethereum-based token isn't listed on any exchange yet.
You see, the true Sweatcoin price will be determined by supply and demand on the open market and exchanges are critical in helping in the Sweatcoin price discovery process.
This will only change once Sweatcoin's Sweat Economy is launched on September 12th, 2022.
Until then we can only try to estimate the value of Sweatcoin based on the price of the goods and services you can currently purchase with Sweatcoins on their internal marketplace.
It's actually very similar to how rewards programs of most airlines and hotel chains work.
So, for example, if a new iPhone for $799 costs 20,000 Sweatcoin, then the implied Sweatcoin price is about $0.04.
Before the announcement of the Sweat Economy, the rough Sweatcoin price range was $0.02 to $0.05 in USD.
However, the announcement created a lot of hype, and the Sweatcoin price nearly doubled to a range of $0.05 to $0.09 in the initial days (based on peer-to-peer sales).
More than $70 million worth of goods and services were purchased with Sweatcoins in Q1 2022 alone.
That should give you an indication of how big this crypto distribution is going to be.
Where Can I Find the Current Sweatcoin Price?
Since the new Sweat Economy and its token have not been launched yet, there is no way for you to find the current Sweatcoin price on a public listing. Once the first exchanges list the new $SWEAT token, price discovery will begin and you'll be able to find the price on most of the sites you already know.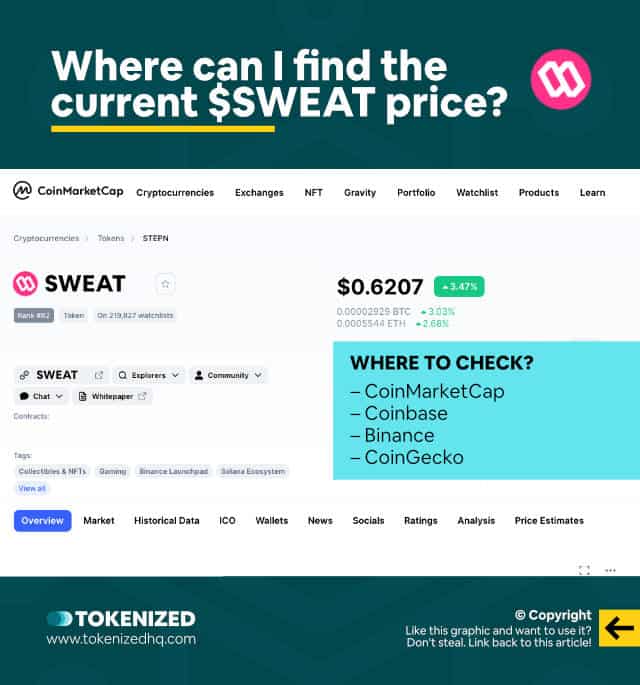 As I've already explained, the Sweatcoin price isn't listed anywhere because its value is based on the products and services you can buy with it right now.
That's also why you can't find a dedicated Sweatcoin CoinMarketCap page anywhere in the rankings.
Only once the Sweat Economy launches and $SWEAT is listed on major crypto exchanges, will we know what the true value of the newly created token will be.
You might be asking yourself: When will Sweatcoin become a cryptocurrency?
Well, it's scheduled for September 12th, 2022.
But when it finally happens, rest assured that you'll be able to get the latest Sweatcoin price information from all the usual sources that you use.
These obviously include:
Binance
Coinbase
CoinMarketCap
CoinGecko
If you're looking for a way to turn your Sweatcoins into money, we recommend that you check out our article on how to cash out Sweatcoin.
Conclusion
Following Sweatcoin's recent announcement that they will be building their own Move-to-Earn Sweat Economy, searches for "sweatcoin crypto price" and "sweat coin price" have gone through the roof.
However, since the new token hasn't even launched yet, it's obviously not listed anywhere and thus there is no current Sweatcoin price.
But don't worry, the launch is scheduled for September 2022 and will surely be a massive success.
Here at Tokenized, we want to help you learn as much as possible about finance and cryptocurrency. We help you navigate the world of tech and the digitalization of our society at large, including the tokenization of assets and services.