Are you trying to figure out how to cash out Sweatcoin?
Perhaps you've come to the conclusion that you're not particularly interested in buying any of the products from the in-app marketplace and now you'd like to withdraw money from Sweatcoin?
Well, there's a reason why you're searching for an answer to this question and I'm afraid you're probably not going to like it.
In this guide, you'll learn how to cash out in Sweatcoin via one of the few workarounds that exist.
Let's get right to it!
Key Points (tl;dr)
It is currently not possible to cash out Sweatcoin to any bank account or PayPal account and this will not change in the foreseeable future.
Even when Sweatcoin finally launches its blockchain-based Sweat Economy in September 2022, you probably won't be able to directly exchange your Sweatcoin directly for USD, Euro, or another fiat currency. It is more likely that you'll have to convert it to another cryptocurrency first.
In the meantime, there are 3 workarounds that still allow you to cash out Sweatcoin indirectly:

Solution 1: Purchase PayPal gift cards
Solution 2: Purchase Amazon gift cards
Solution 3: Sell your Sweatcoin to another user
For a detailed overview of ways how to cash out Sweatcoin , PLEASE READ THE FULL ARTICLE.
Like this content? Then share it!
Solved: How to Cash Out Sweatcoin for Real
Here's the answer. Great article by @ChrisHeidorn from @Tokenized_HQ here: https://tokenizedhq.com/how-to-cash-out-sweatcoin/

www.tokenizedhq.com
Can I Cash Out Sweatcoin to My Bank Account or PayPal?
It is currently not possible to withdraw Sweatcoin to a standard bank account or PayPal account. Your only option is to exchange Sweatcoin for items that are available on the in-app marketplace.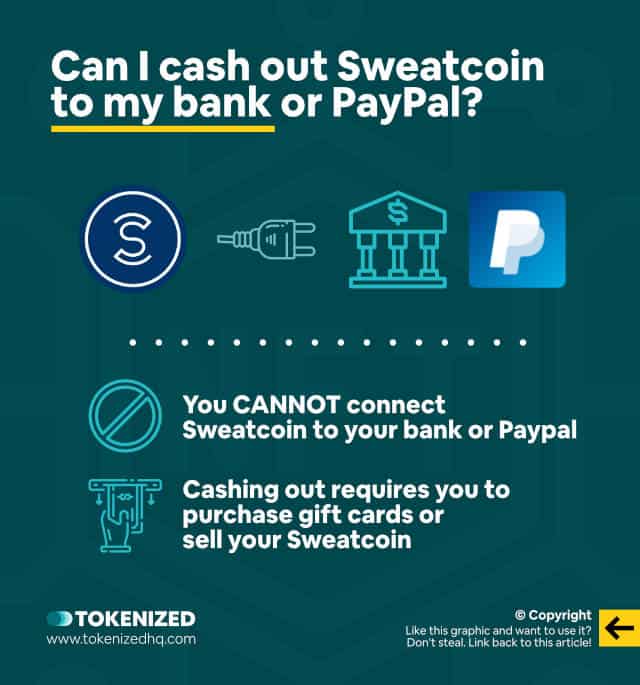 You're not the only one who's looking for an answer to this question.
Unfortunately, we don't have particularly good news for you.
There is currently no way for you to cash out your Sweatcoin balance to real currency.
You see, it's important for you to understand that although Sweatcoin has the word "coin" in its name, it's actually not a cryptocurrency.
In fact, it's a lot more like a frequent flyer program or one of many other loyalty programs you know.
Do any of those allow you to withdraw money from your loyalty account?
Of course not.
You receive points (Sweatcoins) and they do have value because you can use them to pay for certain things within the company's ecosystem.
However, there simply isn't sufficient demand for them in order to warrant listing them on an exchange.
This will change once Sweatcoin launches its blockchain-based Sweat Economy on September 12th, 2022.
But until then you're going to have to use some of the workarounds that are available.
In the next section, we talk about some of the most common ways how to cash out Sweatcoin.
How to Cash Out Sweatcoin for Real Money
The easiest way to convert your Sweatcoin balance into real money or at least something with purchasing power is to purchase gift cards for PayPal and Amazon or simply sell them to another user directly.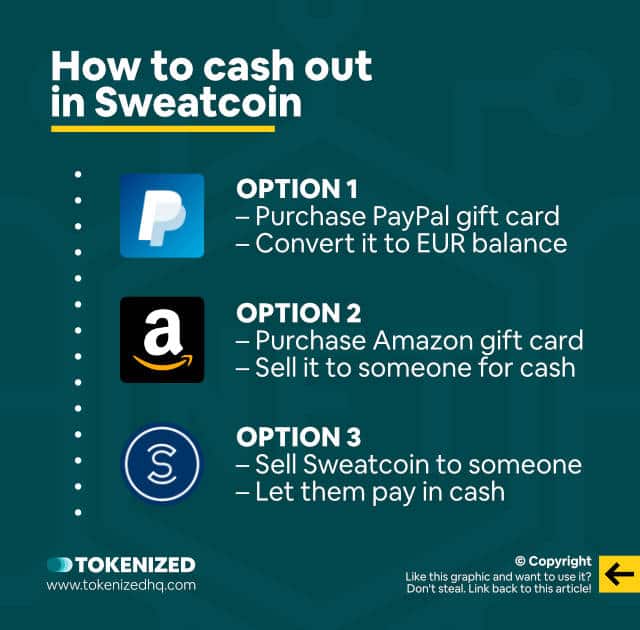 So by now, you've probably understood that withdrawing money from Sweatcoin simply isn't possible.
For a very limited time, there was an exception this is Estonia when the LHV Youth Bank offered Sweatcoin users the once-off opportunity to convert 50 Sweatcoins to 5 Euros.
However, this was almost 4 years ago and limited to customers of the bank.
Anyway, let's have a look at the alternatives available to you today.
Purchase a PayPal Gift Voucher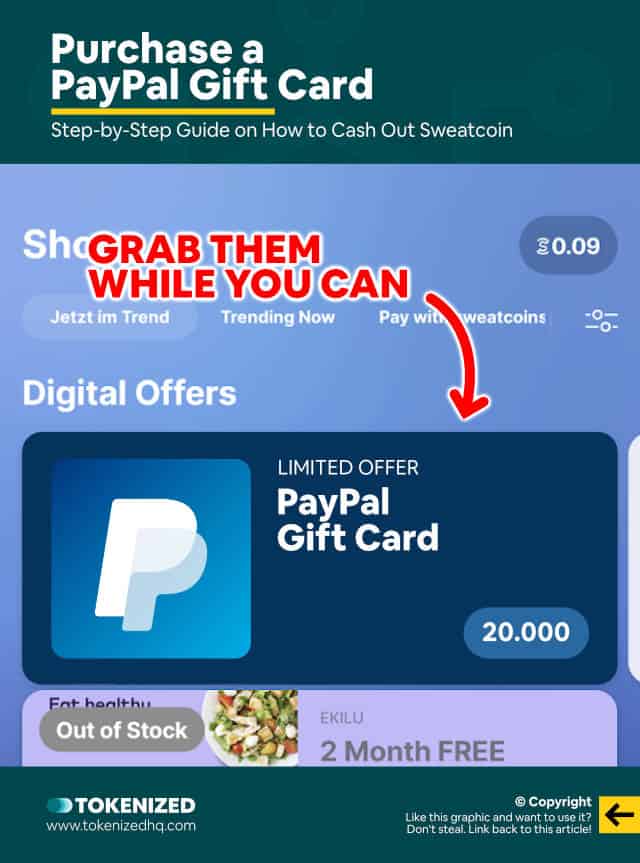 The most popular workaround on how to cash out Sweatcoin is to buy a PayPal gift card.
PayPal gift vouchers have the immense benefit that you can use them for all sorts of digital payments.
This makes them hugely versatile and very sought-after on the Sweatcoin marketplace.
Unfortunately, PayPal gift cards are only available occasionally and are usually limited in quantity.
So you'll have to act quickly if you see them.
Some people claim that users who refer a lot of new people to Sweatcoin have a higher chance of seeing PayPal gift cards.
For more details on how this process works, check out our article on how to convert Sweatcoin to PayPal.
Purchase an Amazon Gift Voucher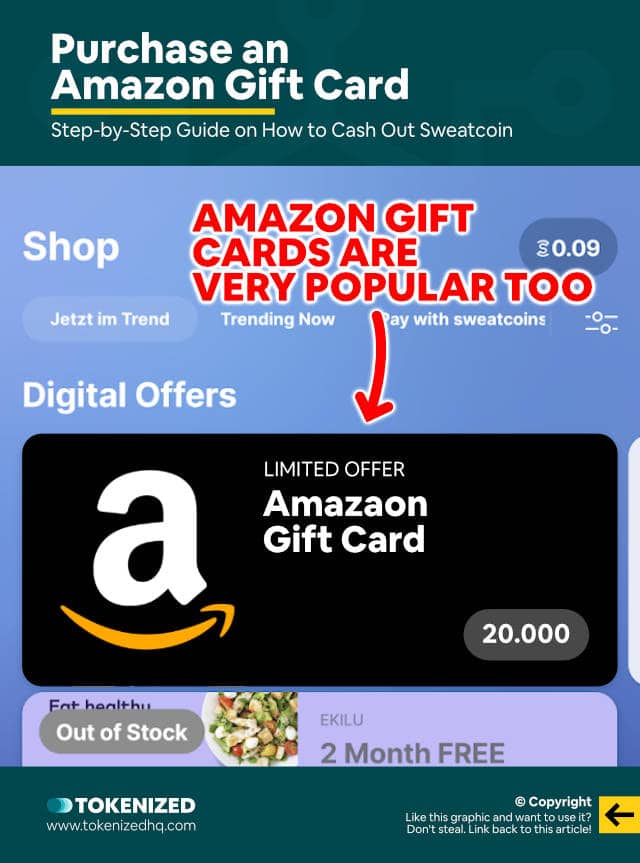 The second most popular way how to cash out Sweatcoin is to purchase an Amazon gift card.
They aren't as sought-after as PayPal gift cards simply because Amazon isn't active in every single country of the world.
However, they are often handled like a commodity and you can easily trade them on secondary markets for real money.
So, even if you don't plan on buying anything on Amazon, you can still get an Amazon gift card and sell it to someone else for hard currency.
Just bear in mind that you usually have to sell them at a slight discount to their nominal value.
So, for example, a $20 gift card might only get you $18 in real money.
Sell Your Sweatcoin to Another User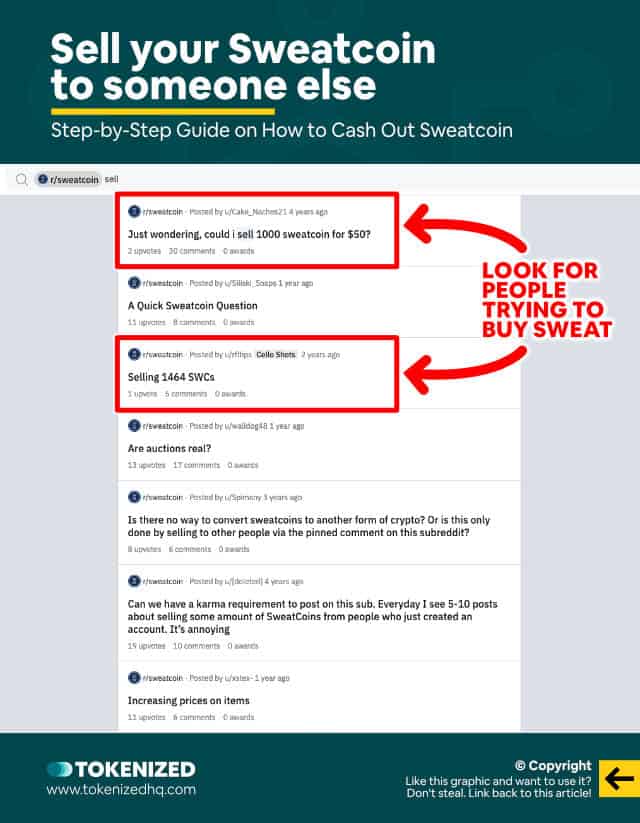 The final way how to cash out Sweatcoin to real money is to simply sell your Sweatcoins directly to another user.
If you're active in the Sweatcoin Discord server or the Sweatcoin subreddit, you'll probably have come across these trade deals before.
Since Sweatcoin allows you to transfer your balance to another user, you can essentially buy and sell them "over the counter".
However, it's important to understand that most of the time the price you'll get is significantly worse than the value of a gift voucher.
There's also additional risk associated with such a deal because there is no trusted intermediary involved.
Nevertheless, it's the most direct way how to cash out Sweatcoin.
Conclusion
So, as you can see, cashing out your Sweatcoin to real money is possible.
However, until Sweatcoin actually launches its $SWEAT token, you're going to have to live with these workarounds.
Remember that the primary objective of Sweatcoin is to live a healthier lifestyle and that in itself is already worth so much more.
Here at Tokenized, we want to help you learn as much as possible about the coming NFT revolution. We help you navigate this fascinating new world of non-fungible tokens and show you how you can integrate tokenization into your own business.